Stunning pergola designs you'll want to implement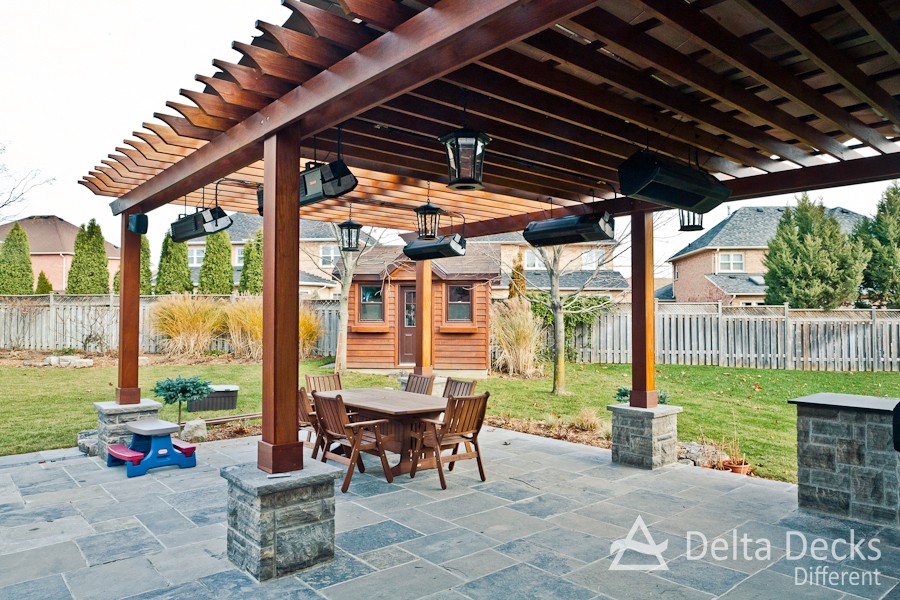 If you want to ennoble the area near the house, equip a cozy outdoor seating area, there are a lot of ideas for this. For example, you can build a creative pergola using interesting designs and materials to build it. There you can place garden furniture, equip a place for an outdoor fireplace.
Delta Decks – pergola builders, we have been operating since 2005 and provide services for the arrangement of areas near the house. We cooperate with private and corporate clients, we bring to life the most unusual ideas. In this article we will talk about creative pergola designs – maybe you can look for something for yourself.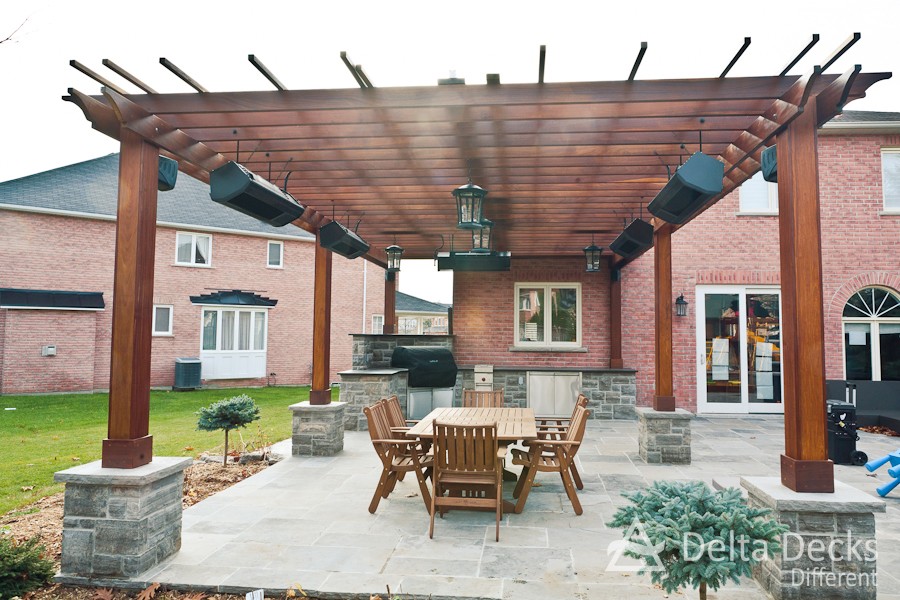 What is a pergola?
A pergola is basically a square or rectangular structure made up of perimeter posts and support beams. It differs from cabana decks and traditional arbors in its completely open design: there are no walls, the roof is not solid, but lattice. The optimal time for pergola uses is in the summer when the weather is good, as it is as open to the sun and air as possible. As a rule, even a mosquito net is not stretched between the support posts, although here it's all up to you: you can use light curtains to create a cozy, truly homely atmosphere. More on ideas to enclose a pergola later.
Can a pergola be built on a deck?
A pergola can be built almost anywhere: in a large or small garden, as an extension to the house, even on the roof and terrace. And it does not matter on which floor the terrace is located – on the first or second. In both cases, landscape design with pergola will be cozy and functional.
How to build a pergola on a wood deck?
If you have a deck and decide to add it as a place for secluded relaxation or gatherings with friends, family, you can implement almost any pergolas ideas. What you need to pay attention to when building pergolas:
Support pillars. There should be at least four of them – for the stability and strength of the entire structure. There are also pergolas, which are a continuation of the house and are attached to the wall. In such a situation, the construction is a little more complicated and is discussed individually. We use high-quality and durable metal fasteners, which guarantees the strength of the connection and the ability to withstand the weight of the entire structure.
Bolts for connecting supports to the roof. They can serve as a kind of decoration, as they are designed specifically for attaching wood to wood. Their ends do not need to be trimmed, they are coated with a black anti-corrosion compound, so they go well with the brown color of the wood.
Important: we pay special attention to fasteners when building on a terrace on the second floor, even if it is the most simple pergola designs. In this case, the finished structure is more susceptible to the influence of the wind, as it is higher than the structure on the ground floor. Therefore, bolts and other connecting elements must be strong and reliable.
In general, construction begins with the development of a design project, in which we take into account your wishes. Next, we prepare materials, install support poles, mount beams, adhering to all algorithms and rules. After that, we implement the pergola designs ideas that you like.
How much does it cost to build a pergola on a deck?
The cost is approximately $35.00 per square foot, but it all depends on the project. The final amount is affected by:
pergola size;
the amount of materials used;
fasteners;
complexity of work, etc.
To find out the cost of implementing your idea for a pergola, please contact our manager.
Is it cheaper to build a pergola or buy one?
Why not make your own pergola? Many people who want to save money and not pay the contractor are thinking about this. However, the savings are questionable: without the proper skills, experience and equipment, it is very difficult to obtain a safe and reliable design. Even a small mistake during construction can result in a collapse.
We, as professional pergola installers, follow a few rules:
We use treated wood. The support posts will have to support the weight of the entire structure, which is why the material used is so important. The wood we work with is resistant to decay and all kinds of damage.
We install railings. It depends on your desire, but in general it strengthens the structure. In addition, various ideas for pergolas can be realized with railings.
We make the roof as light as possible. This is necessary for the stability of the structure and is especially important if the pergola is located on the terrace on the second floor. Lightweight fabrics can be used for additional shading.
We fasten the support posts to the beams under the flooring, and not to the floor boards. This is also a safety requirement. Otherwise, the deck boards may come off and the pergola will simply collapse.
Therefore, the choice is obvious: whatever ideas for pergola you decide to implement, it is better to entrust this work to professionals. It will be cheaper to do it once, but it's good, than to try to build it yourself, but make mistakes and then still turn to contractors.
Top pergola designs
We have collected five patio pergola design ideas for you, although they are also suitable for decorating any relaxation area. What elements can be added to make the pergola more comfortable:
Greenery, flowers. It can be small flower beds neatly arranged along the perimeter, climbing plants on supporting pillars and even the roof – an excellent pergola pattern. Flowers in hanging pots also look beautiful. By the way, with the help of greenery and flowers, you can shade the pergola a little.
Garlands and other lighting elements. Want to add some magic to landscaping around a pergola? Hang garlands around the perimeter of the roof, wrap them around the beams, highlight the flower bed. Just imagine how wonderful your seating area will look in the evening! Many of these lamps are battery operated, so there will be no problem with a bunch of cables.
Curtains. This is a good idea for closed pergola designs. If you want to be able to hide from the sun, hang light curtains between the posts. Here you can play with color. For example, white, milky, beige color will suit the classic shade of wood. Red, purple, green and others will also look good, but it is better to provide matching furniture for them.
Swing. One common backyard pergola idea is to add a swing. And those that are suitable for children and adults. Kids will enjoy riding, while adults will enjoy just relaxing there or enjoying their favorite book.
Roof. In the strict sense, it is absent from the pergola. But why not experiment? Pergola roof design ideas include more than just traditional roofing. You can stretch a light fabric on top, or even better, plant climbing plants, such as grapes. Just imagine how beautiful the roof covered with greenery will look! In addition, you will also get good sun protection.
What about colored pergola? The natural color of the wood, of course, is pleasing to the eye, but the structure can also be painted in a non-standard shade.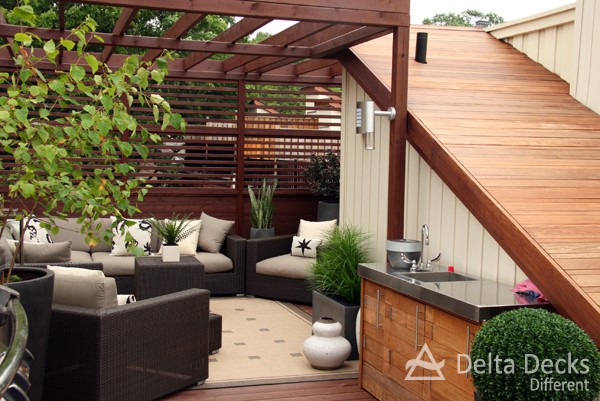 Creative Pergola Design Ideas and Uses
There are a lot of ideas for decorating such a recreation area. Below we will briefly describe the most practical and unusual.
Adding a hot tub or pool is one of the cool garden pergola design ideas if space permits.
Equip an outdoor living room or summer kitchen. Wicker chairs and a table, a deck chair – you can put any kind of furniture, even soft sofas. The pergola can also be placed next to the fire pit – so your evening gatherings with friends will become more comfortable.
Use the space in the corner of the terrace. Looking for pergola ideas for small gardens? There is nothing easier. Place it in the corner of your terrace by adding compact chairs and hanging flower baskets. Modest and tasteful.
Focus on the roof. This can be achieved by using curved, crossed beams, as well as adding decorative elements.
"Minimize" the roof. If the pergola is under a large branching tree, then you already have enough shade, so the roof beams can be placed further apart.
Attach a pergola to your home. The front yard pergolas look very cool, as if they continue the house. The design can be placed on one or both sides of the door, put tables and chairs there, decorate the space with flower beds.
Upgrade your roof. Do you want to enjoy fresh air even when it rains? Space the roof beams about 3 feet apart and glaze it. Sunlight will pass unhindered, but precipitation will not interfere with you.
Build a compact structure. Simple pergola designs for small gardens is a small building with literally two benches and a table under the roof. Yes, it will not work to gather a large company in it, but it's quite possible to retire with a book.
Set up a pergola near a pond. If you have a pond or pool in your yard, arrange a recreation area nearby. Here you can also put sun loungers, pots with palm trees and feel as if you are in a real resort.
Make the pergola a "staging area" between your front yard and backyard. In this case, it may look like a small arch entwined with plants. If space allows, you can organize a playground there, put benches, etc.
Arrange a cozy "green corridor". One of the creative ideas of front pergola designs is to place it from the entrance to the house and all the way to the gate. Climbing plants on the roof will provide protection from the sun and light rain.
Buy an adjustable awning. It's easy to mount, it's controlled automatically, so you can easily add or reduce a shadow.
Use screens. If you want to protect yourself from the wind and prying eyes, screens made of dense fabric, as well as wood or metal, made like blinds, are suitable.
Experiment with shapes. Rectangular or square pergola on 4 pillars is a classic. But what about a round, triangular, or octagonal design? Such options look unusual and emphasize the extraordinary taste of the owner.
These are not all the ideas for arranging a pergola. You can use them, look at our portfolio for inspiration, or come up with something completely new.
Finally, a few design tips:
Don't know what color the pergola should be? Leave natural wood or use white. These are versatile options that will suit any style.
Be sure to provide lighting so that you can relax comfortably in the dark.
If there is very little space, equip a small pergola near the house or in the garden – literally on one bench. Even a very compact design will add coziness to the site.
For accents, you can use flowers with bright buds.
Keep the pergola in the same style as the house and other objects on the site.
You can even make simple decorative elements with your own hands – for example, simple paper lanterns.
Already inspired by ideas and looking for "deck builders near me"? At Delta Decks you can order a gazebo or a pergola. Write or call us – we will embody your most creative design idea.