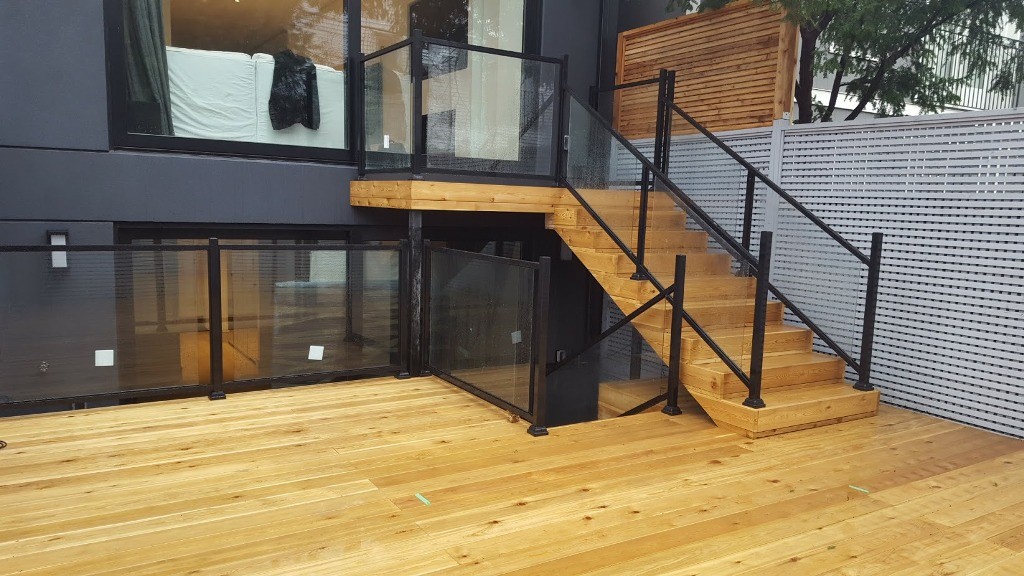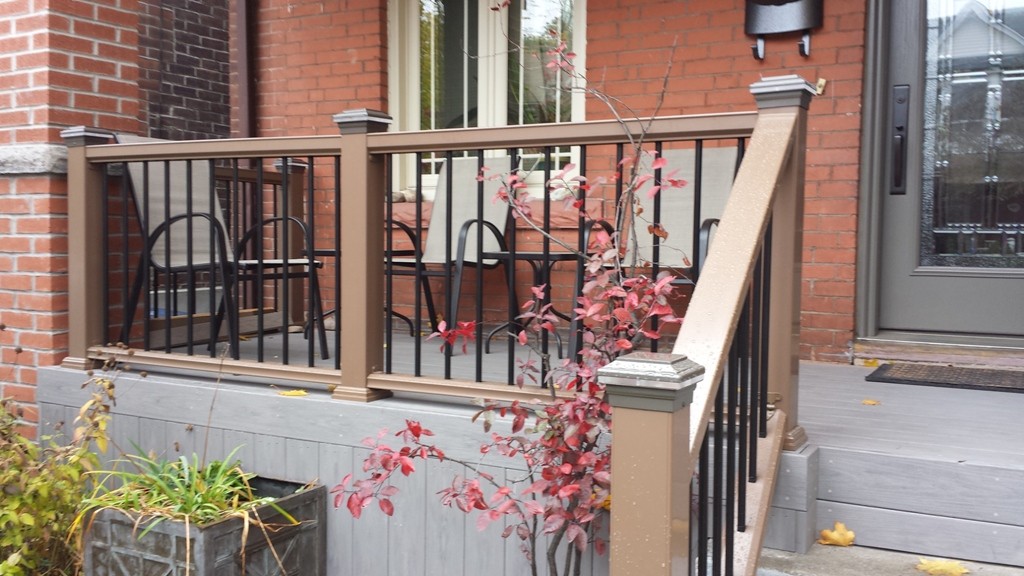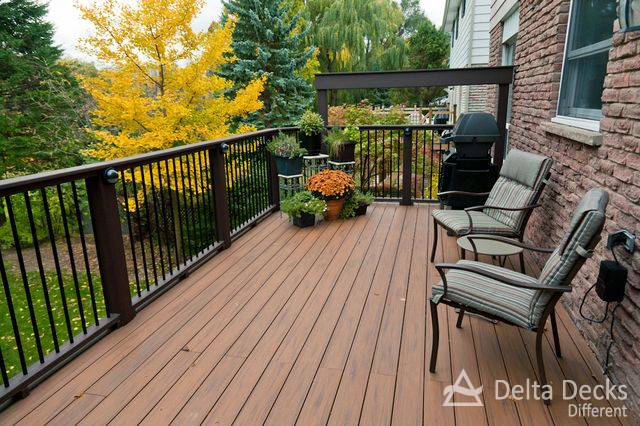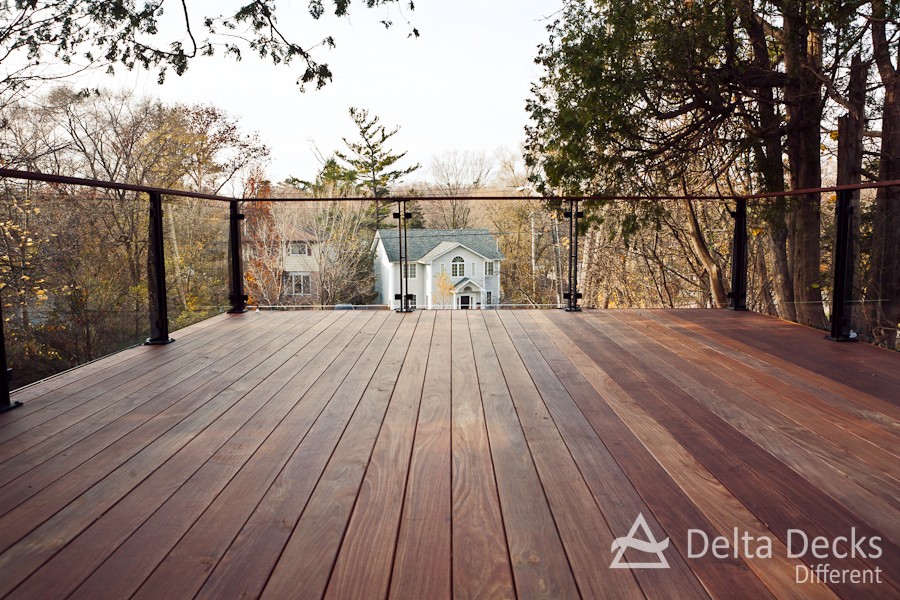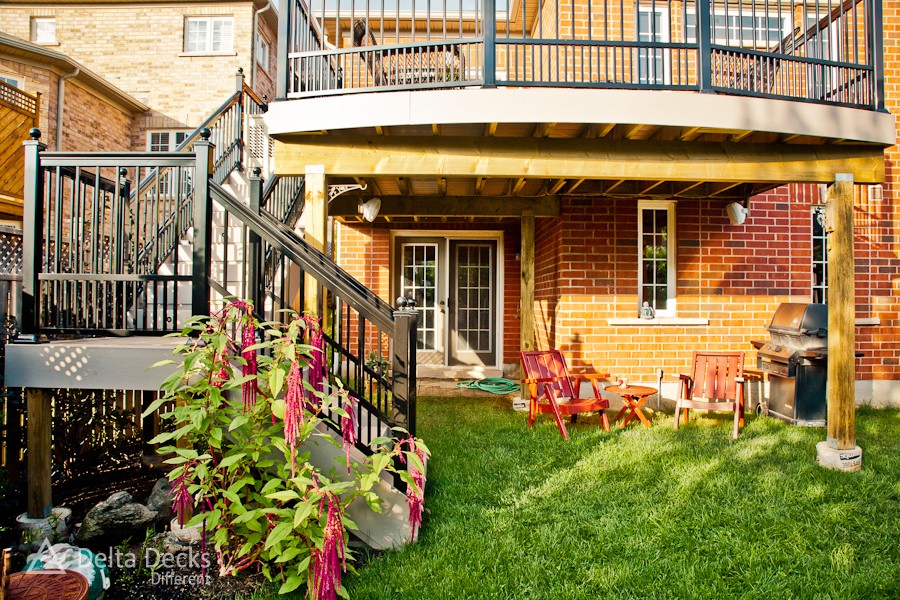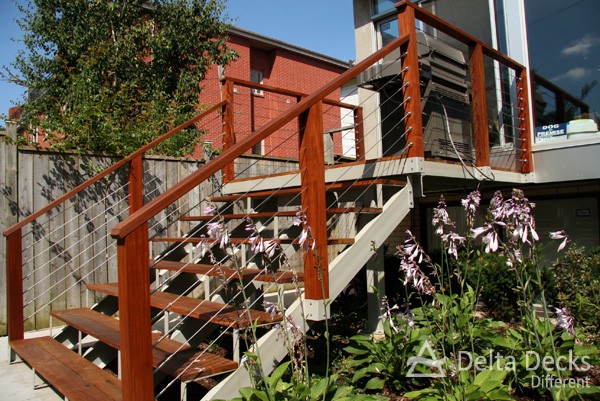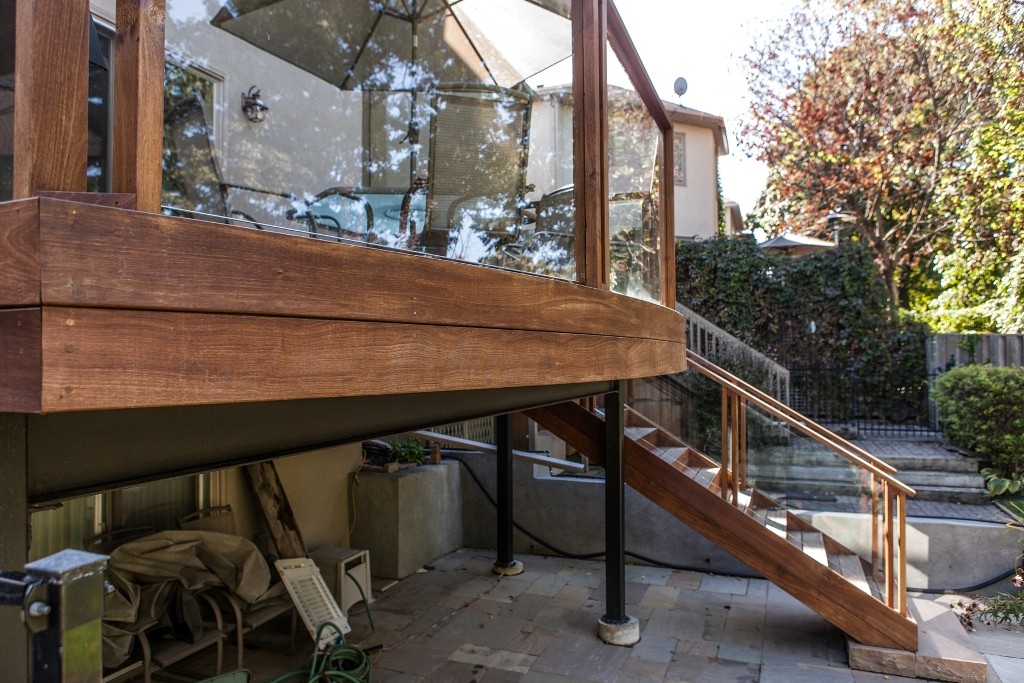 DECK RAILINGS
Deck railings are a special fencing, which is the best decoration not only for the house, but for the entire site. Railings in Toronto give the deck personality and protect people on it from unwanted falls, and the enclosed terrace railings also protect from the wind.
Delta Decks installs fences of any complexity in the shortest possible time and at an affordable price.
Your Expert Deck Contractors
Unmatched Experience in Toronto Deck Building Industry
Specializating in Low Maintenance Decking and Ipe Wood Decks
RAILINGS IN TORONTO
According to their type, deck railings are divided into two main types: open and closed. The first play a predominantly decorative role. Most often they are made in such a way that it is possible to observe the site, and sunlight enters the deck. The second type is more practical. The closed version not only looks stylish, but also protects the terrace from the wind.
Modern materials that are used for the manufacture of railings are able to withstand sudden changes in temperature and deformation, and most importantly, they are easy to care for.
Making a choice
First of all, you need to decide on the material from which the railing will be made.
Most often, fences are made of wood, glass, aluminum and plastic. You can order both: custom railings in Toronto and already made designs.
Production under the order
Bespoke patio railing is the classic choice of most homeowners. Most often it is made of wood. For production is mainly used cedar wood or Ipe wood. These materials are the most durable and unpretentious in care.
Classic wooden railings
Wood is easy to process, so you can easily create a unique design for fencing the deck. Such railings will look most harmoniously with wooden or stone facades. They consist of 4×4 posts, 2×4 rails, 5/4×6 top rail and 2×2 baluster.
Railings with wooden and aluminum balusters
Most often, aluminum is used as an additional material in combined railings. This metal does not rust, is unpretentious for cleaning, durable and very quickly installed. Homeowners usually choose the classic black aluminum fence option. It consists of 4×4 posts, 2×4 handrails, 5/4×6 top handrail and ¾ aluminum balusters.
Wooden railing with clear glass
The main advantage of glass railings is excellent visibility and aesthetic appeal. They harmonize perfectly with almost any design of the house, but require frequent cleaning. Consists of 4×4 posts, 2×4 rails, 5/4×6 top rail and 6mm clear glass.
Cable railing
This solution is one of the most stylish and modern options for the deck. The fence consists of 4×4 posts, 5/4×6 top rail, stainless steel cables and cable fittings. The material does not require any special care, does not rust and provides excellent visibility. The Installer puts this railing directly on the object, using the material that was used in the construction of the deck. For example, if the deck was made of Ipe, then the craftsmen will work with the same material.
DECK RAILING SUPPLIERS IN TORONTO
You can order from us already manufactured branded models of railings from world-famous manufacturers of composite decking. We cooperate with Fortress, Kool Ray, Century and other firms. The warehouse always has a range of ready-made products that are sold in disassembled form and assembled by the deck railing contractor directly at the facility. Brand models are easy to install, they look good in the exterior, and most importantly, such products have fairly low prices.
The most popular are models from the Fortress brand. By installing fences from this manufacturer, you can be sure of the highest quality of materials, as the company has been on the market for over 40 years. In addition, all Fortress products are coated with a multi-layer anti-corrosion coating. The most popular railings are made of aluminum or a combination of aluminum and glass.
Another high-quality fence option is products from Kool Ray. They will harmoniously look with any exterior, which is important for the homeowner. All products of this brand are certified, practically do not require maintenance and are guaranteed to serve you for many years.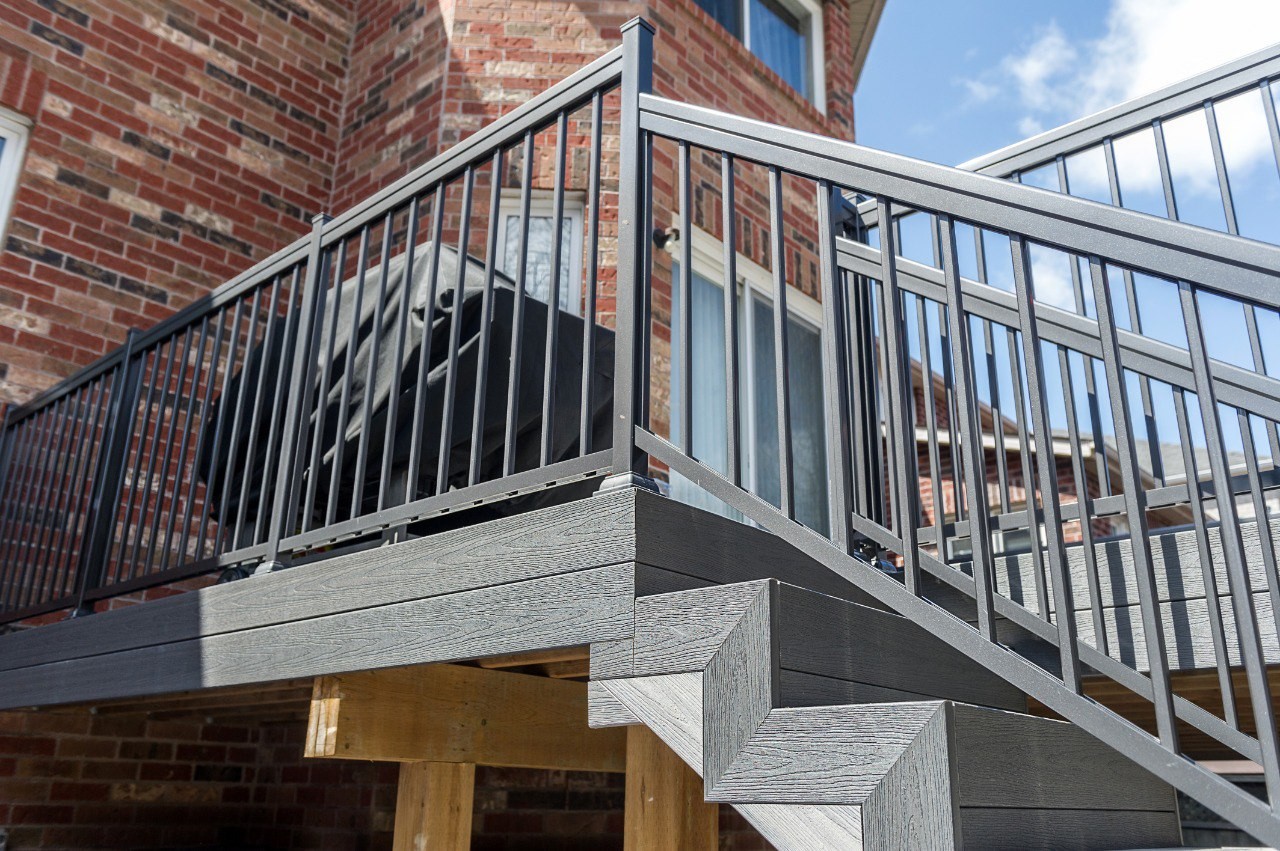 Read our Client Reviews
You probably heard a saying "a picture is worth a thousand words", we think that a satisfied client is worth a thousand pictures!
Delta Decks has a very high customer satisfaction rate and we are not afraid of giving an option to a potential client to contact any of our 20 very recent clients! Please read some testimonials below. Please note these testimonials were not gathered by Delta Decks, but by a third party.
Jun 12, 2018
We tried to work with a couple other deck builders and ran into issues when it came to permits, permit drawings and reliability. Alex at Delta decks w
...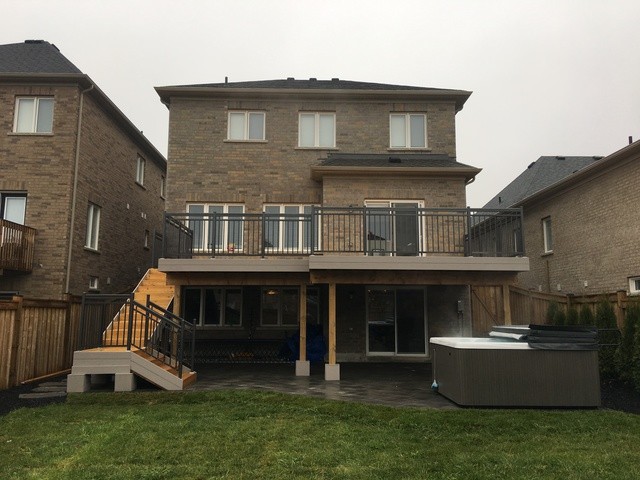 Jun 13, 2018
Burlington. Needed my front and rear decks replaced. Nicky Crone of Delta Decks West was my sole contact and builder. She was very professional and re
...
Jul 12, 2018
Outstanding work. These guys are artists. Great price. Open to ideas and changes. We are delighted with the results of our balcony and new deck and fr
...
Jul 01, 2021
The builders were talented and patient enough to accomplish the intricate design that we had planned for our deck. They used only the best materials,
...
Jul 07, 2021
I appreciate the great service and also the highly affordable fee. I am thankful for their assistance.