10 WAYS TO USE YOUR DECK IN THE WINTER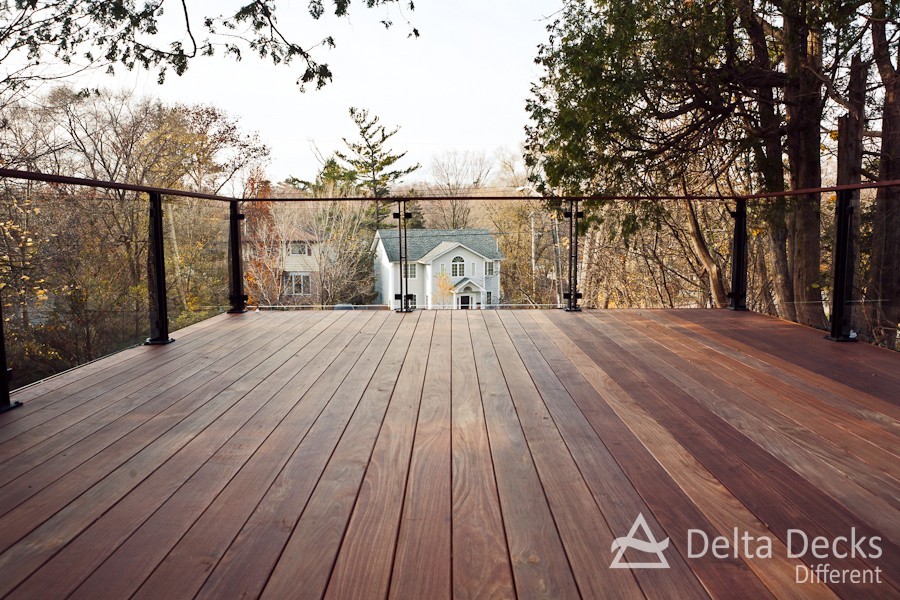 HOW DO I MAKE MY DECK USABLE IN THE WINTER?
The deck is a great place to spend time outdoors. However, precisely because it is located in the open air, in the cool season, many homeowners don't find the use for it. Especially in winter, when low temperatures, snow and wind make your cold decking an uncomfortable site. Nevertheless, Delta Decks knows plenty of ways to make your deck usable in winter. You merely need to provide the deck with winter care and adopt one or more of the solutions that we will talk about in this article.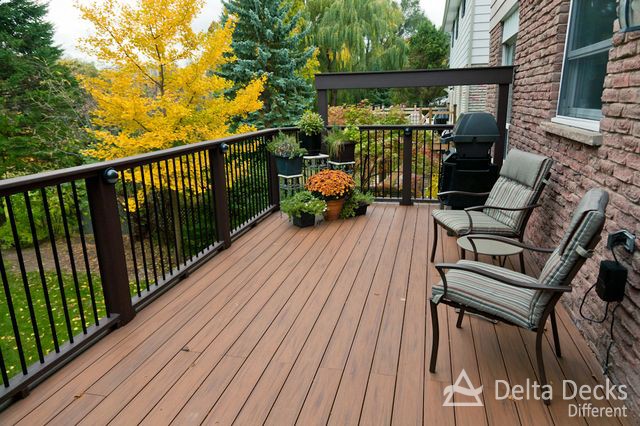 ADD HEATERS TO YOUR DECK
A heater is an effective means to increase the temperature on your terrace. There is a wide range of heaters that vary in the location, the type of heating, the profitability and the service life. Take the advantage of one or several of the deck heating options according to the design and material features of your deck.
Wood or gas fire pits. They serve as a meeting space and spread a pleasant warmth. Nonetheless, they can be unsuited for some classes of a deck, since the fire pit bottom is extremely hot and embers can "shoot" on the flooring. For instance, it is unsafe to install this type of patio heater on a wood deck. A wooden deck as well as a composite one (e.g. Trex) are not flame resistant. Thus, one wonders, "How can you put a fire pit on a Trex deck?" Above all, it is vital to take precautions. The installation process of a fire pit on a Trex deck includes cutting the decking around the pit, setting a fireproof material below the pit and constructing a defensive wall made of refractory material. This will reduce the thermal impact on the deck. Delta Decks, as one of the composite deck builders working with Trex decking, doesn't advise to put a fire pit on the top of the deck earnestly, as this can lead to inflammation. If you want to utilize a handheld fire pit, then lay a protective underlay of a fitted size under it.
Overhead ceiling and wall deck heaters. You can attach such heaters to the porch ceiling, pergola beams or the house wall. Most commonly, these are infrared heaters. Their advantage is that they ensure uniform heating, cover a large area, while not taking up much space.
Moveable deck heaters. These heaters can be placed on a table or the deck floor. They are mobile, therefore you can keep warm anywhere on the deck, yet they solely carry out local heating of the space around them.
Heated outdoor decking. Due to this solution, you won't heat the air on the deck, but the decking instead. This means that snow and ice won't linger on the surface. In such a system heating wires or tubes are located under or through the deck board. You can turn on the heating whenever you need.
ENCLOSE YOUR DECK FOR WINTER
Another option to exploit your deck in winter is to completely close it from the outside world while preserving its functionality. Hence, you will not solely protect a deck from wind, rain and snow, however keep the heat inside too. This will be especially relevant if there is a roof over your deck or it's a part of the porch. How to enclose a deck for winter?
Cover open apertures on the terrace with clear vinyl. This is one of the cheapest options that will maintain both the heat and light on your deck.
Attach the drop-down panels. By hanging panels around the perimeter of the terrace, you can raise or lower them depending on the weather. Accordingly, they can be used all year round. They will shield from wind and snow in winter, and from dust or sun in summer.
Acquire premade enclosures. They may consist of a frame, vinyl and fabric inserts. Cover the deck from all sides by custom-made enclosure. This option is more expensive in comparison with others, however it can be used in warm weather eke.
SHOULD YOU COVER A WOOD DECK IN THE WINTER?
In winter, there is a high probability that your wooden deck will be covered with snow or ice. This amount of moisture combined with low temperatures can cause a deck popping in cold weather. Some types of wood decking are initially moisture-resistant (e.g. Ipe), therefore they don't require additional care. If you are not sure about the durability of your decking, you can preserve it by winter decking cover. It will create a physical barrier between the deck and the snow, which will prevent moisture from seeping into the wooden boards. A heavy tarp is well suited for such purposes, thereby you can cover as much of your terrace with it as possible. Meanwhile, improperly selected and installed coating can restrict the air circulation under it, which may bring about the process of rotting and deformation of the wooden deck. Therefore, before covering your deck for the winter, it is better to consult with the deck manufacturer.
HIDE A DECK UNDER A CANOPY
A canopy or an awning situated above the entire deck area or merely over a part of it, will delay snow or rain, retaining the spot under it dry. These structures ordinarily consist of an iron frame and a fabric roof. There are automatic or manual retractable models among awnings, which makes it easy to take them down when they are not demanded.
INVEST IN A HOT TUB
If the area of your deck allows, arrange it with a hot tub and enjoy the combination of hot water and frosty air. You can select a portable or stationary hot tub and utilize it at any time. The main condition is the ability to supply water and electricity to it. At the same time, keep in mind that the spray falls on the deck and can turn into ice quickly. Consequently, consider a heated deck around the hot tub.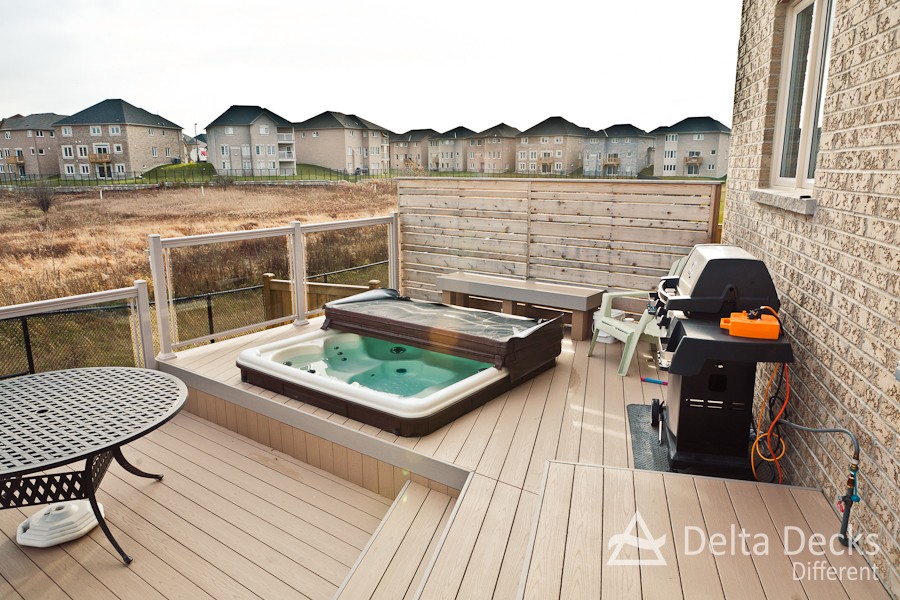 DECORATE YOUR DECK FOR WINTER
The cold season and Christmas holidays are the time to bring winter deck decorating ideas to life. The decoration will serve as both aesthetic and practical item. Add the light and a cozy atmosphere on winter evenings by hanging lanterns. Moreover, pay attention to the outdoor furniture. Winter furniture with heating, pillows and warm blankets will provide a comfort along with the stylish look to your terrace.
WHAT ARE PORTABLE PATIO DECKS
Portable patio decks are a great idea for those who don't desire a permanent terrace or who want to take it with them on trips to the countryside. These portable kits allow you to arrange a terrace anywhere in a couple of minutes. For this reason, in winter it can be disassembled and assembled when it's required in winter.
OUTDOOR KITCHEN
You can cook outdoors even in cold weather. Portable grills and wood-burning stoves generate enough heat to keep you warm while cooking.
TREE STRATEGY
Plant a fence of trees around the terrace. Conifers are especially eligible, since in winter they will not solely secure against wind gusts, however reduce the amount of moisture in the air too.
PROTECT YOUR DECK AND YOURSELF
The accumulation of snow on the deck can deform it, as well as ice on a smooth surface can turn it into a territory, dangerous for the health. When cleaning the deck, an application of metal shovels is strongly discouraged, as they can scratch deck boards. Give preference to plastic shovels and brooms. Besides, don't melt ice by means of salt and other corrosive substances, as they can dry out your deck and discolor it. A good alternative to dealing with ice is a grip strip tape. Before purchasing, check that the material of your decking is appropriated for gluing the tape. Follow these simple recommendations and enjoy your deck in winter.
Regardless of the purpose of using your deck, you need to be assured of its reliability. In Delta Decks we install composite decks (https://deltadecks.com/services/composite-decking) for residential and commercial properties in the Greater Toronto Area. Due to the resistance to mold, moisture and cracking, composite decks built by Delta Decks withstand winters for years.
If you want to find out more information about decks that don't require much maintenance in winter, contact us and we will be glad to assist you.