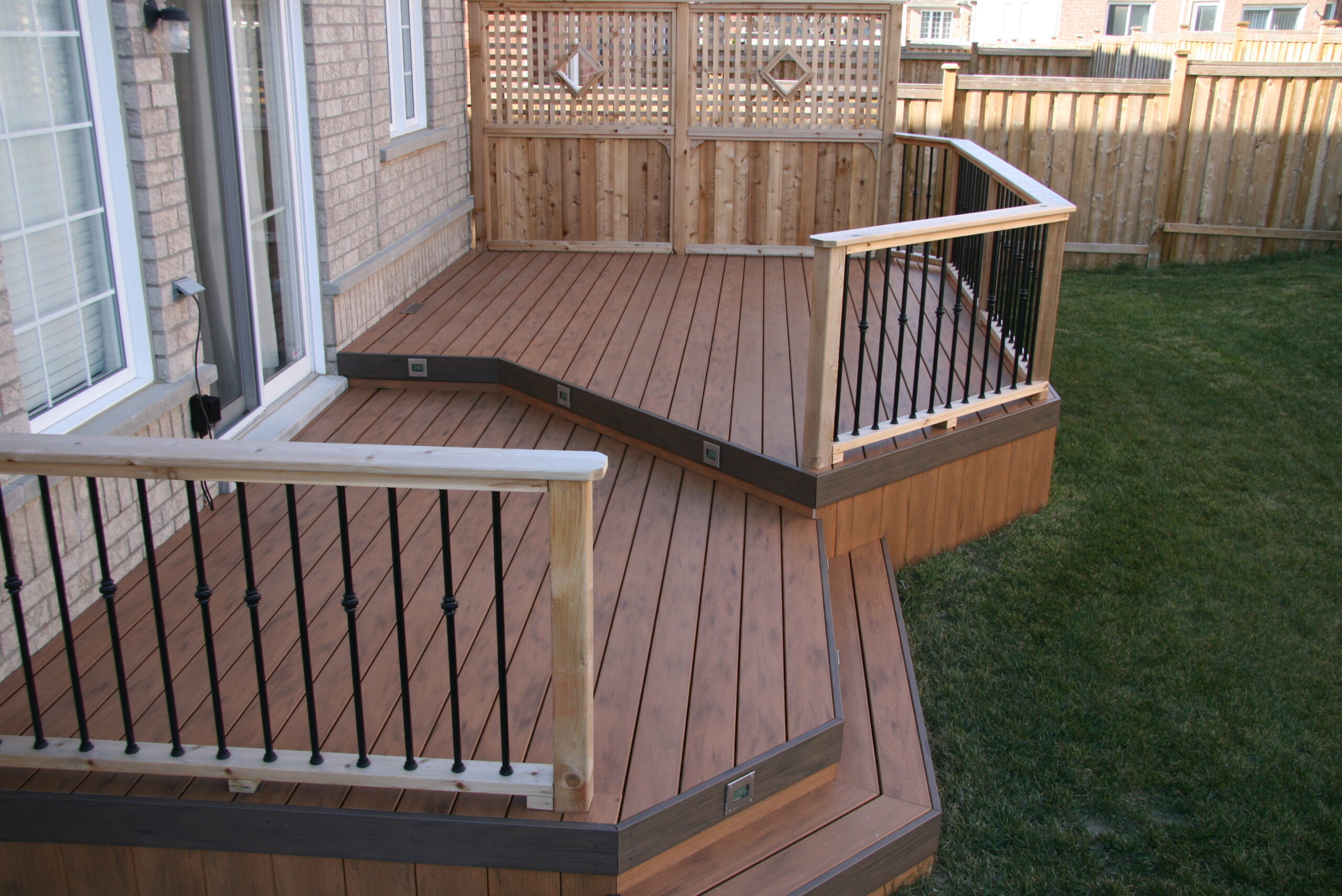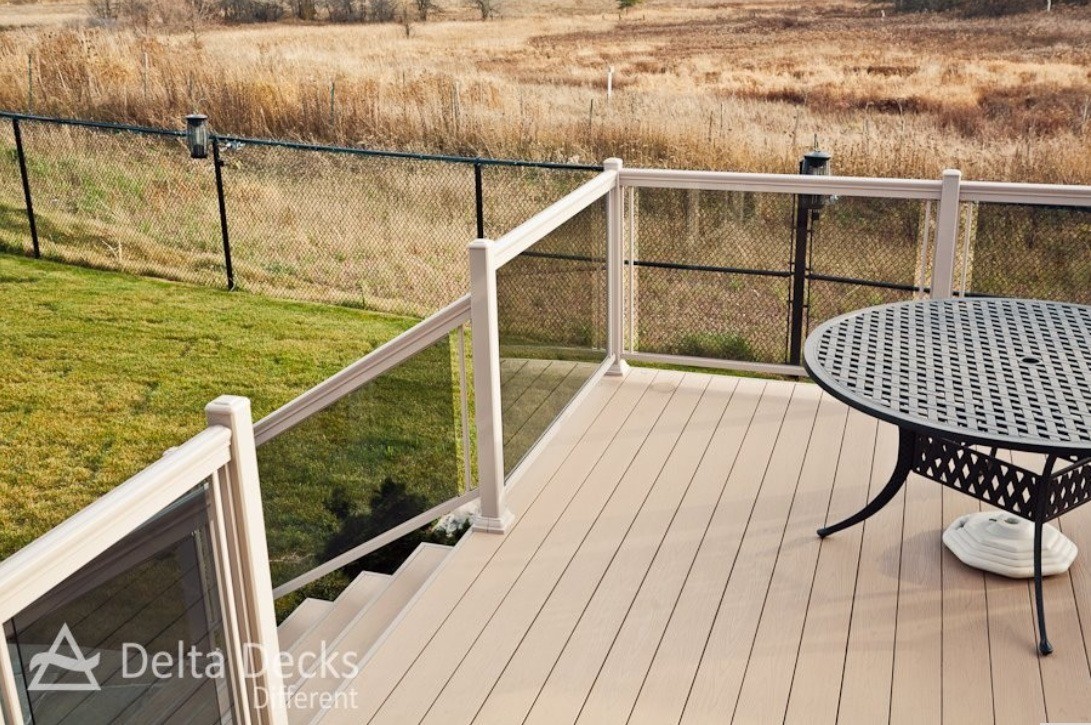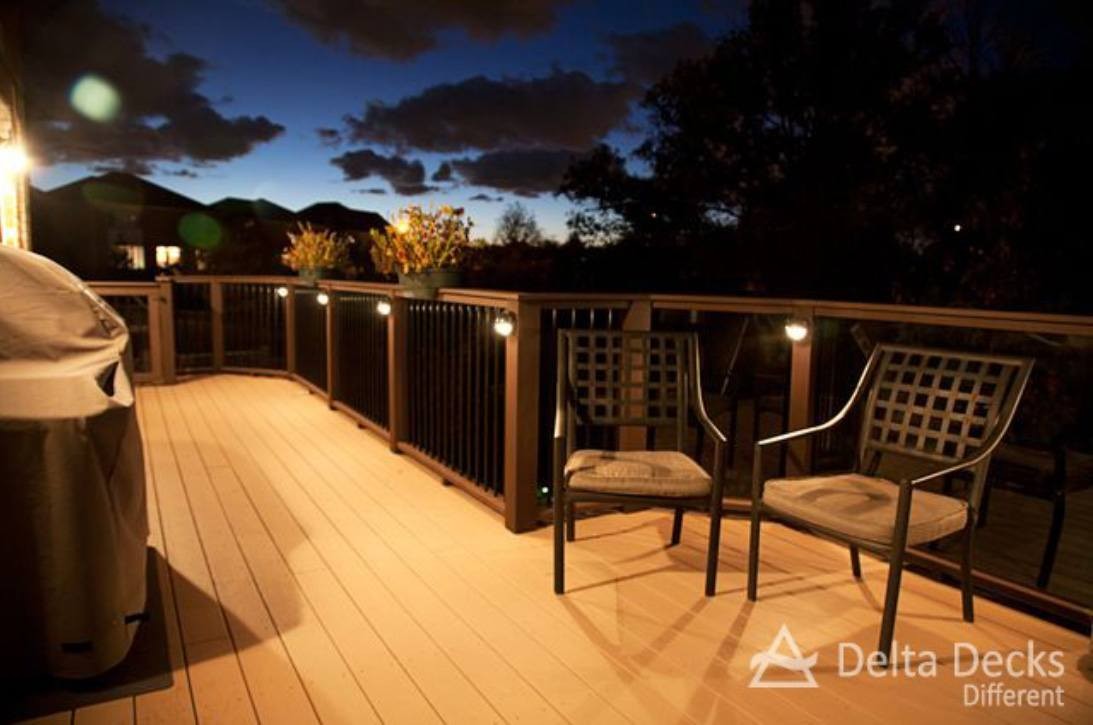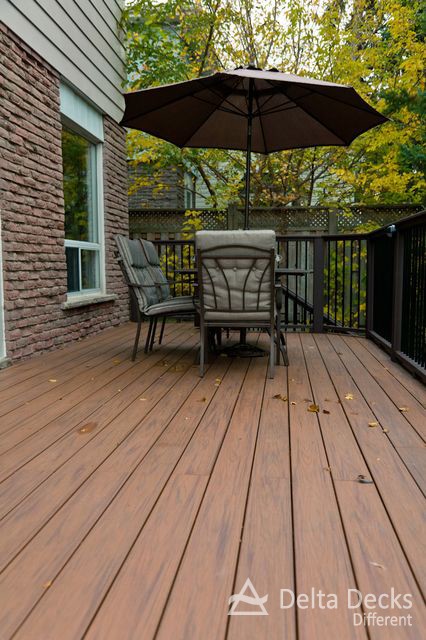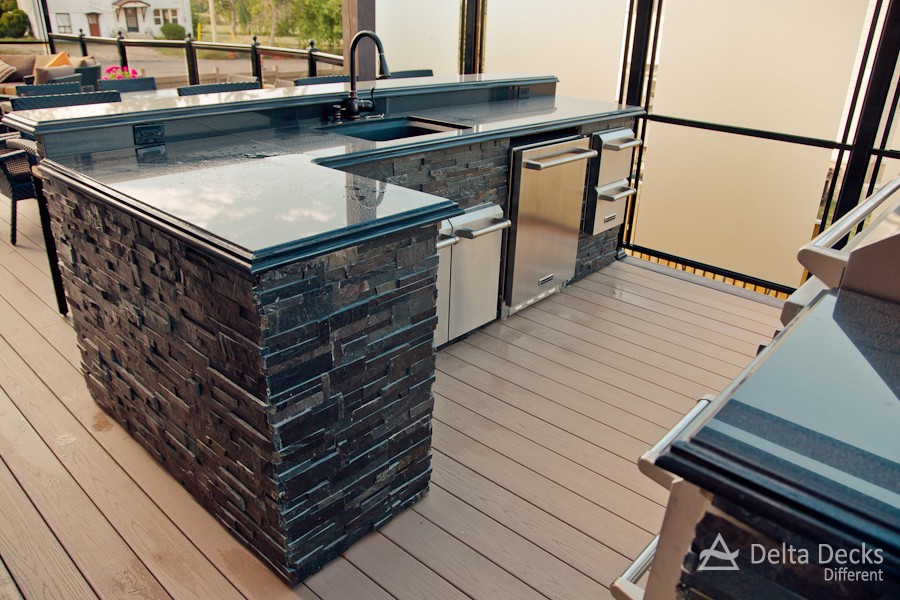 TORONTO COMPOSITE DECK BUILDER
Creating an outdoor living space will transform the value of your home and give you endless hours of enjoyment. If you're looking for a composite deck builder in Toronto then Delta Decks is the way to go. Our skilled carpenters specialise in custom deck building and we have a decade's experience in designing and building all kinds of projects, from large-scale commercial projects to custom-design residential concepts. Keep reading to learn about the different composite decking options available to you, and how to commission building services for your dream deck.
Your Expert Deck Contractors
Unmatched Experience in Toronto Deck Building Industry
Specializating in Low Maintenance Decking and Ipe Wood Decks
Composite Decking Installer Near me
For years, natural hardwood decking was the way to go – but composite decking has boomed in popularity in recent years because it delivers all the beauty of wood with none of the drawbacks. Let's compare:
Wood decks:
Splinter, crack and warp
Scratch and stain easily
Are susceptible to moisture, sun and insect damage
Require annual staining, sanding and painting
Are made from felled trees which are pressure-treated with toxic chemicals
Have a lower upfront cost but require expensive maintenance
Composite decks:
Resist mould, UV and insect damage, and do not splinter or crack (if purchased from a reliable brand
Can be reinforced with 'capped' technology protecting them from moisture, scratches and stains
Require simple soap and water cleaning
Are usually backed by a warranty of at least 25 years
Are fabricated from recycled materials such as reclaimed lumber and plastic
At Delta Decks we only use industry-leading materials from the world's top composite decking brands, including Fiberon, TimberTech and Trex. These companies offer tried-and-tested products famous for their durability, available in multiple collections and dozens of natural colours, and protected by decades-long warranties.
WE BUILD WITH INDUSTRY-LEADING DECKING MATERIALS
When researching to build your composite deck, you will encounter different companies, collections and board types. They generally fall into the following categories:
01
Super cheap, unknown foreign brands: these products can sometimes be found for $4/sq. ft. at major retail stores. However, they have no warranty and tend to discolour, peel and crack – you get what you pay for.
02
Entry-level products from major North American brands: every major brand has an entry-level composite decking collection (for example Trex Enhance, Fiberon Goodlife and TimberTech Edge). Boards are usually available in 2-3 solid colours, have a scalloped underside, and cost around $6-7/sq. ft. Of the three major brands, Fiberon is the clear entry-level leader as they use the same quality capping material as in their premium ranges and remove very little material for the scalloping in comparison to TimberTech and Trex.
03
Premium entry-level products: the colours used for these decking boards are multi-tonal rather than solid, delivering that natural wood aesthetic. Quality-wise, the boards are the same as entry-level and Fiberon remains the leader. You can expect to pay about $7-8 sq. ft. for products in this category.
04
Mid-range composite decking: such boards have a solid profile (not scalloped), a wider array of colours, and are wrapped on three sides with plastic capping. Trex, Fiberon and TimberTech offer good choices in this category, and we recommend opting for newer product lines which are trendier in appearance and utilise the latest advances in technology. Expect to pay between $10-12 per sq. ft.
05
Top-of-the-range composite decking: these composite decking boards have a protective cap on all sides, providing the most attractive look and the best scratch and moisture resistance. Only Fiberon and TimberTech offer products in this category, which cost around $12-14/sq. ft.
COMPOSITE DECK EXPERTISE
With the range of decking options available today, it is vital to find composite decking contractors who:
Have expert knowledge of each product line
Can advise you on the best brand to fit your concept, purpose and budget
Will assist you in designing your ideal deck project
Ensure that your outdoor living space is safe and beautiful for decades to come
Will install your composite decking without voiding your warranty
YOUR TORONTO COMPOSITE DECK BUILDER
If you're looking for 'composite deck installers near me' then you're in the right place. At Delta Decks, we have 15 years' experience building composite decks in the Greater Toronto Area, and are certified installers of the most popular composite brands like Fiberon Decking, Trex Decking, Azek Decking and TimberTech Decking.
We have a proven track record of being able to tackle some of the most complex composite decking jobs in Toronto. With our extensive experience, we are able to work to tight deadlines and provide consistent quality products for residential and business purposes.
Our talented team of designers, project managers and carpenters will work with you every step of the way – from designing your dream deck project, to talking through the different composite decking brand options, to building the finished piece.
Come and browse our showroom to find dozens of available colours and brand choices, check out our composite deck gallery, or contact us today for a quote!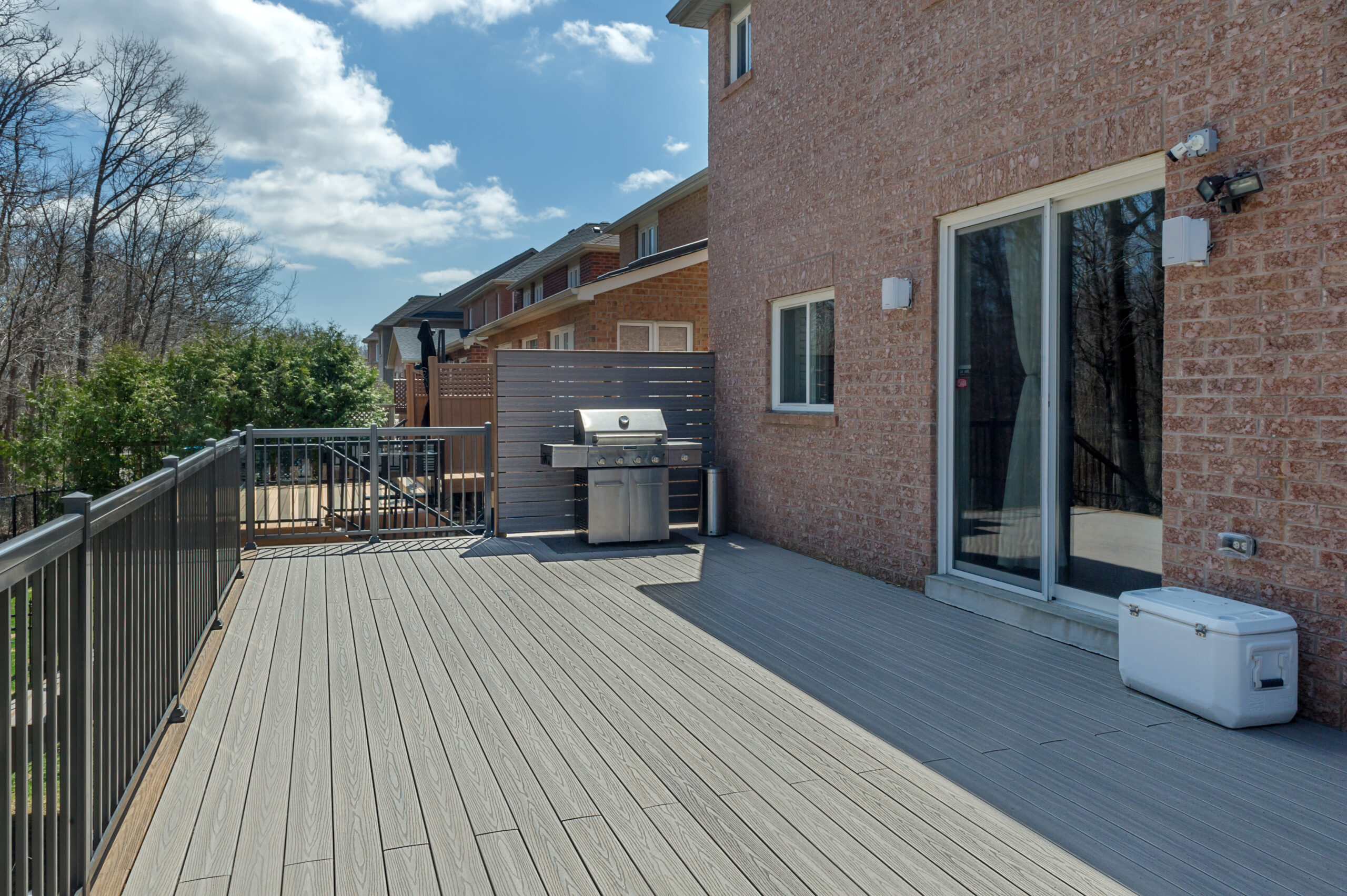 WHAT IS IPE WOOD DECKING?

Ipe is a hardwood species that grows in Central and South America (it is also known as Brazilian Walnut). Thanks to its density, durability, moisture resistance and beauty, Ipe is the undoubted leader of all wood decking materials – and the industry standard that all other lumber decking is compared to.

WHAT KIND OF COMPOSITE DECKING DO YOU RECOMMEND?

As we said, each composite brand is made of its own special blend of materials – some better than others. In Delta Decks' years in business we have seen many 'new and improved' composite brands try and fail in just a couple of years, when they can't match their competitors for quality and people stop buying their products. We would recommend Trex – an industry leader in composite decking for more than 20 years. Trex offers the most reliable composite decking on the market, continually bringing out new products made with the latest technology and built on their decades'-long foundation of experience.

SO IS A PLASTIC DECK THE SAME AS A COMPOSITE DECK?

No. A plastic deck – otherwise known as a PVC deck – is made of 100% plastic. Composite decks are a blend of wood and plastic.

I HAVE AN OLDER DECK. CAN I REPLACE THE DECK BOARDS WITH COMPOSITE BOARDS?

It is possible to do this, as long as your decking frame was properly constructed and remains in good condition. Contact us for a free quote to replace your old decking.

HOW OFTEN DO I NEED TO WASH MY COMPOSITE DECK?

Thanks to their technology, most composite decks don't need the protective finishing that wood decking does. However, we still recommend that you wash your composite deck with soap and water every 1-2 years to avoid damage from the elements.
COMPOSITE DECK PROJECTS
Read our Client Reviews
You probably heard a saying "a picture is worth a thousand words", we think that a satisfied client is worth a thousand pictures!
Delta Decks has a very high customer satisfaction rate and we are not afraid of giving an option to a potential client to contact any of our 20 very recent clients! Please read some testimonials below. Please note these testimonials were not gathered by Delta Decks, but by a third party.
Aug 17, 2022
Delta Decks did a beautiful job on our backyard deck and patio. Our old deck was in dire need of a rebuild and refresh. Elgi was great in getting the
...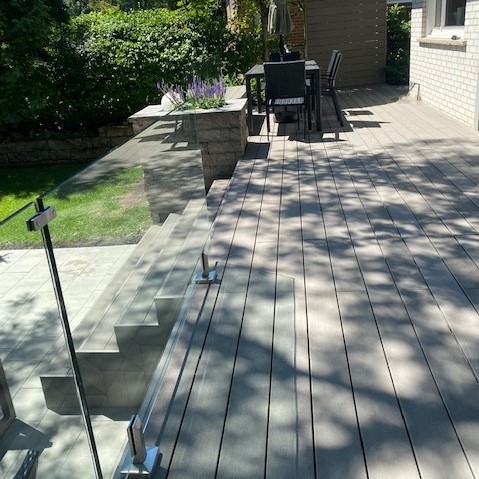 Jul 22, 2022
Delta Decks replaced my very worn old wood deck with a mineral based/pvc 'Deckorators' product, color 'Costa'. Finding a taupe color was a challenge b
...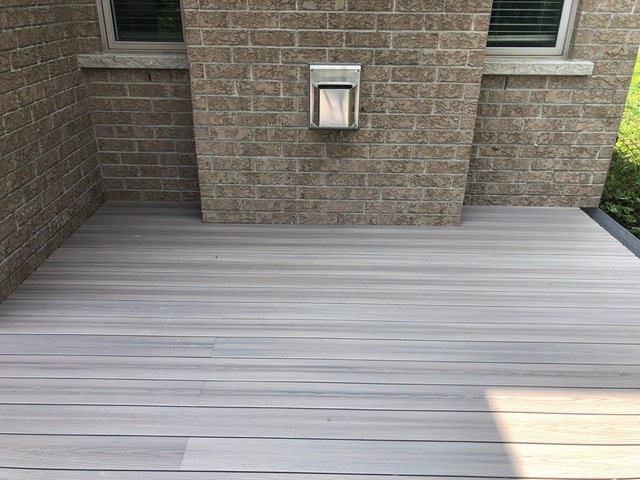 Dominic in Toronto
Toronto, ON
Jul 21, 2022
I am very satisfied with the improvements that Delta Decks made to my 12 year old deck. From my first contact with Elgi, the project manager ,to the f
...
Jul 11, 2022
This review has been a long time coming. We had Elgi and team come in on September 2021 and after some talks about designs and materials we ended up g
...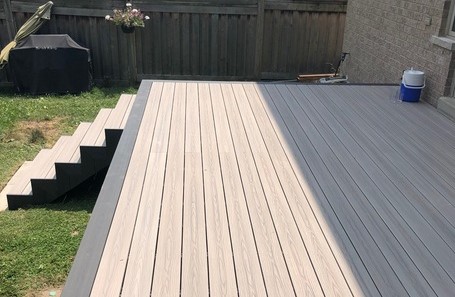 Jul 05, 2022
It was a pleasure choosing Delta Decks to work on our backyard project. They built an upper lever deck, and a lower deck, both with composite. Elgi ma
...