DECK BUILDER VAUGHAN
We are your local Vaughan Deck Builder. If you are looking for a deck contractor or a deck company in Vaughan, we have contractors ready to build your deck in your area. Many homeowners are looking for a contractor in their area to minimize travel expenses and maximize time spent on site on any given work day. We have built many decks in Vaughan and we hope to add you to our list of happy clients. Please contact us today to set up a free consultation or visit our showroom.
VAUGHAN DECKING SERVICES
The types of decks that we build in Vaughan include composite decks, Ipe decks, rooftop decks, backyard decks and multi-level decks. Other common deck project features in Vaughan include privacy screens, deck railings, deck stairs and pergolas.
DECK BUILDER IN VAUGHAN
If you need to obtain a deck permit in Vaughan we have a designer who has experience working in your municipality. To obtain more information about zoning and structural requirements in Vaughan you can always contact the building department for more information.
SEE SOME OF OUR PAST WORK
Read our Client Reviews
You probably heard a saying "a picture is worth a thousand words", we think that a satisfied client is worth a thousand pictures!
Delta Decks has a very high customer satisfaction rate and we are not afraid of giving an option to a potential client to contact any of our 20 very recent clients! Please read some testimonials below. Please note these testimonials were not gathered by Delta Decks, but by a third party.
Jun 12, 2018
We tried to work with a couple other deck builders and ran into issues when it came to permits, permit drawings and reliability. Alex at Delta decks w
...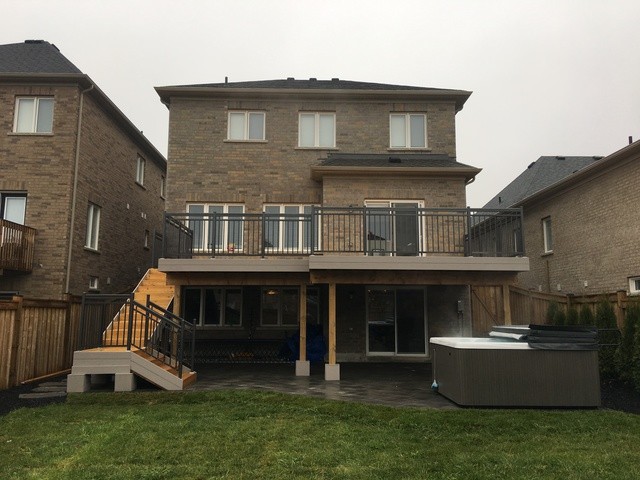 Jun 13, 2018
Burlington. Needed my front and rear decks replaced. Nicky Crone of Delta Decks West was my sole contact and builder. She was very professional and re
...
Jul 12, 2018
Outstanding work. These guys are artists. Great price. Open to ideas and changes. We are delighted with the results of our balcony and new deck and fr
...
Jul 01, 2021
The builders were talented and patient enough to accomplish the intricate design that we had planned for our deck. They used only the best materials,
...
Jul 07, 2021
I appreciate the great service and also the highly affordable fee. I am thankful for their assistance.