MARKHAM DECK BUILDERS
Markham is the largest of the nine communes of York Region. It is a fast evolving territory with awesome housing, prompt business development as well as spectacular recreational areas. This region is positioning itself as the best place in North America to manage and place various businesses. Most of its territory is occupied by rolling hills or great landscapes, making the area perfect for decking. Among Markham deck builders there are certified professionals who are always ready to fulfill all your expectations.
DECK TYPES & MATERIALS
The types of decks that are ordinarily built in Markham include:
Standard decks. They are installed perpendicular to the structure of the house and may vary in size. Common deck sizes are 8×16 feet or 12×24 feet. Larger sizes can be achieved by combining multiple standard types of decks. Homeowners should be informed that any 10 linear feet of decking adds 1 inch to summer sun exposure and 2 inches to winter sun exposure, so adding an extra section of decking will increase this exposure.
Elevated decks. Differ from the standard ones, as they are taller and don't connect to the structure of the main building as well. Elevated decks require additional support, which is provided by posts and beams that support the deck from below.
Multi-tiered decks. Typically built with stairs leading to the main deck area. This type of decking allows homeowners to have a lot of free space. In addition, they can be installed at different heights with two raised parts separated by a standard deck.
All types of such work can be performed by our deck builders in Markham.
Materials that are popular in Markham are Ipe and composite decking.
Ipe decking has a number of advantages, such as:
Extreme strength (very hard to scratch);
High resistance to rotting or a termite attack (will last over 40+ years);
Hardwood decking materials don't require any painting (but, they need to be oiled instead);
It doesn't have knots and has a gorgeous rich brown color with a perfect variation in texture.
However it is worth knowing that working with Ipe is quite a difficult, time-consuming process. Thus, it would be better to consult with a specialist. Markham deck builder can handle this task easily. We have over ten years of experience. During this time we have learned and applied the most efficient techniques in our industry.
Composite decking possesses a number of benefits:
The easy cleaning (with water and soap);
The durability and the protection from the mechanical damage;
Minimal maintenance (doesn't break down or rot over time like wood);
More choices in color (can be made in a wide range of colors and finishes, all of which will retain their hue).
MARKHAM DECKING SERVICES
A wide selection of outdoor structures for your patio and backyard, including composite decks, Ipe decks, multi-level decks, deck railings, privacy screens, deck steps, pergolas, etc. are professionally built by Markham deck builders. Our high-qualified builders in Markham provide a diversity of services. In particular, we offer a wide range of options such as 3D modeling, that could help in the visualization of the future deck or deck construction, so you don't have to install it yourself. Cooperation with famous designers allows us to stay in the trends of modern building. Be certain that Decks Contractor Company will help you with any of your requests in building a patio & decks Markham.
DECK & PATIO BUILDERS IN MARKHAM
You can count on our credible partnership. Delta Decks is to make all reasonable commercial efforts to make sure that the client is satisfied with the project's overall quality, cost and deadlines. Here are the advantages of our company:
Highly skilled staff. We are specialists in various fields that work in a supportive environment and promote professional development. We can handle both, large commercial residential projects and smaller-scale ones.
Great experience. We are Ontario's leading installer of ipe hardwood decks as well as composite decking. Likewise, we've been working with the prestigious architects coupled with the construction companies, including CORE Architects, Carillion, ORIN Contractors, etc.
Own warehouse (a stock of Ipe decking, Garapa Decking, Trex Decking, Azek Decking, Fiberon Decking, Siberian Larch Decking);
A well-organized workflow. As your contractors, we will engage you at every step of our working way. We will keep you informed of the status and progress throughout the whole process of the construction.
A warranty is available. The composite materials that we install possess a manufacturer's long-term warranty. To receive more detailed information, contact us.
In the region of Markham there are several top places to buy deck materials.
Markham builders can recommend local Home Depot, Rona and other lumber yards for pressure treated wood. Decks Toronto is a supplier for Delta Decks, which is selling wood and composite decking, fasteners, decking accessories as well as deck railings and lightning.
SEE SOME OF OUR PAST WORK
Read our Client Reviews
You probably heard a saying "a picture is worth a thousand words", we think that a satisfied client is worth a thousand pictures!
Delta Decks has a very high customer satisfaction rate and we are not afraid of giving an option to a potential client to contact any of our 20 very recent clients! Please read some testimonials below. Please note these testimonials were not gathered by Delta Decks, but by a third party.
Jun 12, 2018
We tried to work with a couple other deck builders and ran into issues when it came to permits, permit drawings and reliability. Alex at Delta decks w
...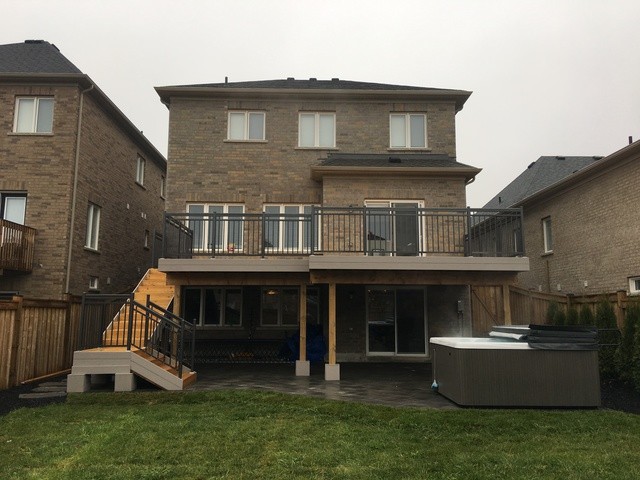 Jun 13, 2018
Burlington. Needed my front and rear decks replaced. Nicky Crone of Delta Decks West was my sole contact and builder. She was very professional and re
...
Jul 12, 2018
Outstanding work. These guys are artists. Great price. Open to ideas and changes. We are delighted with the results of our balcony and new deck and fr
...
Jul 01, 2021
The builders were talented and patient enough to accomplish the intricate design that we had planned for our deck. They used only the best materials,
...
Jul 07, 2021
I appreciate the great service and also the highly affordable fee. I am thankful for their assistance.