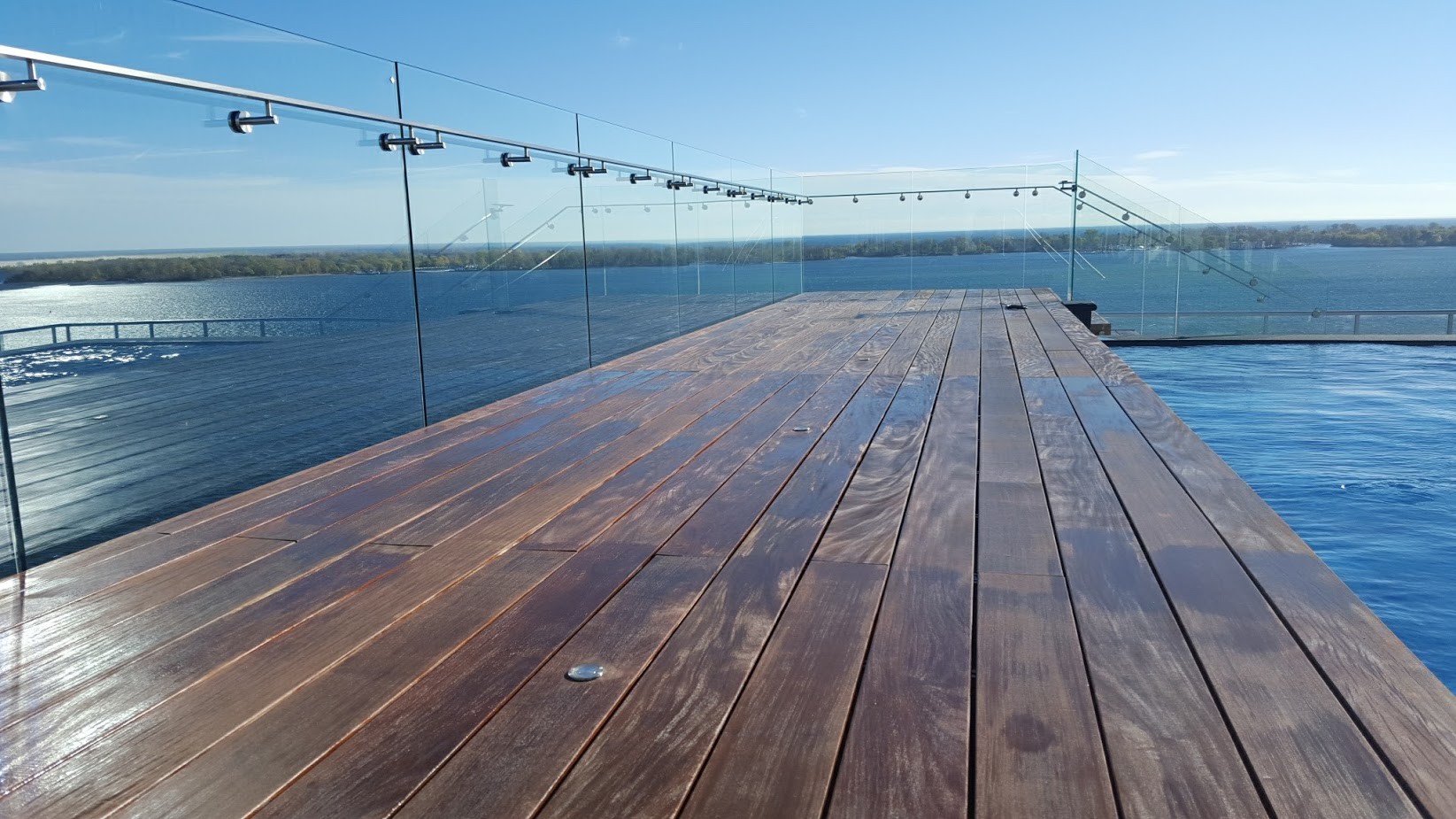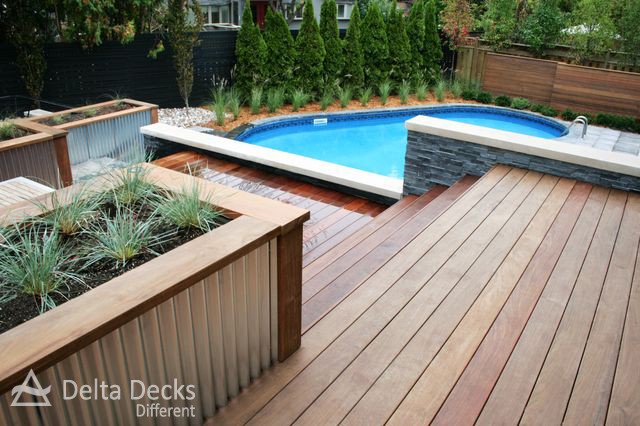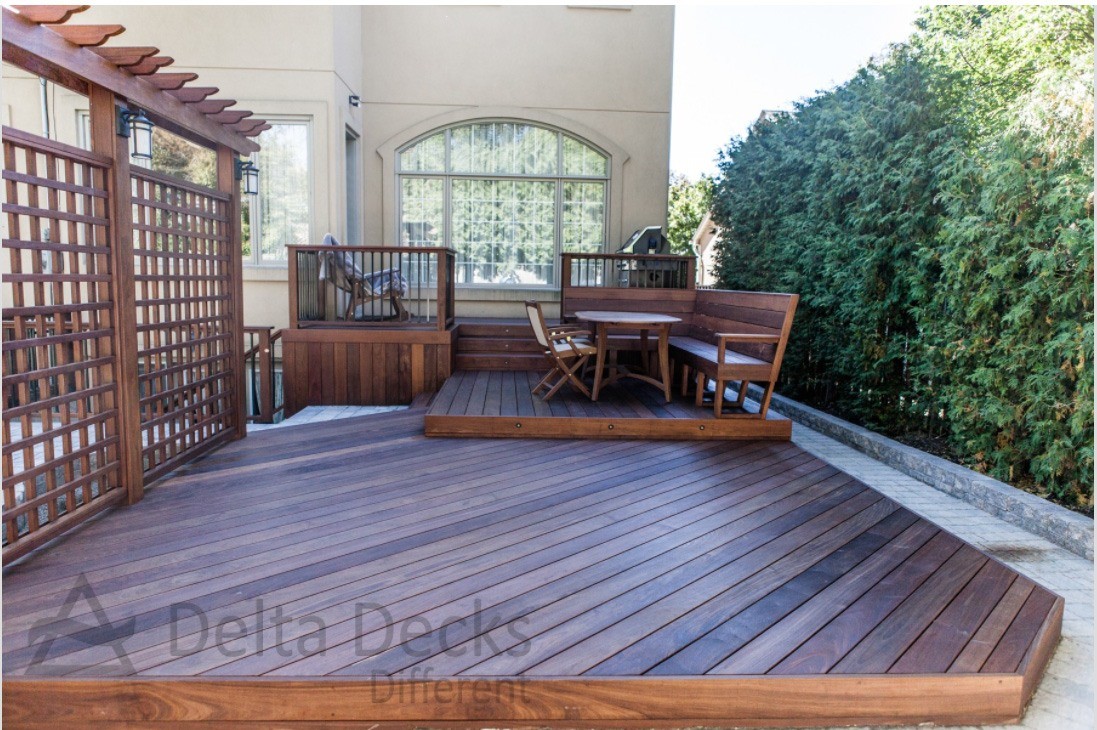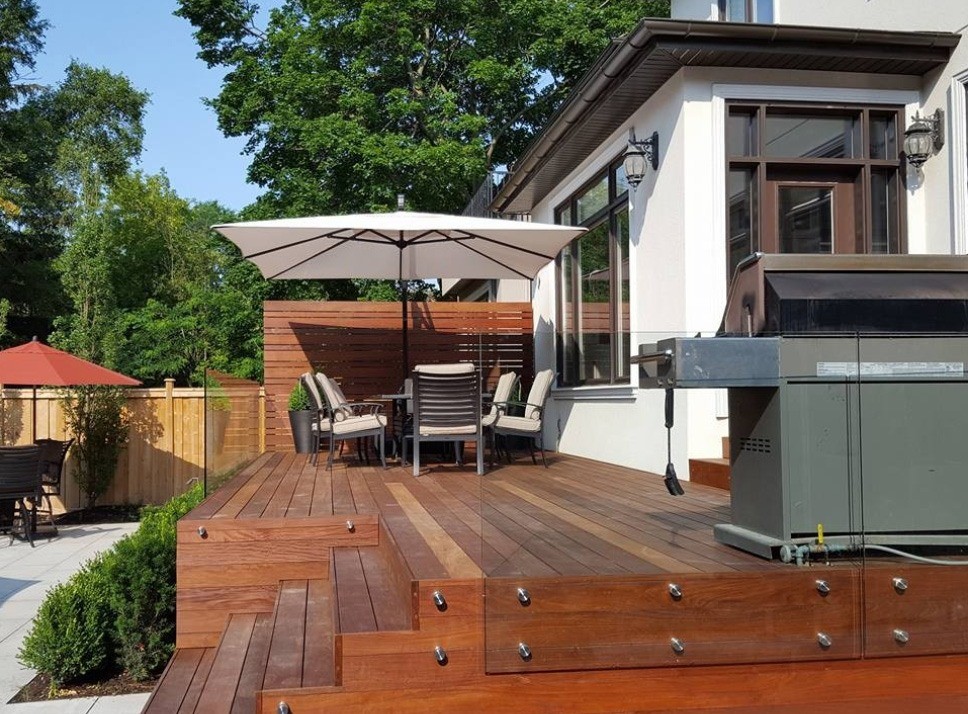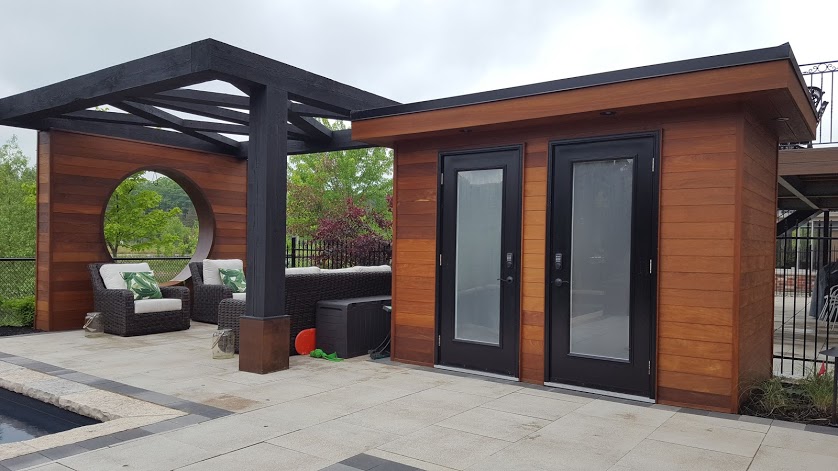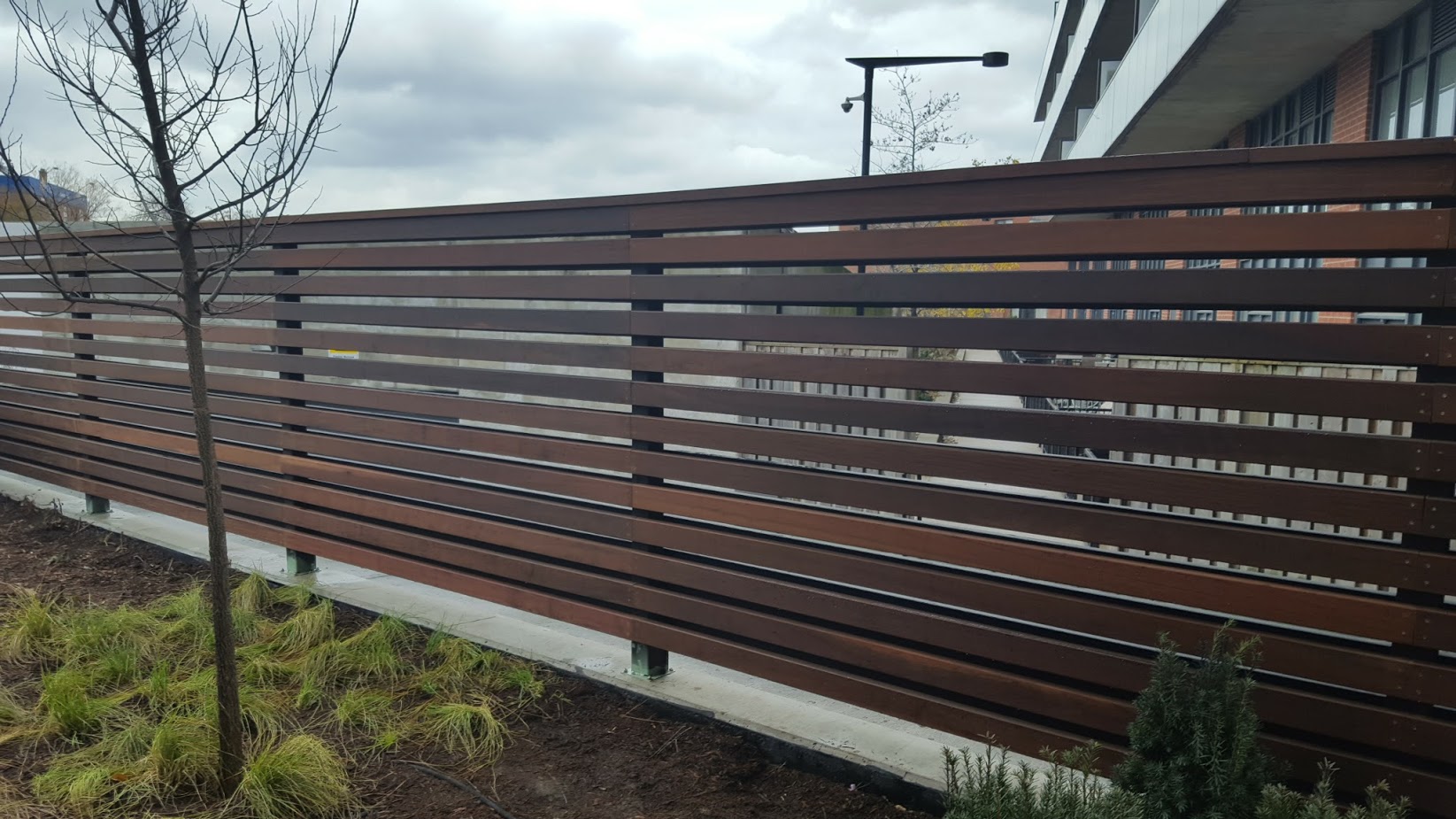 IPE wood decking
For a truly refined, natural-looking and long-lasting outdoor living space, many homeowners opt for Ipe wood decking. Otherwise referred to as Brazilian Walnut (and pronounced 'ee-pay'), Ipe is ideally suited for deck construction.
IPE DECKING – YOUR IDEAL MATERIAL FOR DECK CONSTRUCTION
Your Expert Deck Contractors
Unmatched Experience in Toronto Deck Building Industry
Specializating in Low Maintenance Decking and Ipe Wood Decks
WHAT ARE THE BENEFITS OF IPE DECKING?
If you have a classy outdoor space in mind and would prefer to build with wood, Ipe decking is certainly the best choice for you. There are many advantages to selecting this species of wood:
Durability
Ipe trees grow in the intense climate of Central and South America. As a result, Ipe is one of the world's densest species of wood and is the strongest natural wood decking material. It is six times harder and three times stronger than cedarwood, another popular choice for timber decking.
When exposed to the elements, Ipe expands, contracts and cracks less than other wood alternatives – this means fewer splinters and safer surfaces for children and pets to enjoy, even after years of weathering! For the harsh Toronto weathers, Ipe really is the ideal choice.
Fire resistance
Thanks to its density, Ipe wood has a very low flame-spread rating – the same fire rating as steel and concrete, earning it the nickname 'ironwood'! This makes it a suitable decking material even in areas prone to wildfires, and ensures that a barbecue accident won't spell disaster for your deck.
nsect resistance
Ipe wood contains a high concentration of oil, which not only combats moisture damage but helps to repel insects from infesting your deck, eliminating the need to treat your outdoor living space with harmful insecticides.
Low heat retention
In comparison to other wood, composite or PVC decking alternatives, Ipe wood retains less heat – your deck will be pleasant to walk on even on the warmest and sunniest days.
Beauty
The lush, warm tone of Ipe wood is one of its key selling points and suits the colour palette of any house. As an organic material, Ipe's hues range from yellow- or red-brown to dark brown with some natural striping. An added benefit of Ipe oil is the lustre it brings to your deck. What's more, Ipe wood's beauty is long lasting!
Over time your Ipe deck's warm patina will weather to a silvery grey colour due to sunlight. If you wish to preserve the original hue then you should treat the wood with a UV coating after cleaning it. If your Ipe deck has already acquired its silver patina, the original colour can be restored with pressure washing, a light sanding and a wood brightening product.
Natural feel
Of course, this is a key benefit of installing an Ipe deck. Even premium-quality composite or PVC decks cannot mimic the solid, natural feel of authentic wood.
Low maintenance
Generally, wood decking is known for being high-maintenance – requiring annual staining, sanding, painting and sealing which is both time consuming and expensive. After its initial sealing, Ipe wood decking requires only an annual oiling and washing with a bleach-based cleaner. With minimal maintenance your Ipe deck can comfortably last for at least 40 years, and over 100 years if properly installed and looked after.
WHAT ARE THE DRAWBACKS OF IPE DECKING?
01
Difficult to modify
Because of its hardness and density, it is difficult to cut and drill Ipe wood. This makes hiring a professional Ipe decking installer even more important, as they have the specialist tools and expertise to build your deck efficiently and safely. What's more, the oils that give Ipe wood its gorgeous hue make it difficult to paint or stain. But this generally isn't a problem as Ipe wood's natural colour is so distinctive.
02
Weight
In comparison to other natural wood decking choices such as cedar, redwood or treated pine, Ipe wood is twice as heavy. But this shouldn't be a problem if you hire Ipe deck builders – they will be responsible for the heavy lifting, leaving you to enjoy your new deck!
03
Cost
For homeowners considering Ipe wood decking, cost can be a downside: Ipe wood decks are priced around 30% more than other species of wood. However, you get what you pay for. What you spend in upfront costs, you make back in overall maintenance and longevity. A cheaper wood deck will damage more quickly, driving you to spend more on upkeep and to replace the deck sooner.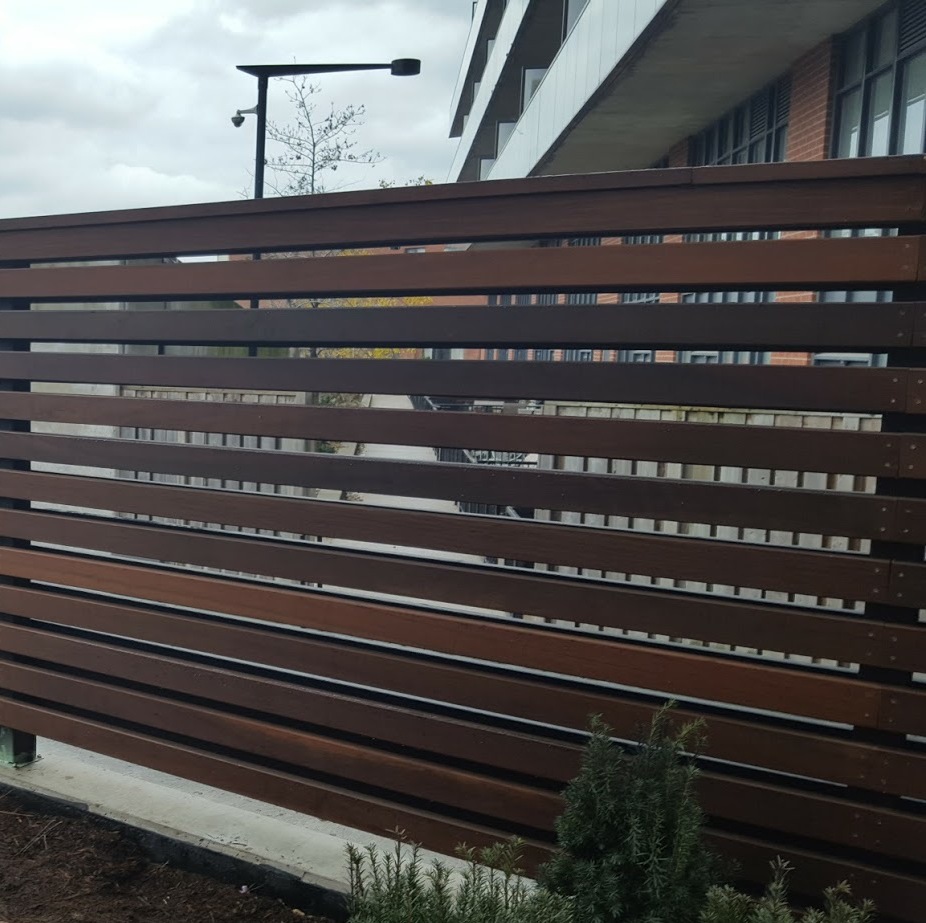 WHAT ARE OTHER POPULAR USES OF IPE WOOD?
Ipe wood isn't just suitable for backyard decking.
It can also be used to build:
Privacy screens and fences
Pergolas and gazebos
Heavy duty floors
Cladding and decorative walls
Handrails and balusters
Posts and columns
With so many different uses, Ipe wood is fantastic for creating a larger-scale project for a residential or commercial property which is harmonious with your decking.
TORONTO IPE DECKING DESIGN & BUILD SERVICES
Ipe is a precious and desirable natural decking material, yet it is complex to work with. For the safest and most beautiful Ipe wood decking, installation should be carried out by a certified builder – whether for a residential terrace or a large-scale commercial decking project.
An Ipe contractor will help you to conceptualise your dream deck with the assistance of professional designers and architects, do all the heavy lifting and sawing, ensure that your deck is installed according to building regulations, and be responsible for the initial maintenance, sanding and oiling etc. Then your Ipe deck will be all ready to enjoy!
IPE DECKING CONTRACTOR TORONTO (GTA)
If you're in the Greater Toronto Area and looking for a service to install your Ipe wood decking, then Delta Decks would be proud to help you. We are the largest installer of Ipe decks in Ontario, and since 2005 our expert team of talented carpenters, designers and engineers has built more than 100 Ipe wood decks.
We carry our own full inventory of Ipe decking to make sure we have the best product quality and availability to service our clients. Visit our showroom to browse Ipe wood samples, check out our portfolio of Ipe decking, or contact us today for a quote!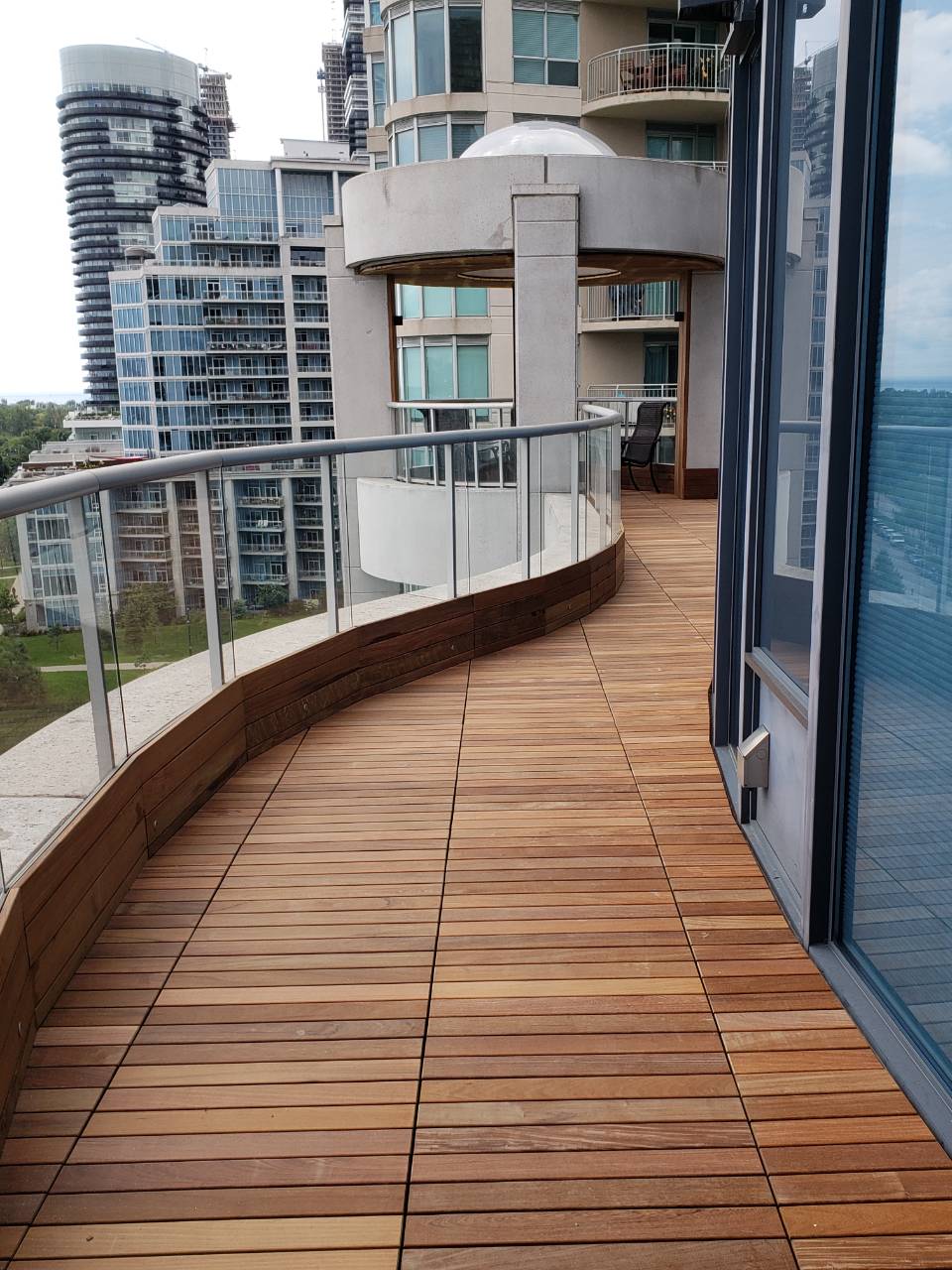 WHAT IS IPE WOOD DECKING?

Ipe is a hardwood species that grows in Central and South America (it is also known as Brazilian Walnut). Thanks to its density, durability, moisture resistance and beauty, Ipe is the undoubted leader of all wood decking materials – and the industry standard that all other lumber decking is compared to.

IS IPE DECKING WORTH THE COST?

Ipe is one-third more expensive than cedar, but is certainly worth the extra upfront cost. Whereas a cheaper deck will need to be replaced in just a few years, an Ipe deck can last for at least 40 years. Thanks to its gorgeous natural colour Ipe wood doesn't need any painting or staining, although we recommend oiling.

HOW LONG WILL AN IPE DECK LAST?

Ipe wood is one of the densest, hardest and strongest wood species. It doesn't scratch, is resistant to mould, moisture and insect damage, and is fire resistant. Thanks to all this, Ipe decking can last up to a century if properly maintained!

HOW DO I MAINTAIN MY IPE DECK?

Here are some Ipe maintenance tips from the professionals:

Never use film-forming coatings
Don't apply finish using a sprayer
Use penetrating oils, but don't overuse them and make sure to wipe off the excess
Make sure the wood finish has been applied on all four sides and dried before installing the deck
Remember: even though Ipe is the best hardwood choice, it will not stay beautiful forever without maintenance

HOW OFTEN SHOULD I OIL MY IPE DECK?

We would recommend maintenance at least once a year to keep your Ipe deck beautiful and safe for years to come. Even better, maintain your deck in the spring and in the autumn to prepare it for the coming seasons and ensure that the wood maintains its gorgeous colour.
IPE DECKING PROJECTS
Read our Client Reviews
You probably heard a saying "a picture is worth a thousand words", we think that a satisfied client is worth a thousand pictures!
Delta Decks has a very high customer satisfaction rate and we are not afraid of giving an option to a potential client to contact any of our 20 very recent clients! Please read some testimonials below. Please note these testimonials were not gathered by Delta Decks, but by a third party.
Aug 17, 2022
Delta Decks did a beautiful job on our backyard deck and patio. Our old deck was in dire need of a rebuild and refresh. Elgi was great in getting the
...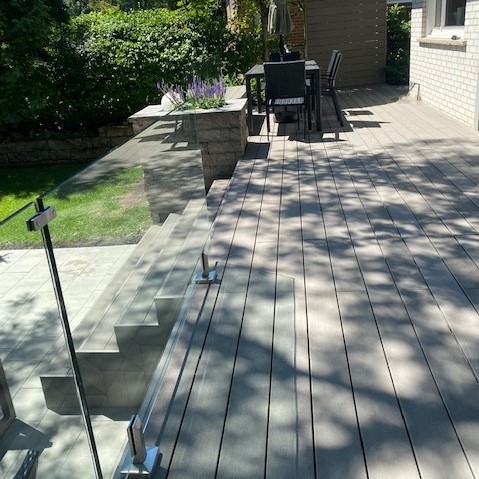 Jul 22, 2022
Delta Decks replaced my very worn old wood deck with a mineral based/pvc 'Deckorators' product, color 'Costa'. Finding a taupe color was a challenge b
...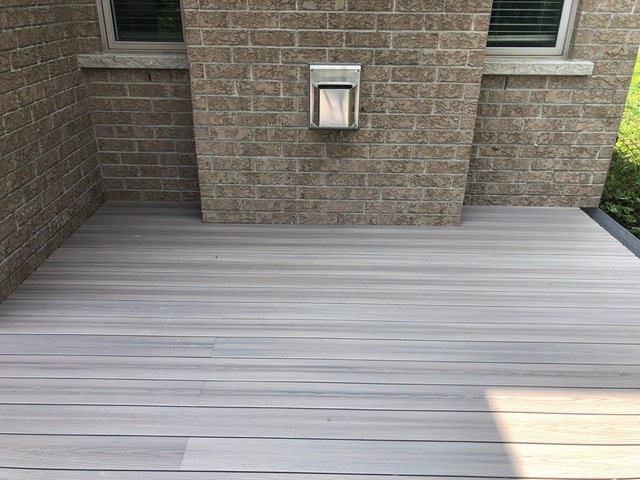 Dominic in Toronto
Toronto, ON
Jul 21, 2022
I am very satisfied with the improvements that Delta Decks made to my 12 year old deck. From my first contact with Elgi, the project manager ,to the f
...
Jul 11, 2022
This review has been a long time coming. We had Elgi and team come in on September 2021 and after some talks about designs and materials we ended up g
...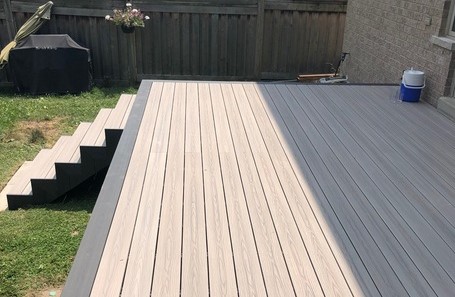 Jul 05, 2022
It was a pleasure choosing Delta Decks to work on our backyard project. They built an upper lever deck, and a lower deck, both with composite. Elgi ma
...