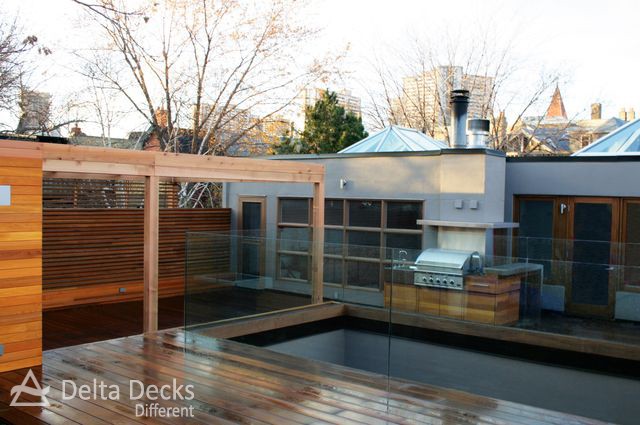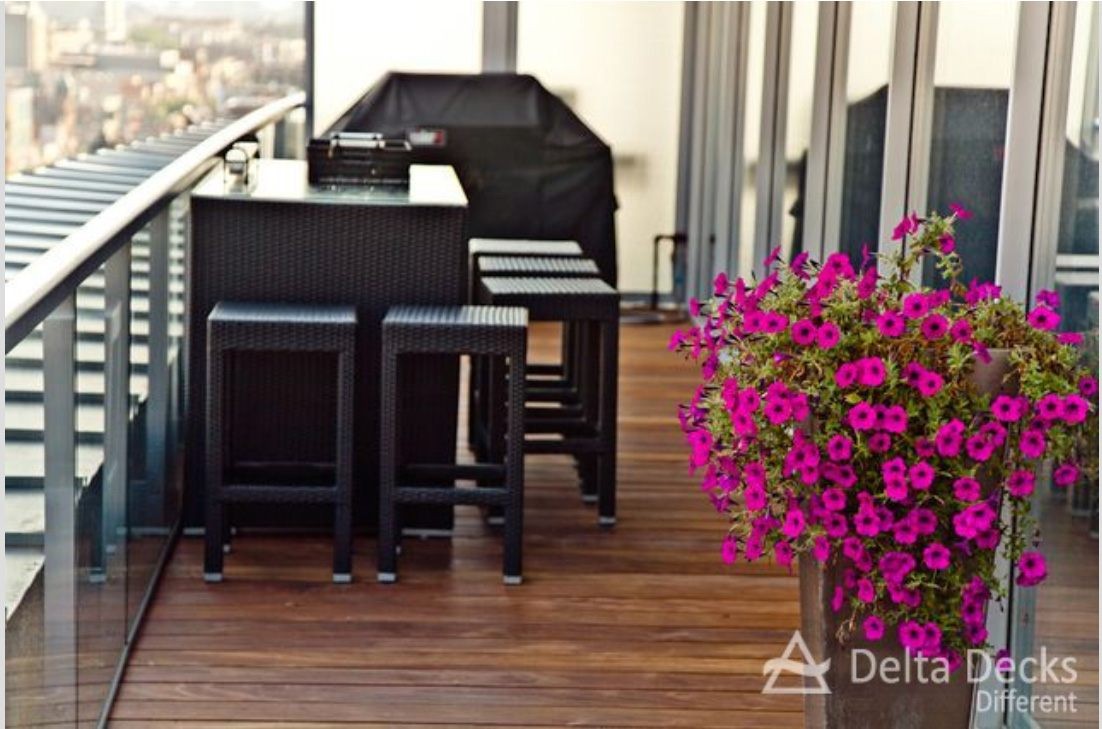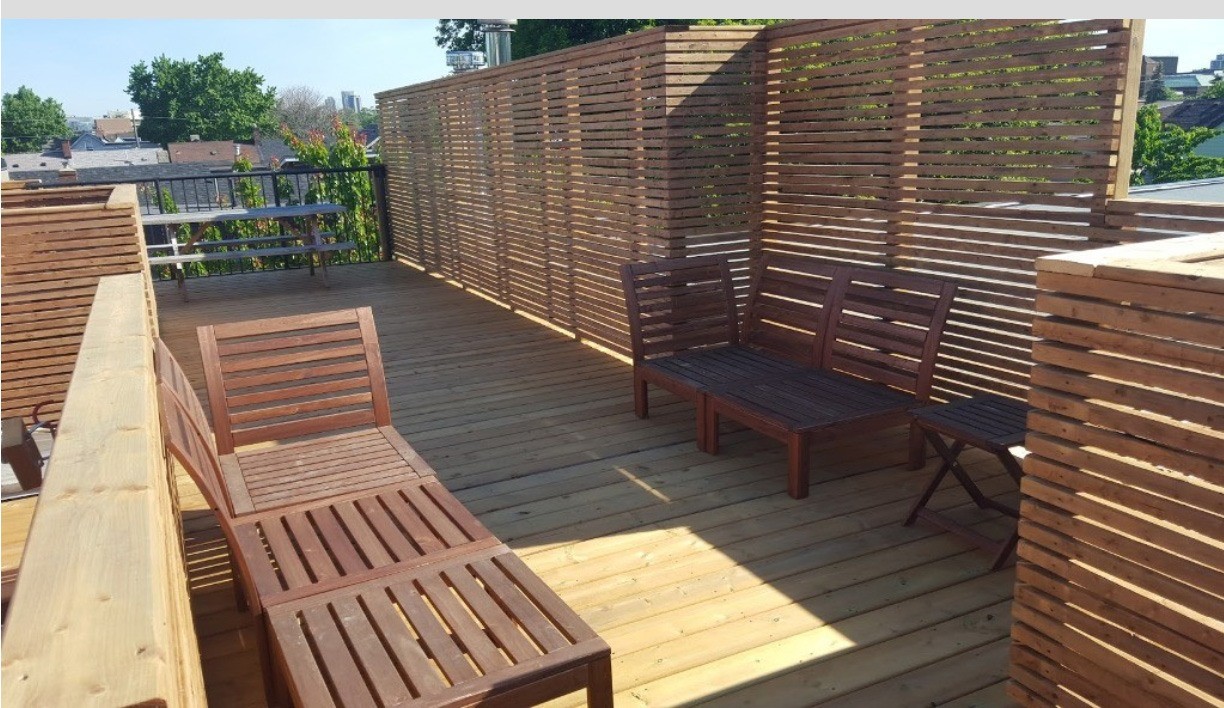 ROOFTOP DECKS IN TORONTO
Every piece of land is valuable in modern populous cities, that's why a rooftop in Toronto is being increasingly used for various purposes. If you have a small patio or you don't have one, then a roof deck is a great solution.
Building a deck on a roof allows you to use the space rationally and expand the possibilities for your entertaining and rest. Many commercial buildings, high-rise condo developments, residential apartments and private homes in Toronto have already equipped their roofs for planting of greenery, rest or solitude. Have you ever thought that your roof can become a place for your creativity, friendly meetings, or summer recreation? It's high time to become the lucky owner of your perfect rooftop patio!
Delta Decks, as a company that has been building a rooftop deck in Toronto for many years, fully understands the particularity of such work. We will apply our deep knowledge and will do our utmost to give new life to your roof.
Your Expert Deck Contractors
Unmatched Experience in Toronto Deck Building Industry
Specializating in Low Maintenance Decking and Ipe Wood Decks
ROOFTOP DECK CONTRACTOR
Building a rooftop deck is much harder than building a ground-level deck. Most commonly, roofs are not designed for the extra deck weight, therefore many nuances should be taken into account during the construction. The best way to do everything correctly and efficiently is to hire an experienced deck building company.
Delta Decks is a contractor that has already built over 50 rooftop decks. Maintaining an individual approach to each client, we create designs that best correspond both to the requirements of the building and the owner's desires. Assuming that, we use proven construction methods and introduce the latest technologies. As your contractor, we will take care of all the concerns related to the process of building a roof deck, including the following:
Obtaining the necessary permits to construct the rooftop deck.
Complying with all building codes.
Getting an engineering report on the suitability of your roof for building a deck on it.
Designing the optimal structure for your building and roof.
Selecting the right materials for deck, railings, guards, etc.
Safely mounting materials onto the roof and carefully installing the structure.
Ensuring the waterproofing, ventilation and the integrity of the roofing membrane.
Preventing the animals' penetration under your foot deck.
Providing additional construction equipment, if necessary.
Checking the finished deck for safety.
Depending on the characteristics of your roof, there can be some unforeseen obstacles, though you can be assured that Delta Decks will cope with them.
GETTING A ROOFTOP DECK FOR YOUR BUILDING
For your safety and comfort, we will equip your roof deck with guards, railings, privacy screens, stairs, and moreover install a pergola in case you'd like. However, in order to build a reliable roof deck construction, it is essential to take into account the peculiarities of the roof building process. The main condition is that your roof should withstand the additional burden.
All the other conditions and preparations will be carried out by us, as we have a special knowledge and expertise. In the situation of placing the additional heavy structures on the roof, for instance pergolas, we ensure the dispersion of the high point loads over the entire roof. The provision of water drainage and ventilation is a significant requirement for the rooftop deck as well. Thus, we will do our best to prevent the rotting process and you won't have to change your roof in a couple of years.
On the other hand, you need to select the materials properly, since the service life of your deck depends on it. The materials must be strong and durable, resistant to weather conditions, moisture and heat, withstand intensive usage, as well as be comfortable for walking. By virtue of this, we commonly choose composite, Ipe wood or pressure-treated wood for decking, as well as metal, high-end PVE, or pressure-treated wood for railings.
A roof deck is a great addition to many homes and certainly a good investment. Your creative ideas can be fulfilled by building a deck on a flat roof or at least on a partially-flat roof. Anyway, you can cooperate with Delta Decks and gain such advantages as:
01
An amazing view of the surrounding area.
02
An increasing value of your building.
03
An extended space for relaxation, lunch or other entertainment.
04
A great place for growing flowers, vegetables and greenery.
05
A unique rooftop patio, in case of the ground space shortage.
06
Additional thermal insulation and the waterproofing of your home,
as well as the roof membrane protection.
07
Preventing water congestion on a flat roof by providing
a drainage system.
08
The expression of the individuality of your home.
WE CAN HELP BUILD YOU A ROOFTOP DECK!
А roof deck requires a thoughtful design, meticulous preparation, and professional approach to the overall construction. Building a rooftop deck by yourself is a very long, troublesome and actually in some cases a dangerous process. So, if you ask yourself "What company near me would be able to build a deck on a flat roof?", then you are in the right place.
We have been building rooftop decks professionally for 10+ years, and can say unhesitatingly that we are ready for any difficulties. Our highly-qualified designers, architects and engineers guarantee the correct construction of the rooftop deck, that allows you not solely transform the appearance of your roof, however, additionally to extend its service life.
Entrust the building of your rooftop deck to Delta Decks and we will definitely fulfill your expectations.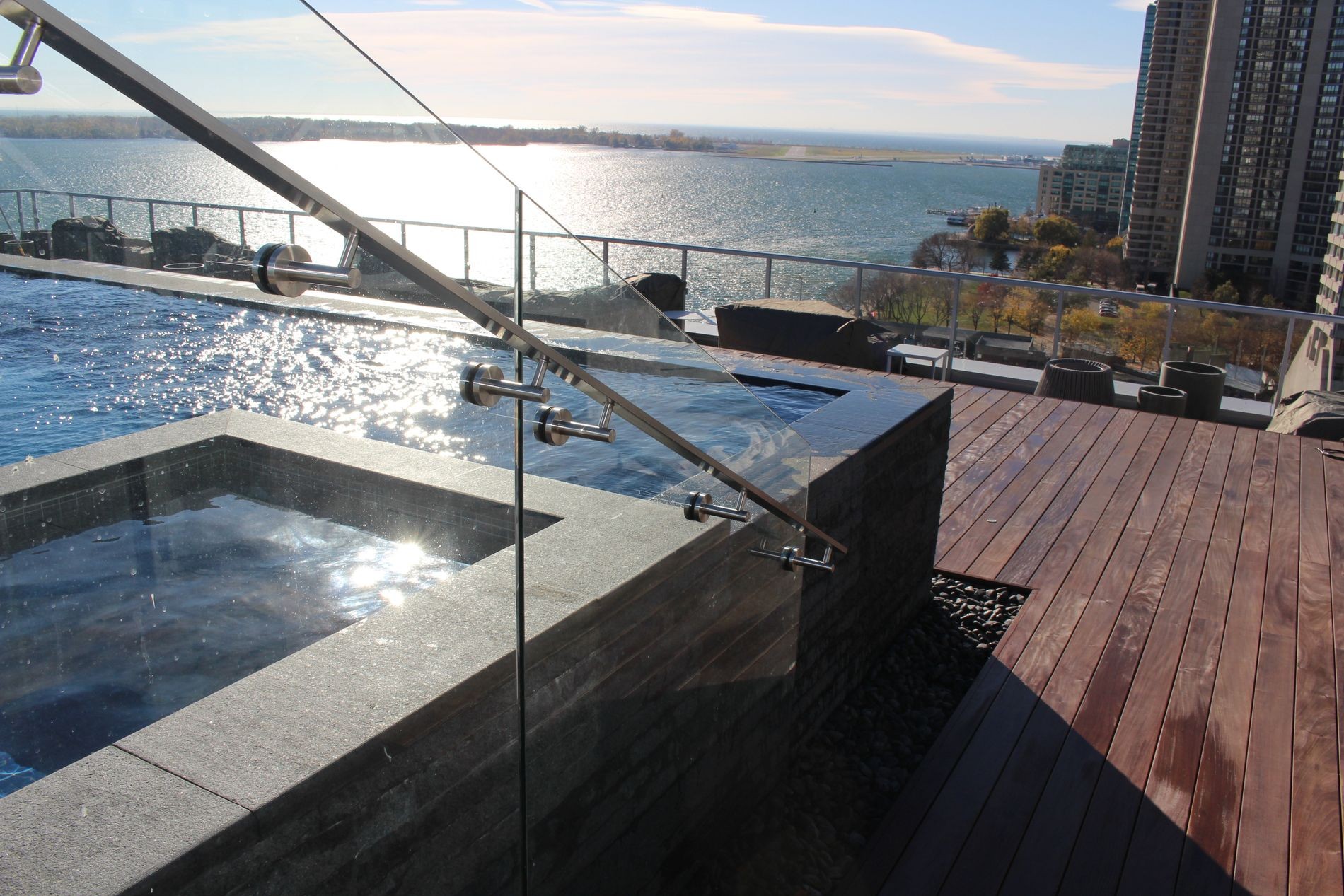 WHAT IS A ROOF DECK IN CONSTRUCTION?

Roof deck construction is the process of building a rooftop deck. It involves careful examination of the existing roof to make sure it can withstand the loads of the deck and an expert roof deck framing design that applies the loads in the right locations, allows the water to flow under the deck, provides enough airflow, does not penetrate the roofing membrane and keeps the racoons and other wild animals from building their homes under your foot deck.

ARE ROOFTOP PATIOS WORTH IT?

Rooftop patios are an excellent way to increase your outdoor space with minimal investment. If you have a flat (or a relatively flat) roof – put this space to good use and build a rooftop deck. No sense in wasting this good outdoor space. For less than $100/sq. ft. you can have a nicely finished rooftop deck. Compare that with the cost of condos in Toronto which are over $1000/sq. ft. Rooftop decks also give you a lot of privacy and offer beautiful views of the city. If your house has no door to access a rooftop deck – it is easy to turn a window into a door or to cut a brand new door in the side of the house. A rooftop deck can add significantly to the value of the house in Toronto.

WHAT IS A ROOFTOP TERRACE?

A rooftop terrace is a terrace on top of an existing building that has a flat roof. You can have flat roofs on residential houses with wood framing and torch down membrane or you can have flat roofs on condominium buildings where the roofs are made of concrete and steel with insulation and waterproofing on top. A rooftop terrace is a decking or stone surface on top of the roof that allows homeowners to use that space as a patio. You can also add privacy screens, pergolas, planters, outdoor kitchens, saunas and even pools to your outdoor rooftop deck patios.

HOW DO YOU BUILD A ROOFTOP PATIO?

To build a rooftop deck patio first you need to make sure that your roof is able to carry that extra load. Delta Decks has an engineer who is able to evaluate your specific project to see how the deck should be framed (using wood and/or steel) so that the roof can carry this additional load. Your next step is to design the framing of the deck in such a way that you have good water flow under the framing and the best air flow possible to make sure your wood frame lasts. Rooftop decks also require lateral support to the house. After the framing is done, it can be covered either with decking or with porcelain tiles. Another important factor to consider is deck railings and privacy screens – they need to be sturdy enough to meet the Ontario Building Code requirements.

HOW MUCH DOES IT COST TO BUILD A ROOFTOP?

Rooftop deck generally start at around $40/sq. ft. If you want to use premium decking materials such as Ipe decking or PVC plastic decking – the costs will be higher. This cost does not include the cost of railings, privacy screens, outdoor lighting, pergolas or permit drawings. An average rooftop deck with railing all around and made with composite decking materials will cost around $80/sq. ft.
ROOFTOP DECKS PROJECTS
Read our Client Reviews
You probably heard a saying "a picture is worth a thousand words", we think that a satisfied client is worth a thousand pictures!
Delta Decks has a very high customer satisfaction rate and we are not afraid of giving an option to a potential client to contact any of our 20 very recent clients! Please read some testimonials below. Please note these testimonials were not gathered by Delta Decks, but by a third party.
Aug 17, 2022
Delta Decks did a beautiful job on our backyard deck and patio. Our old deck was in dire need of a rebuild and refresh. Elgi was great in getting the
...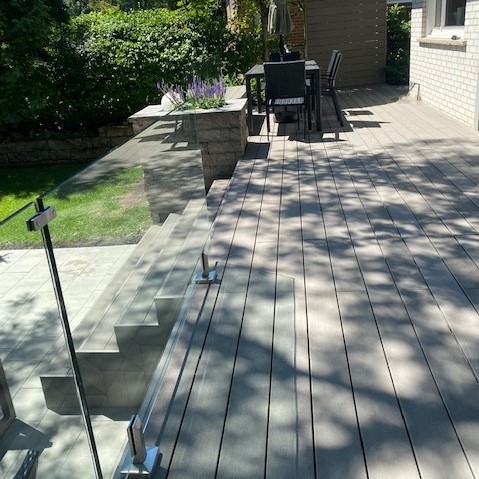 Jul 22, 2022
Delta Decks replaced my very worn old wood deck with a mineral based/pvc 'Deckorators' product, color 'Costa'. Finding a taupe color was a challenge b
...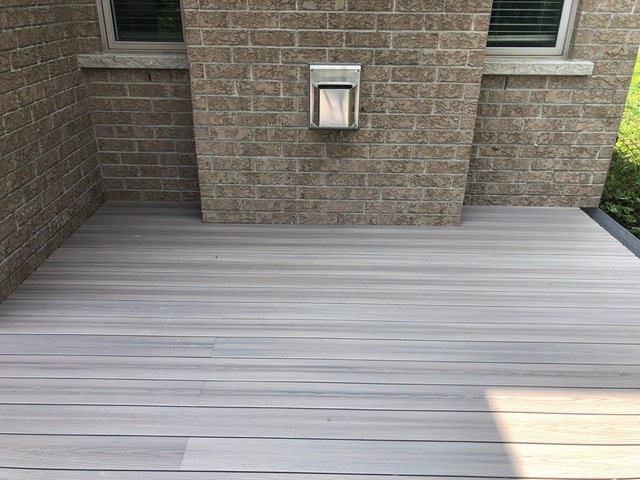 Dominic in Toronto
Toronto, ON
Jul 21, 2022
I am very satisfied with the improvements that Delta Decks made to my 12 year old deck. From my first contact with Elgi, the project manager ,to the f
...
Jul 11, 2022
This review has been a long time coming. We had Elgi and team come in on September 2021 and after some talks about designs and materials we ended up g
...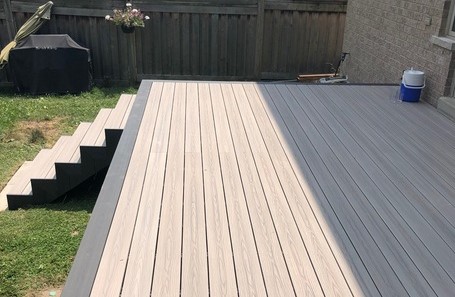 Jul 05, 2022
It was a pleasure choosing Delta Decks to work on our backyard project. They built an upper lever deck, and a lower deck, both with composite. Elgi ma
...