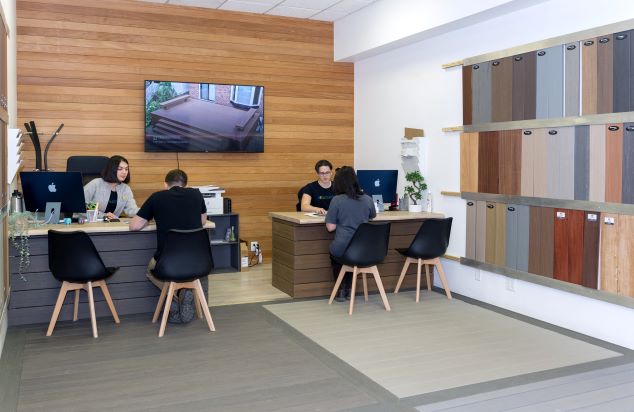 HOME CONSULTATION PROCESS
1. BUDGET AND DESIGN

Budget. Measure the size of your deck and multiply the number by $30/sq. ft. for a basic wood deck, $60 for a basic composite deck and $80 for a premium PVC or Hardwood Deck. This is a very rough estimate, the actual cost will depend on many site specific factors, but this will give you a general ballpark idea to see if you are ready to move on to the next stage or perhaps you will decide to wait a little and postpone the project.

Design. Look at as many pictures online as you can and decide on the size of the deck that you need. During the in-home consultation our specialist can help you tweak your design or provide valuable advice, but an in home consultation is not a design service. We will take the necessary measurements and provide a quote for your design. Our professionals can help answer any industry specific questions or offer alternate design solutions, but the more homework you do in terms of size, colors, design features – the more productive your in home consultation will be.

2. GET IN TOUCH WITH US

Scheduling an in-home consultation. Please call us at 416 915 2693, e-mail us at sales@deltadecks.com or fill out our Online Form. The more information you have about your project when you call/write, the better. We want to understand what you are looking for in order to make sure that our company would be a good fit for your project.

3. CONSULTATION & SHOWROOM VISIT

In home consultation. We will visit you at your property, discuss the various design options, show different decking materials and take on site measurements that are necessary for the quote. The in home consultation typically takes 30 minutes. It may be difficult to make all the choices relating to your project within that short time span or analyze all the new ideas that may arise during the meeting. It is best to allow us to guide you towards a good starting point or the most typical choices and later the quote and the design can be tweaked to your liking.

4. QUOTE ANALYSIS & ACCEPTANCE

Quote Analysis and Acceptance. At this point you likely have received a few quotes for your project and interacted with different companies. The best approach is to select one company that you want to pursue and try to finalize your design with that company. If we are that company, we would typically invite you visit our showroom to see some displays, more decking choices, railing choices, lighting choices and discuss your project in more detail. We may revise the quote and discuss more design options. When you are happy with the final quote, this is when we take the 10% deposit and give you a tentative start date. If permit drawings are needed, our designer will start working on getting a permit drawing for your project.

5. BUILD

Deck Build. We are now starting to build your project. We will have a dedicated construction crew working on your project from start to finish. The project manager who interacted with you from day one, will continue to supervise the project and communicate with you throughout the project to make sure that everything goes according to plan and to your liking. There may be times were a crew will not be present on site and that is due to the nature of the way some deck components are installed. For instance, the deck railing is typically custom measured and manufactured specific to each project. The measurements take place after the decking is installed and it takes 3 weeks for the railing to be ready for the installation. The general rule we follow is that we work on site continuously for as long as possible and come back for other items as soon as possible.

6. FINAL PRODUCT DELIVERY

Final Product Delivery. The deck is complete and is ready for your enjoyment. Should there be any last items that need special attention – we are happy to make the final adjustments. If the project had a permit, we will do a final inspection and make sure that the permit is closed. You warranty period starts from the day we finish the project and should you have any issues in the future – you have a 3 year complete labour and material warranty and a limited warranty on composite decking materials up to 50 years. We hope that you will enjoy your deck for many years to come.