HOW DO I DESIGN A DECK PLAN?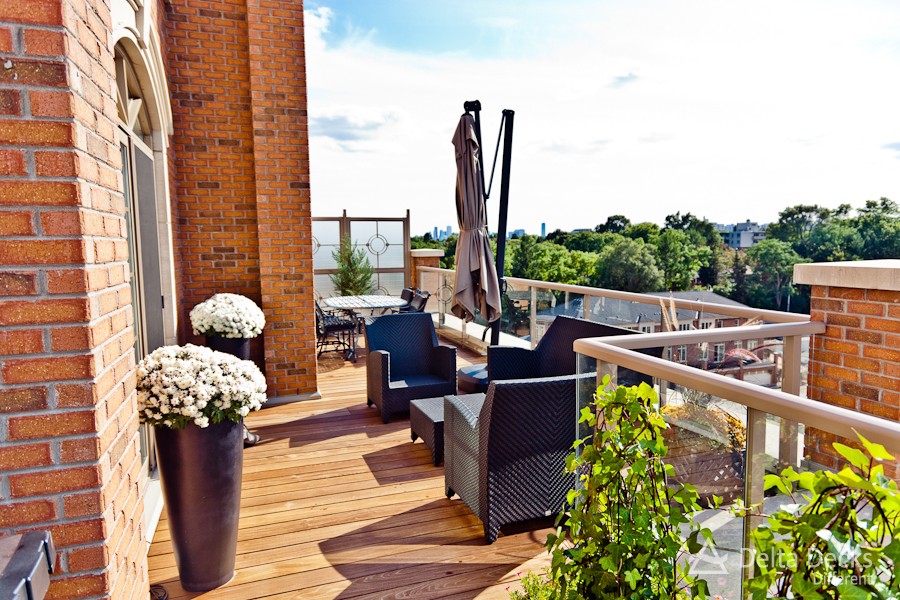 A planning deck is a great way to improve the space around your home, make it more functional and organize a place to relax with family and friends. In addition, if you decide to sell your house in the future, additional buildings on the site can significantly increase its price.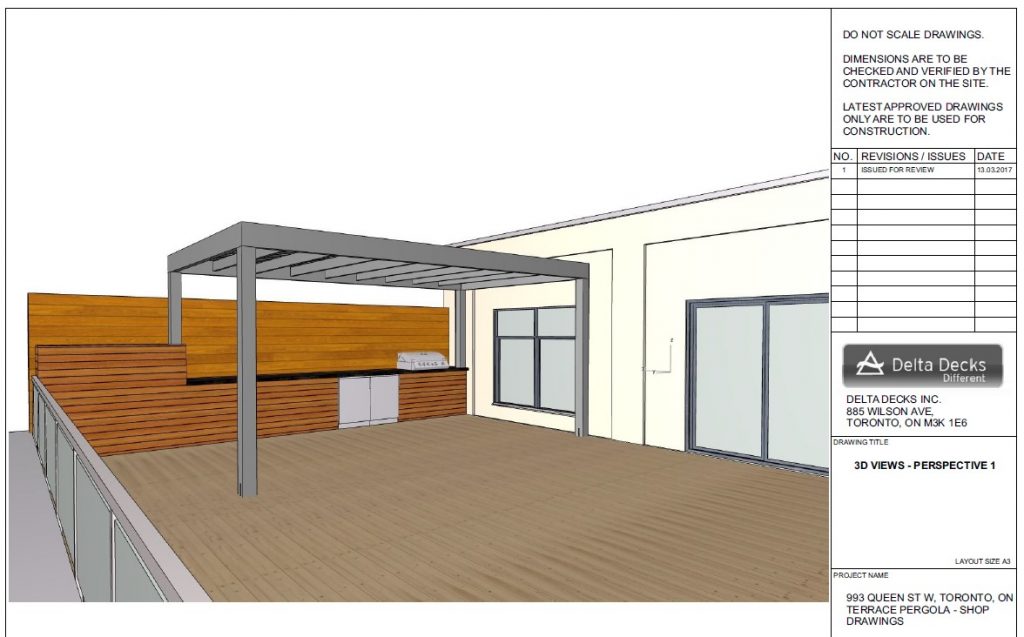 Planning decking is a responsible task that you can hardly handle on your own. After all, you need to take into account many nuances, make accurate calculations, get a building permit in the local municipality and directly implement the project. Therefore, planning to build a deck is best left to professional contractors. Delta Decks Toronto has been designing and building decks for over 10 years. We have designers, engineers and architects on staff who can create a great project, as well as experienced builders who can bring your idea to life.
How to plan a deck: thinking through design & layout
Before planning a deck, you need to make sure that there are no engineering communications under your site. Or know exactly where they are located, so as not to block utilities from accessing them if necessary. Therefore, the first step in planning for decking is to contact the relevant authorities or look at the online map of the location of communications.
Next, you need to think about what exactly you need a terrace for: secluded relaxation, noisy parties with friends, outdoor cooking, or other purposes? Also, for planning for decking, it is important to accurately measure the free area on the site. When you have exact numbers, you can begin to develop a detailed project, think over the design and even decor for future construction.
We offer several backyard deck ideas that will fit into any landscape design:
Backyard raised deck. Many houses have high foundations, so even the first floor is not level with the ground, but several feet higher. In such terraces, stairs and railings are necessarily used – this is necessary for safety. Raised deck designs are different, they are installed on piles. To make the structure even more attractive, tall flowers and shrubs are planted around, or panels are installed so that the piles are not visible.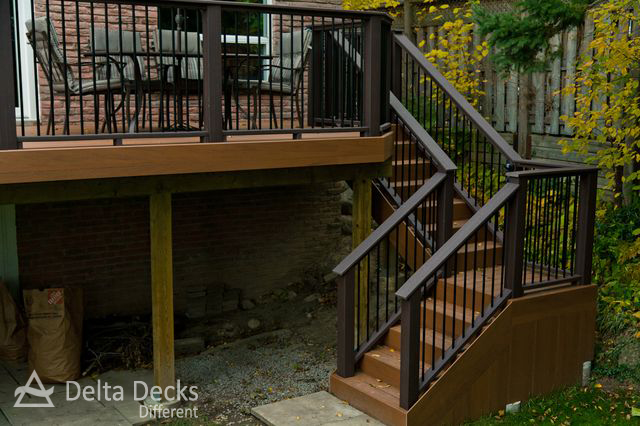 Raised backyard deck with pergola or covered pergola. In this case, you need more free space, but the design itself will be more functional. Even the pergola gives a relative shade, so you will comfortably spend time here. To keep the deck in the backyard from looking heavy, you can use a minimum of support beams, and also paint it white – then it will appear to be floating in the air.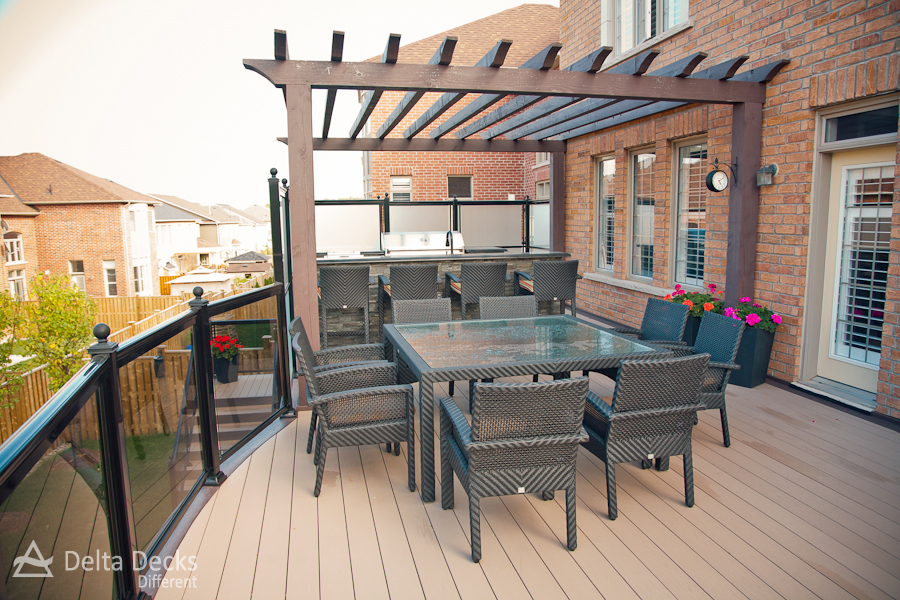 Large terrace. If you have a spacious house, then the terrace next to it should be made rather big. So you can gather outdoors with the whole family, have parties with friends.
Deck for backyard with multiple levels. Here again we are talking about a relatively large area. If possible, you can zone the terrace: a place for relaxing, cooking, solitude, SPA treatments, etc. Separate steps can lead to each of the levels.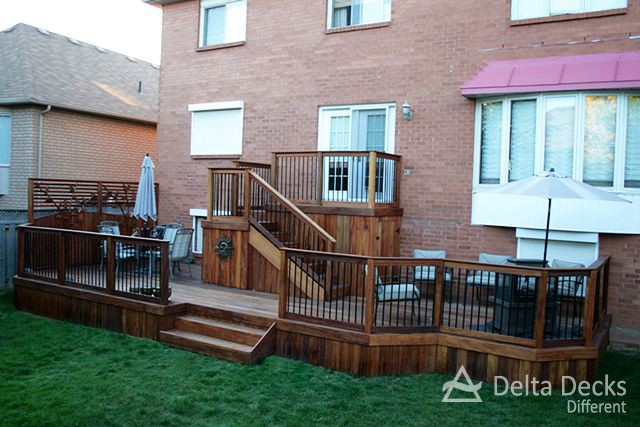 Deck on the second floor. One idea for backyard wood deck designs is to place it on the second floor. The area under it can also be made functional, and to save space, install a spiral staircase – it is beautiful and takes up little space.
Island construction. If you like simple deck shapes and don't have a lot of space on the lot, consider island-style backyard deck designs. Such a terrace looks like a small platform without a foundation and support beams, it is quickly assembled and disassembled. You can add railings if you like. A compact table, chairs are placed on it, flowerpots with flowers are suitable as decor.
Small raised deck surrounding the house. It is built along the perimeter, if free space allows. The convenience is that access to such a terrace can be done from any room.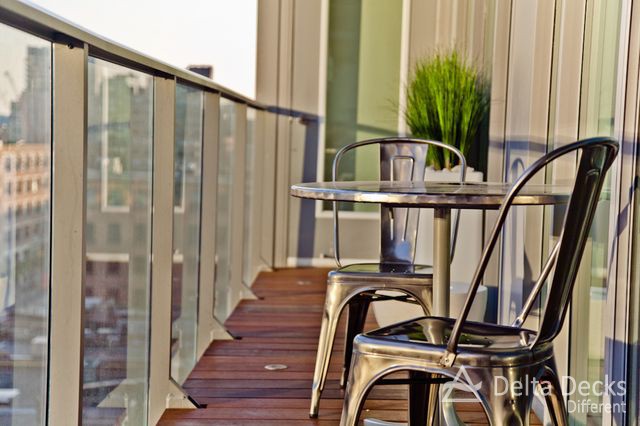 Attached structure. As a rule, it is chosen when they want to build a large deck. It goes flush with the ground, it can be rectangular, in the shape of the letter U, L, etc. It looks very nice when the terrace frames a garden pond or pool.
Roof deck. If all the backyard deck design ideas seem too mundane to you or if free space does not allow, you can place a seating area on the roof. Of course, for this it must be flat. One of the options is the arrangement of a deck on the garage.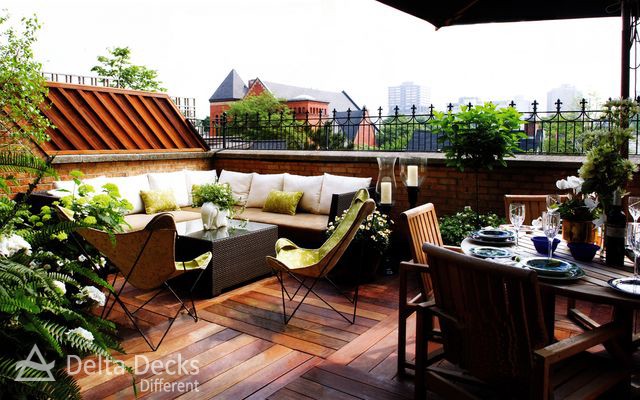 These are just a few wood deck design ideas. Check out our portfolio for even more cool examples. Perhaps you will like something, and together we will begin to develop a thorough decking plan.
Will your deck require pre-work?
Before proceeding directly to the construction, it is necessary to carry out preparatory work. What are they made of?
Suppose you have already chosen design a patio deck or another design – on the roof, multi-level, etc. Now you need to determine what material to make it from. The traditional option is wood. It lends itself well to processing, is durable, looks beautiful, and fits into different styles of landscape design. But at the same time, it is vulnerable to pests, and does not tolerate dampness. Therefore, wood needs care – it must be periodically varnished, oiled or other compounds. An alternative is composite deck material and PVC. They are more resistant to external factors, durable, and in beauty they are not inferior to natural wood.
The following steps make up building a deck plans:
Careful study of the area. Is there a foundation that needs to be demolished? Does the area need to be leveled? Is there free access to the construction site? If such preparatory work is needed, they are also included in the plan for the deck.
Detailed design considerations. Do you need railings, what color should the deck be, will it be in harmony with the design of the house and the landscaping of the yard? When planning a decking project, everything matters, from the material of the railing to the street lights and the fasteners used.
Creation of a drawing where there is a layout of a deck with all dimensions. It details all the features of the future design, its location relative to the house and the street. It must be drawn by a professional designer with a license – we have one in our state.
Obtaining permission to build a deck. It is issued by the local municipality and is required for most projects. A document is not needed only in a few cases: height less than 2 feet, area up to 108 square feet, not adjacent to the house. That is, permission is required to implement almost any backyard raised deck ideas. You can do it yourself, or you can entrust us – we will be happy to save you from unnecessary bureaucracy and settle all the issues with the documents ourselves.
That's all the plans to build the deck include. If you have any special requests, be sure to let us know. Our specialists in designing and building a deck realize any creative idea.
How to design a deck and patio?
So, your dream is a beautiful and functional deck. how to build it? Many owners of private houses believe that they can do it on their own: choose a design, draw up documents, order material and build the deck. In reality, everything is much more complicated, because you can make mistakes in calculations, draw up a drawing incorrectly, etc. As a result, the inspector who will check how the laying out deck is going will not issue a permit. And you will either have to fix all the errors yourself, or invite the master.
Therefore, it is better to initially work with professionals. Delta Deck is your custom deck builder with over 10 years experience. We will tell you which deck is right for your yard, and we will advise you on how to decorate it. We will also build a deck plan, draw up a drawing and get permission from local authorities. Leave a request online or by phone to discuss the details and get a project estimate.