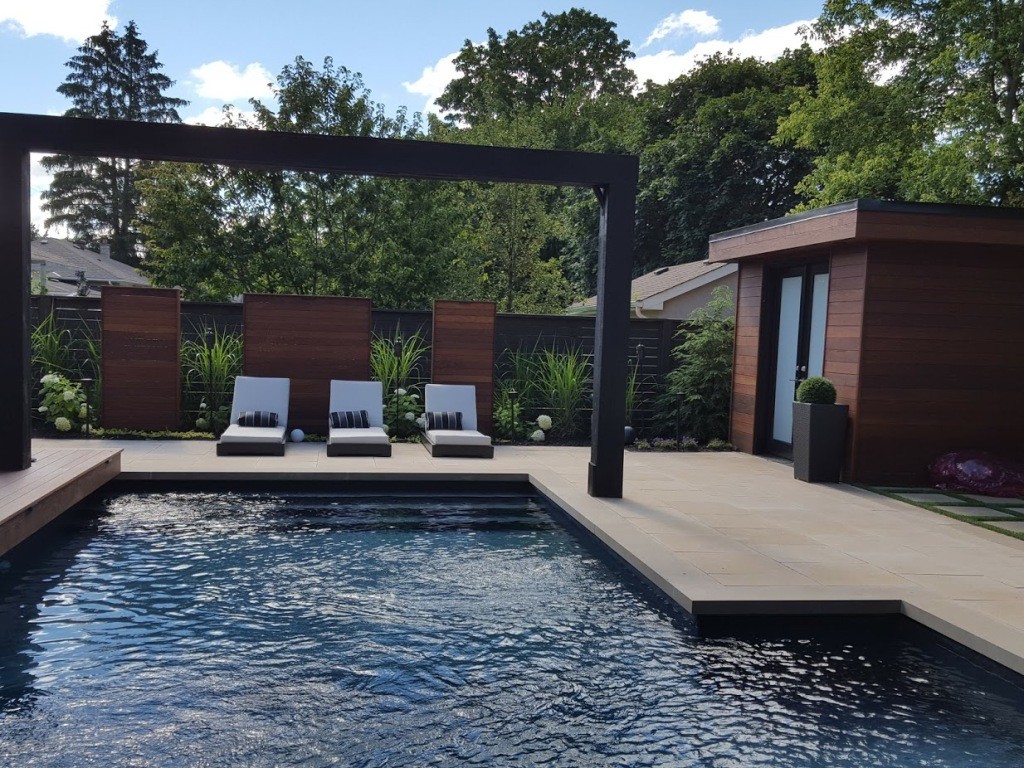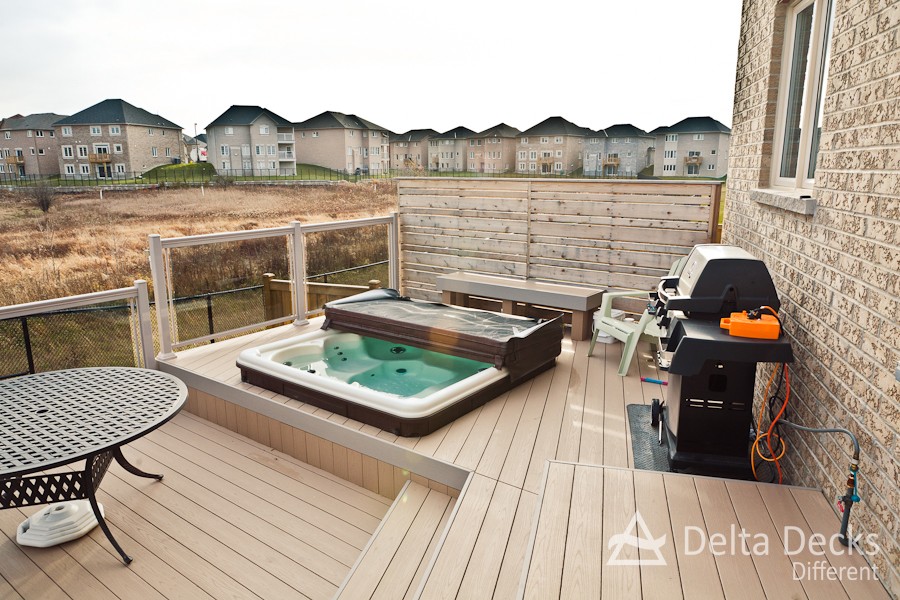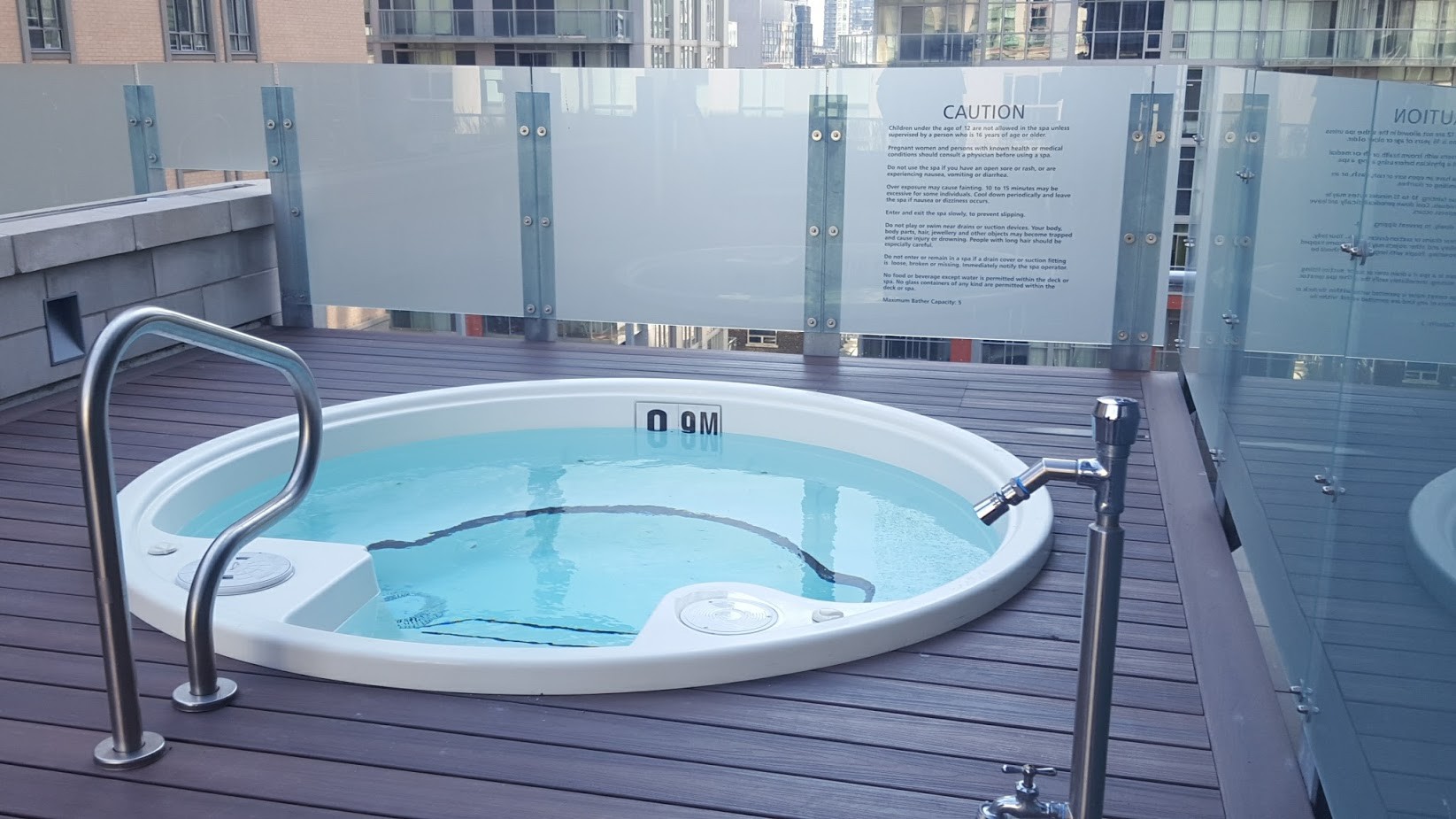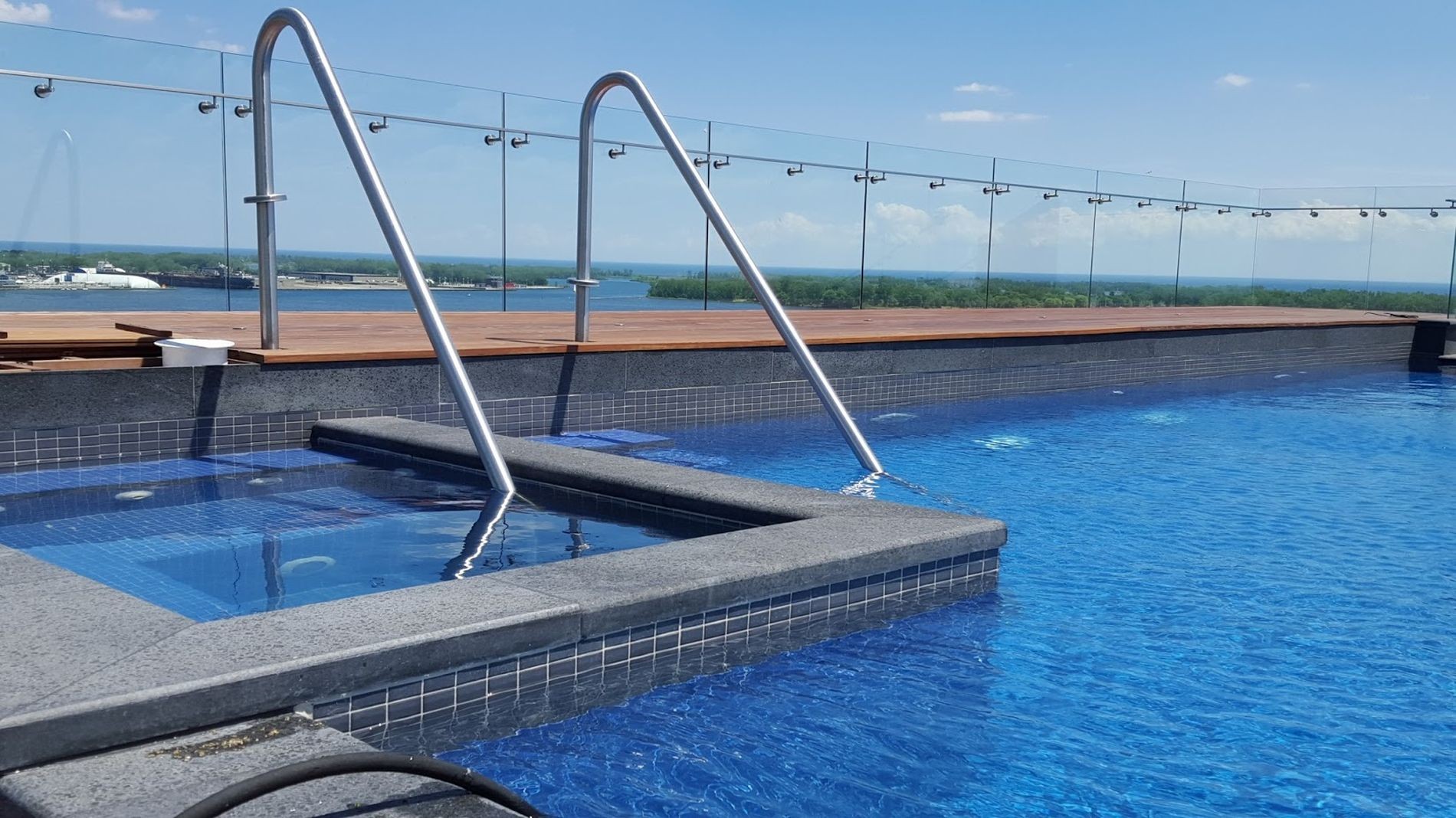 Pool Deck Builder
After a long and cold winter, nothing beats time in and around the pool with friends and family. Ensuring that the surface around the pool is compatible with your lifestyle, going with composite or PVC decking from top US brands such as Trex, Azek and Fiberon is never the wrong option.
At Delta Decks, we are a team of professionals who have over 15 years of experience building beautiful decks around indoor and outdoor pools across the GTA.
Your Expert Deck Contractors
Unmatched Experience in Toronto Deck Building Industry
Specializating in Low Maintenance Decking and Ipe Wood Decks
WHICH POOL DECK TO CHOOSE?
While the conventional thought is to surround the pool with stone, in those hot summer months, the stone may heat up to levels unsuitable for walking, lounging and tanning, especially when you have kids or pets in the house. When it comes to the comfort and safety of your family and friends, pool areas covered with maintenance free decking will provide a long lasting, slip and heat resistant outdoor experience.
The Delta Decks recommended choice for areas exposed to high levels of moisture such as pools is PVC decking. PVC, or polyvinyl chloride (a form of plastic) makes up the entirety of the boards – the cap and the core, containing no organic materials like wood flour that may mold due to extended exposure to moisture. PVC decking is the finest choice for your poolside deck project that helps enhance the pool, decrease slippage, and boost comfort. PVC decking is suitable for pool projects that are either above ground or on the ground level. With these decking boards, the frame of the deck can be made of wood as it is not exposed to as much moisture as the deck boards themselves. Wooden framing made of chemically pressure treated lumber is a reliable, affordable and available option that will suit any poolside project. Pool decks are also installed with either helical or concrete piles.
MAYBE YOU WANT NATURAL WOOD AROUND YOUR POOL?
Another option aside from PVC decking if you want to stick with natural wood is Ipe hardwood decking. Ipe is a durable hardwood originating in South America that is produced from a tree known as Brazilian Walnut. Ipe is extremely dense and less susceptible than other woods to burning, with a fire rating that is the same as steel and concrete. This wood is also highly resistant to mold, mildew, termites, insects and extreme weather conditions which makes it perfect for a surface around the pool. Ipe can last between 40 and 75 years if you preserve it in optimal conditions. For pools, you can oil the Ipe with special oils annually to help maintain the wood's natural, dark brown color. However, if you decide not to oil the Ipe, the wood will turn silver over a year due to exposure to UV radiation.
Cumaru is another great option for hardwood that is harvested from South America. It is very similar to Ipe, in fact, many homeowners prefer it to Ipe wood due to affordability while providing similar qualities. Cumaru decking has rich brown tones, slightly more red than Ipe. Cumaru has a natural layer of luster that feels smooth under the feet. This wood is also highly resistant to decay, weather conditions, mildew, mold, and insects.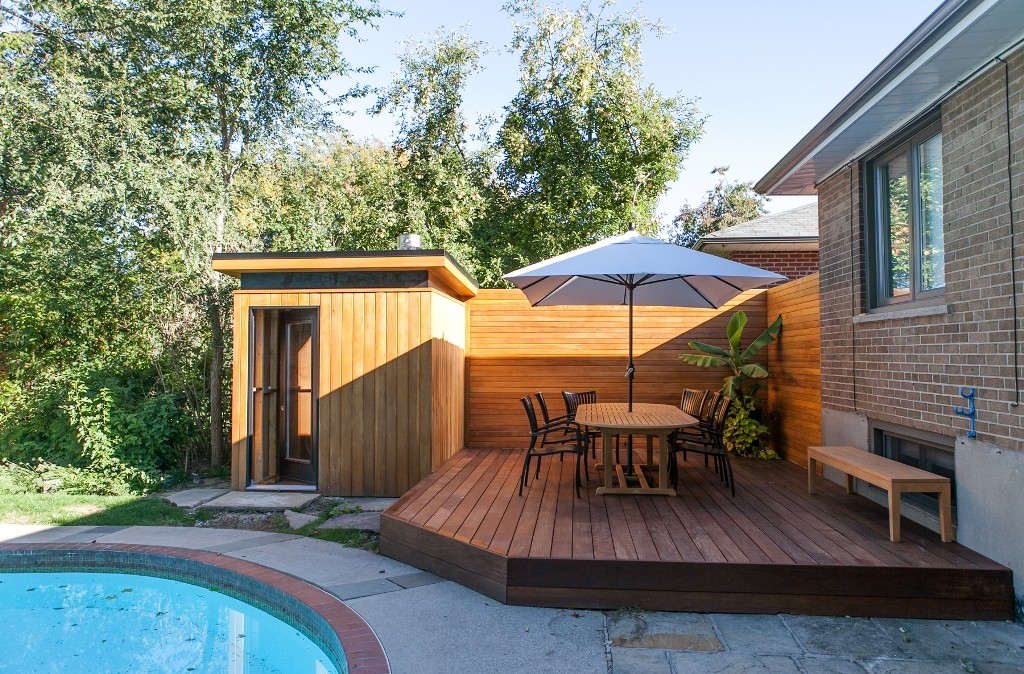 WHY DO WE NOT RECOMMEND PRESSURE TREATED AND CEDAR DECKING?
While going with a more affordable wood such as pressure treated or cedar may be tempting due to its popularity and availability, we generally do not recommend completing a poolside project with softwoods. Not only are these woods more susceptible to rot and mold, but they can easily splinter and cause harm to anyone walking on the deck. Therefore, investing in a long lasting, maintenance free and high quality material such as PVC or Ipe is the better choice for pool projects.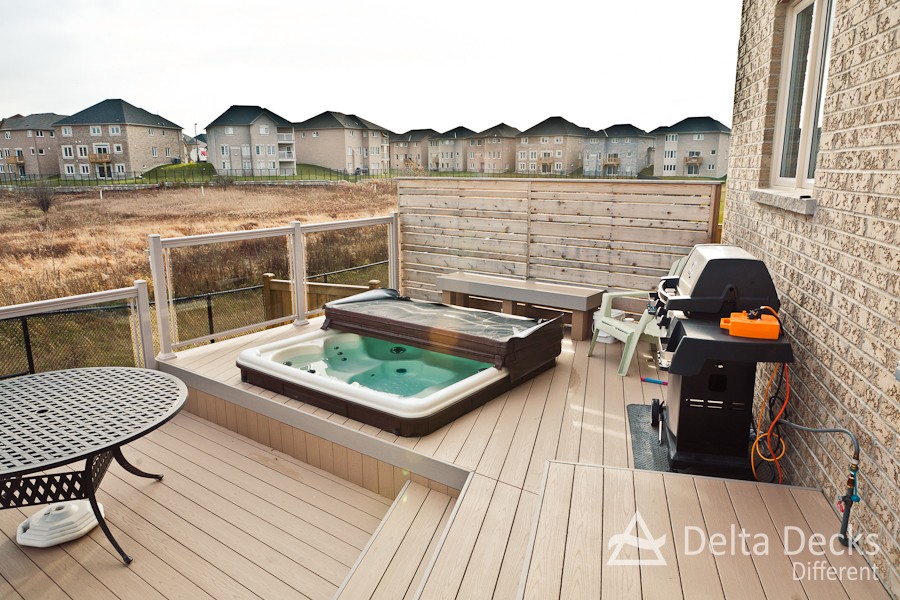 Composite materials for the pool choose very carefully
Composite materials are all around a fantastic choice for decking around the house – durable, beautiful and long lasting. However, for areas around the pool, composite decking is not as suitable as PVC due to heat resistance. Composite boards are susceptible to heating up more than PVC or Ipe, and therefore can make walking on the boards quite uncomfortable in the hot summer months. If your budget favours composite materials over PVC, the best option is to pick a light colour that will heat up less than dark brown and dark grey boards.
WHAT COLOURS DOES DELTA DECKS RECOMMEND FOR YOUR POOLSIDE DECK?
Fiberon – Moonlit Cove
Fiberon – Shaded Cay
Fiberon – Sandy Pier
Fiberon – Natural Reef
Fiberon – Sandstone
Fiberon – Brownstone
Azek – Coastline
Azek – French White Oak
Azek – Castle Gate
Azek – Weathered Teak
Azek – Brownstone
Azek – Slate Gray
Wolf – Silver Teak
Read our Client Reviews
You probably heard a saying "a picture is worth a thousand words", we think that a satisfied client is worth a thousand pictures!
Delta Decks has a very high customer satisfaction rate and we are not afraid of giving an option to a potential client to contact any of our 20 very recent clients! Please read some testimonials below. Please note these testimonials were not gathered by Delta Decks, but by a third party.
Aug 17, 2022
Delta Decks did a beautiful job on our backyard deck and patio. Our old deck was in dire need of a rebuild and refresh. Elgi was great in getting the
...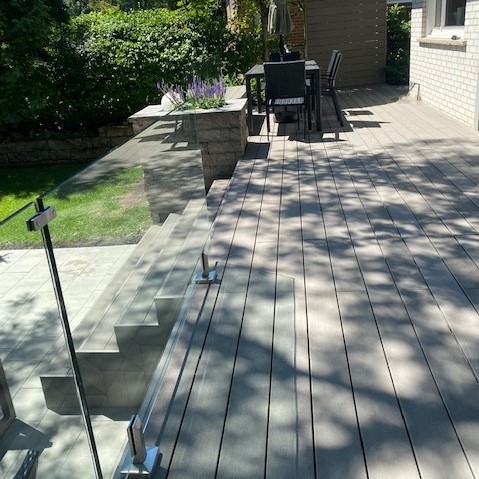 Jul 22, 2022
Delta Decks replaced my very worn old wood deck with a mineral based/pvc 'Deckorators' product, color 'Costa'. Finding a taupe color was a challenge b
...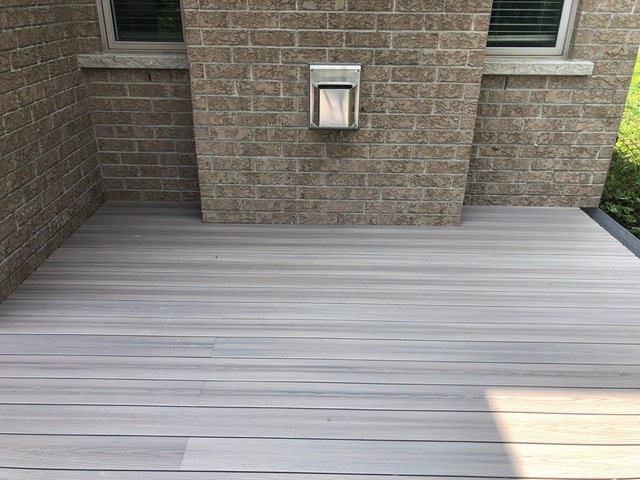 Dominic in Toronto
Toronto, ON
Jul 21, 2022
I am very satisfied with the improvements that Delta Decks made to my 12 year old deck. From my first contact with Elgi, the project manager ,to the f
...
Jul 11, 2022
This review has been a long time coming. We had Elgi and team come in on September 2021 and after some talks about designs and materials we ended up g
...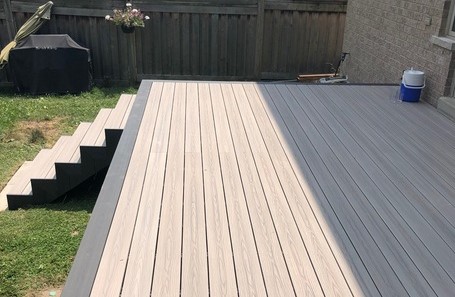 Jul 05, 2022
It was a pleasure choosing Delta Decks to work on our backyard project. They built an upper lever deck, and a lower deck, both with composite. Elgi ma
...