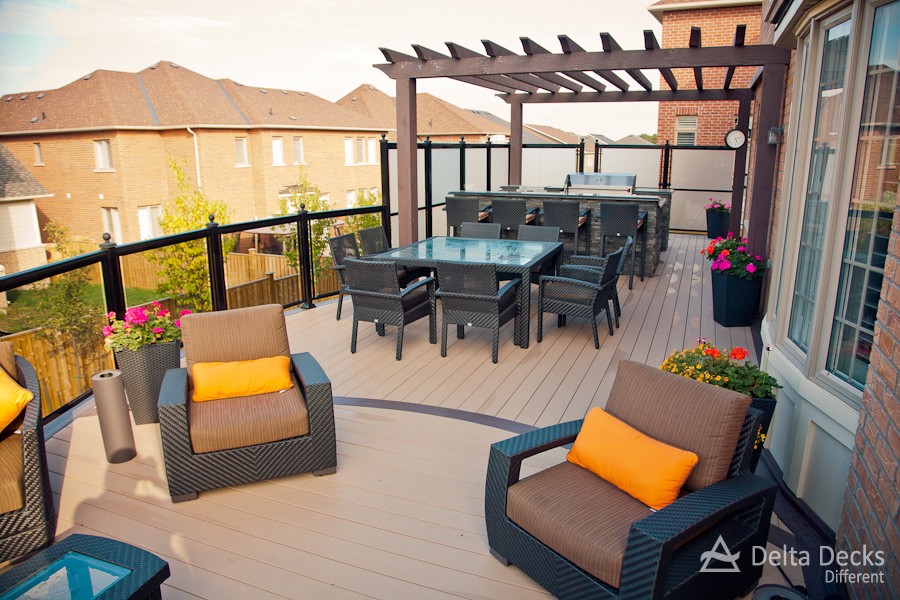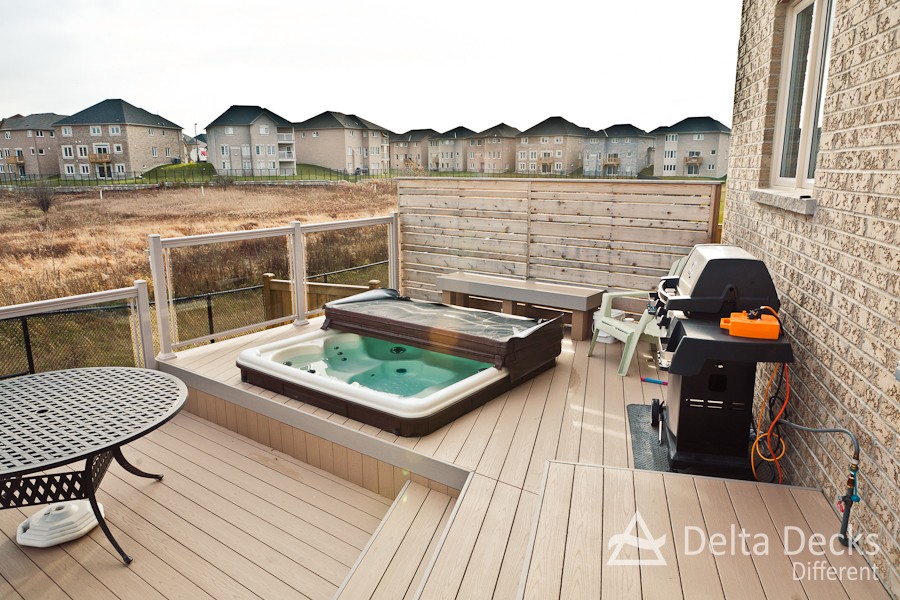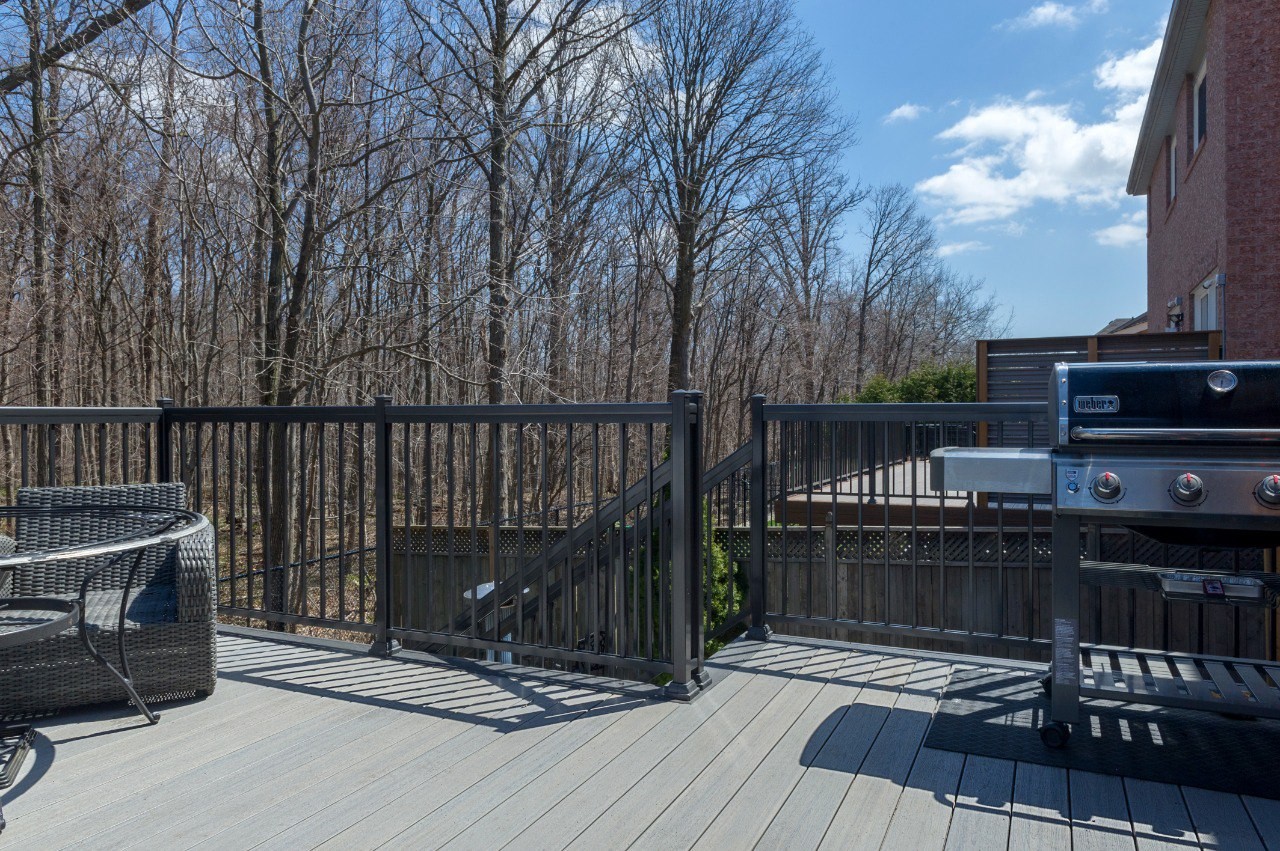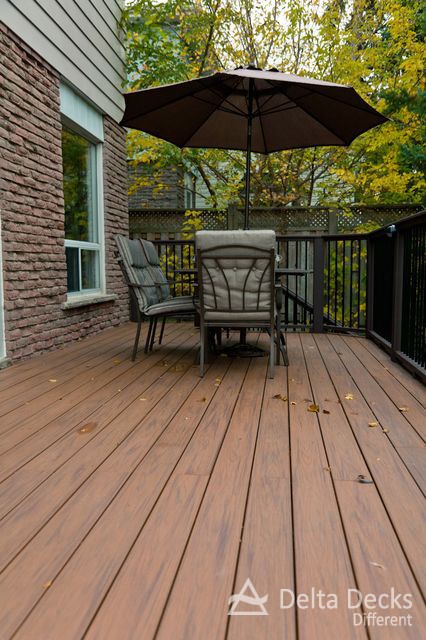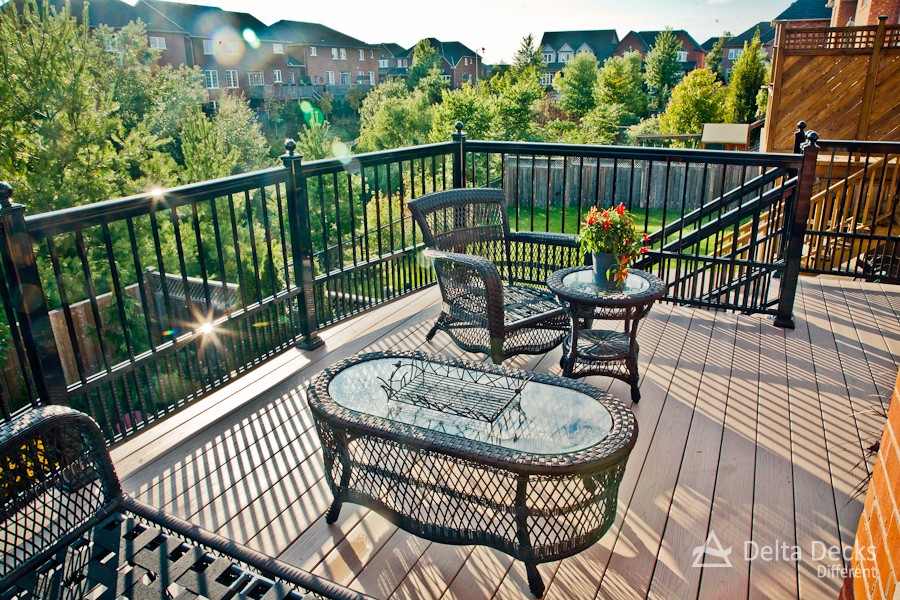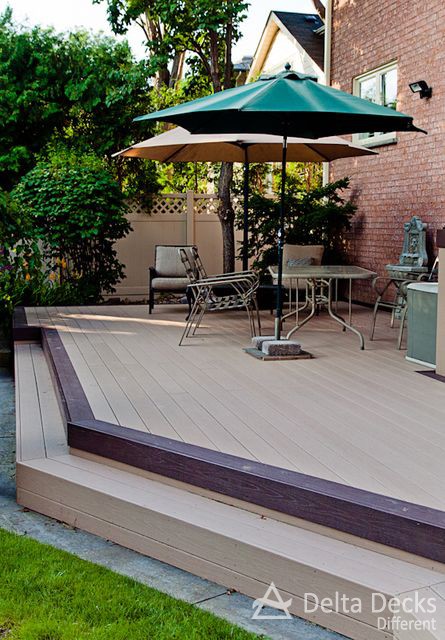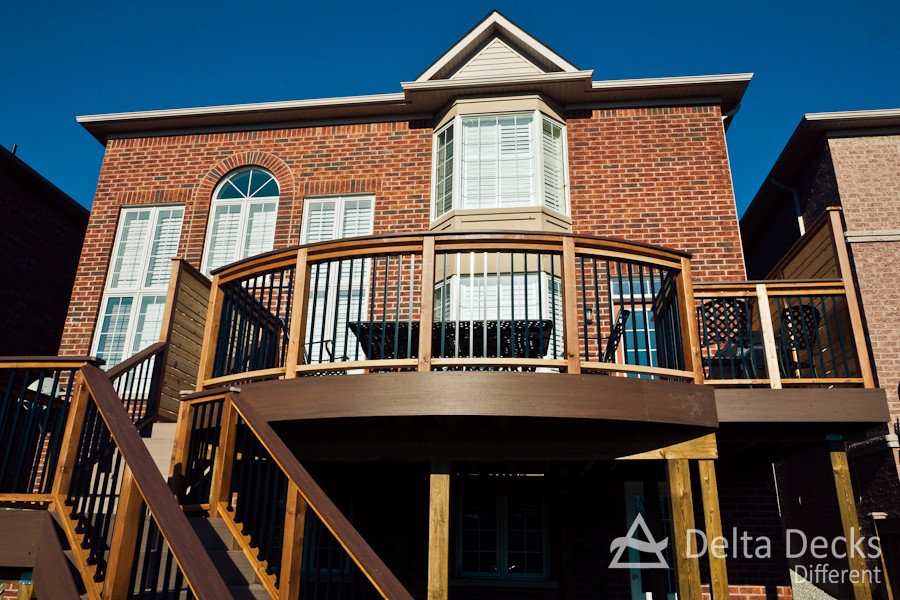 COMPOSITE DECKING INSTALLERS
Buidling decks is our passion and our specialty. We have worked on outdoor projects which include large multilevel decks, decks over ravines, docks, rooftop decks. We are able to design and build decks with conventional wood frames and custom engineered metal fames.
Your Expert Deck Contractors
Unmatched Experience in Toronto Deck Building Industry
Specializating in Low Maintenance Decking and Ipe Wood Decks
COMPOSITE DECKS BUILDER IN THE GTA
We specialize in composite decks (see our portolio here) and we are certified to work with all major brands of composite decking which include Fiberon, Trex, Wolf, Azek and Timbertech. Working with a certified installer helps the clients ensure that the installation methods will not void the manufacturer's warranty. Delta Decks also remains the largest installer of Ipe decks in Ontario, since 2005 we have installed hundreds of Ipe decks, more than any other deck company.
DECK TYPES WE BUILD
In terms of the types of decks – we build rooftop decks, ground decks, backyard decks, second story decks, multi level decks, steel frame decks, pool and hot tub decks.  We also build custom gazebos, cabanas, pergolas and custom sheds.
THE COST TO BUILD A DECK: WHAT TO EXPECT
The price for a project depends on the scope of work. Our project minimum is $5000. A general rule of thumb – plan to spend about $80/sq. Ft. for a composite or an Ipe deck (this figure includes railings, screens, steps). For a custom shed/cabana – plan to spend about $100/sq. Ft.  It is hard to give a more precise figure without obtaining the exact project requirements. You can always get in touch with us to set up a time for an in-home consultation or even get a ballpark figure for your project over the phone. The pricing depends on the materials chosen, the size of the deck, additional items such as railings, steps and site conditions.
WHAT IS NEEDED TO BUILD A DECK?
To start deck construction in some cases you need a deck permit. Please check in with the city regarding this requirement for your project. You need to finalize your design and quote, and give a deposit on your project. We typically take 10% to lock in an installation date for our client. Following that – the deck company will take care of all the items relating to deck construction – starting with getting locates prior to doing installation of the deck footings. Following the completion of deck footings, the next stage is framing and then finishing. If the deck has a permit, the deck company would typically schedule the needed inspections and take care of all the interactions with the city officials.
ARE DECK PERMITS INCLUDED IN THE PRICE?
The deck permits are priced as a separate line item on the quote. Our company is able to do deck permits in house because we have a full time BCIN designer on staff. The charge for the drawings varies, but typically falls within $1000-1500 price range. The city fees are not included in the quote and typically they range between $200-300. The client is responsible for the city fees. The permit applications are typically submitted by the deck company to the city.
The homeowner needs to sign some forms that accompany the deck permit application. The deck company typically handles all the communication with the city and our company designer acts as an applicant on the homeowners behalf. Should the permit not be granted due to zoning requirements or conservation requirements – there are additional fees for drawings and the homeowner may need to get more involved.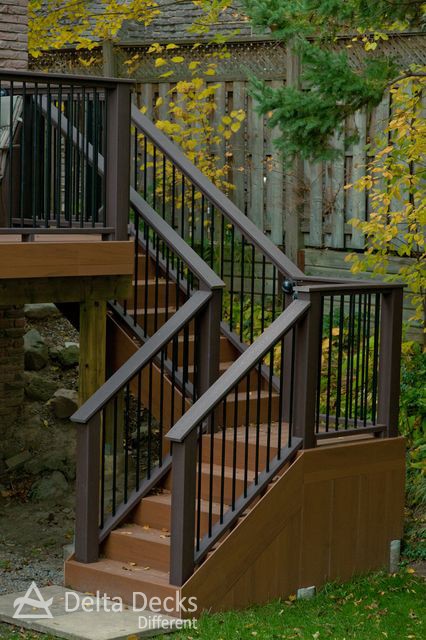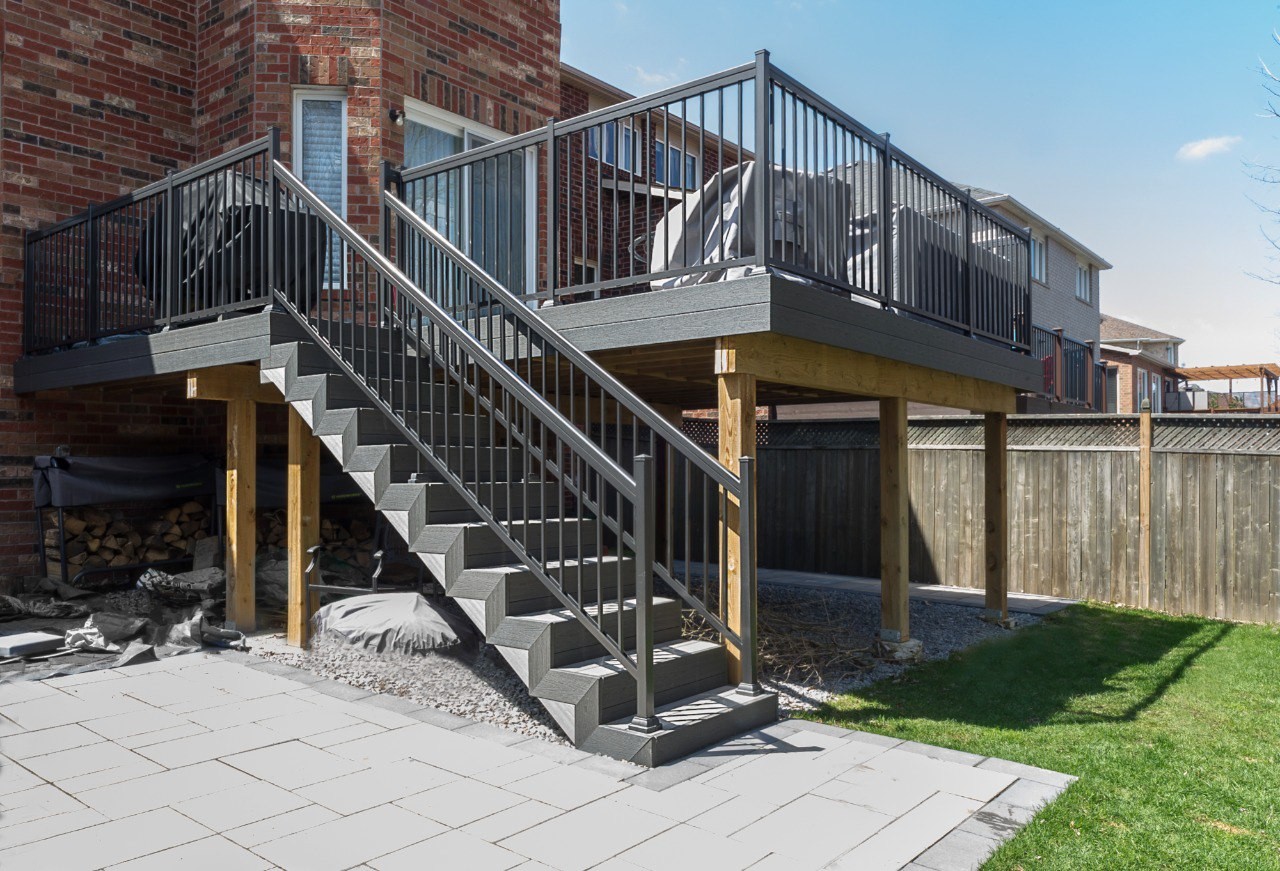 HOW LONG DOES IT TAKE TO BUILD A DECK?
The time it takes to build a deck depends on several key factors relating to the project:
The overall size and budget of the job
Does the deck have a permit?
Are there any special order custom items? (i.e. rare color decking, custom railing, custom glass components, custom metal components)
To give you a rough idea, assume 1 week of construction for every $10,000 of the deck budget. Allow 3-4 weeks to have permit drawings prepared and permits issued. Add another week to the project after it starts if the project has a permit. If you have custom metal railing – expect to wait 3 weeks for its manufacture. Inquire right away about the materials you are choosing – are they readily available from the suppliers? If your contractor is short a few boards, how long would he have to wait to get them?
Composite decking installation in Toronto
Advantages of choosing composite decking:
Low-cost material
Durability
Free and low-time maintenance
Before deciding on what sort of decking to use, consider composite decking.
If you do not want to make an enormous investment, it's a good choice, compared with alternative options. It will give your revitalization deck a glitzy and attractive look and will allow it to be straightforward to maintain.
The maintenance of the composite decking appears to be offered at no cost. Really. No jokes. It's not exposed to the rays of the sun, sunlight, casual water contact, or rough handling. You don't have to repaint or stain it every year. What a fortunate find!
ADDITIONAL HELPFUL TIPS AND TRICKS
If you decide to go with a composite decking material, visit a showroom of a deck specialty store that carries different brands and promotes all the major brands. Ask where the decking is manufactured. If someone is trying to sell you a Chinese-made product at a price that is equal or even higher than that of a major North American brand – run from these people.
The truth is many companies and contractors know that the homeowners are not educated in these products and they push inferior products at inflated prices and many homeowners fall for that. Our sister company, Decks Toronto (see www.deckstoronto.com) carries all the major North American brands (brands that account for over 80% of the overall composite market!) – please call them or visit them and speak to the pros, but even better visit the showroom and see/touch the product in person!
HOW MUCH DOES IT COST TO GET A DECK INSTALLED?

The deck installation is typically tied to the size and the design of the deck. A very simple deck made with the most basic materials and without the need for new footings can cost just over $30/sq. ft. A composite deck with metal helical pile footings, aluminum railings, stairs and fascias can cost anywhere between $60-80 per sq. ft. To get a good idea of what your deck will cost please have this information available: Total size of the deck Elevation of the deck above ground Total linear footage for your railings (if any) Total square footage for the steps (if any) Demolition requirements for an existing deck Permit requirements for the new deck Other components you want to have on your deck. Building a deck can be similar to building a car. You can start with a very simple design and a low price and end up with a very complex project, with many parts and a much higher price tag.

CAN YOU BUY DECKS ALREADY BUILT?

You cannot buy decks that are already built, each deck is custom. You can buy pre-made fence panels, but not pre-made decks. You can buy pre-cut stair stringers and pre-cut aluminum and glass railings. The lumber and decking comes in various lengths, you would need someone to custom cut the lumber and decking on site for your custom deck project.

CAN I INSTALL COMPOSITE DECKING MYSELF?

Yes, it is fairly easy to install composite decking by yourself. You will use the same tools that you typically use for cutting wood. For fasteners – each composite decking line has their own line of fasteners and they all have manufacturers videos on YouTube that you can watch and learn about the installation process. Remember to leave some gaps for expansion and contraction if you are building a composite deck in cold weather and follow any other manufacturer recommendations for installations. Installing your composite deck incorrectly can void your warranty.

WHAT IS COMPOSITE DECKING?

Composite decking is decking made of a mixture of plastic fibers and wood. The outside of composite decking is 100% plastic and it does not fade when exposed to the UV rays. The outside plastic shell is also more scratch resistant and more mold resistant than the interior composite decking core. The interior core has wood fibers and is typically made with recycled plastic. Some composite decking products are made with 95% recycled material. The main advantage of composite decking is the fact that it requires very little maintenance and it will not warp or crack or splinter.

HOW MUCH DOES IT COST TO MAKE A COMPOSITE DECK?

If you want to build a deck yourself, we recommend you check the pricing for composite decking by visiting a deck specialty store, such as Decks Toronto at https://deckstoronto.com/composite-decking. This website has the most up to date pricing information on composite decking in the Toronto area. It features the pricing for all the best brands of composite decking. Typically the composite decking is priced per linear foot and to get the square foot price you need to multiply the linear foot price by a factor of 2.2. Then you will need to add the pricing of wood lumber framing (pressure treated lumber) which is around $4/sq. ft. and the concrete or helical pile footings which may be another $400 per footing. If you are getting your composite decking done professionally, expect to pay at least $40 per sq. ft. for the composite decking and wood framing installation (supply and installation price).
COMPOSITE DECKING PROJECTS
Read our Client Reviews
You probably heard a saying "a picture is worth a thousand words", we think that a satisfied client is worth a thousand pictures!
Delta Decks has a very high customer satisfaction rate and we are not afraid of giving an option to a potential client to contact any of our 20 very recent clients! Please read some testimonials below. Please note these testimonials were not gathered by Delta Decks, but by a third party.
Aug 17, 2022
Delta Decks did a beautiful job on our backyard deck and patio. Our old deck was in dire need of a rebuild and refresh. Elgi was great in getting the
...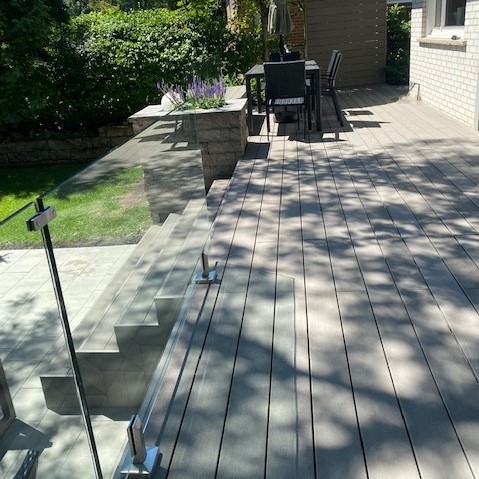 Jul 22, 2022
Delta Decks replaced my very worn old wood deck with a mineral based/pvc 'Deckorators' product, color 'Costa'. Finding a taupe color was a challenge b
...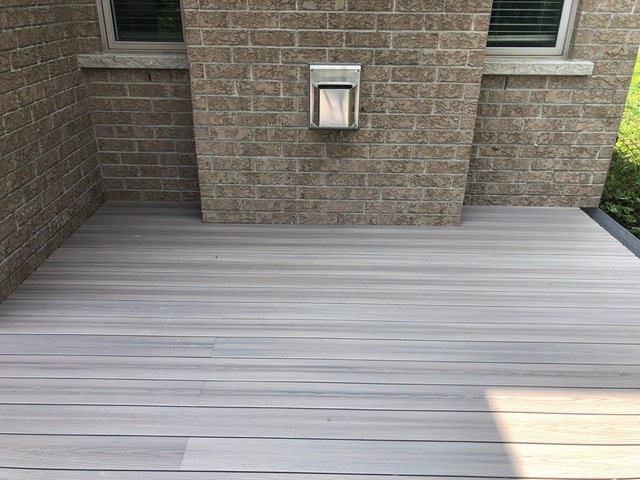 Dominic in Toronto
Toronto, ON
Jul 21, 2022
I am very satisfied with the improvements that Delta Decks made to my 12 year old deck. From my first contact with Elgi, the project manager ,to the f
...
Jul 11, 2022
This review has been a long time coming. We had Elgi and team come in on September 2021 and after some talks about designs and materials we ended up g
...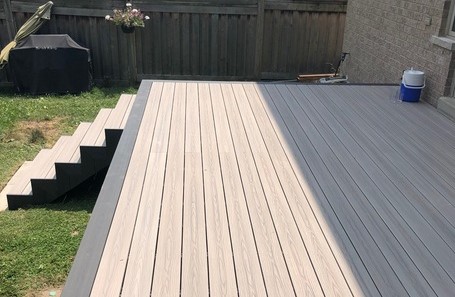 Jul 05, 2022
It was a pleasure choosing Delta Decks to work on our backyard project. They built an upper lever deck, and a lower deck, both with composite. Elgi ma
...