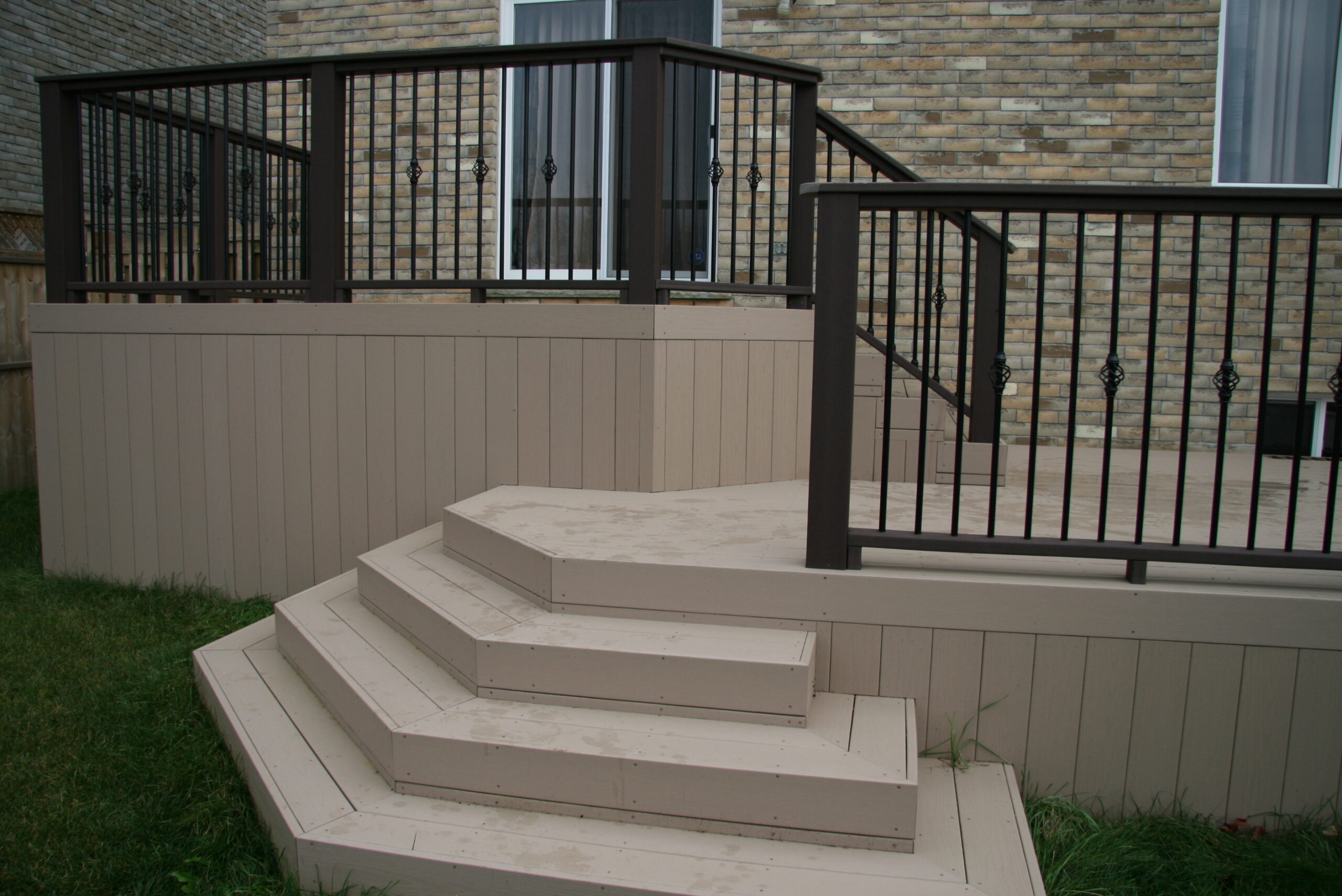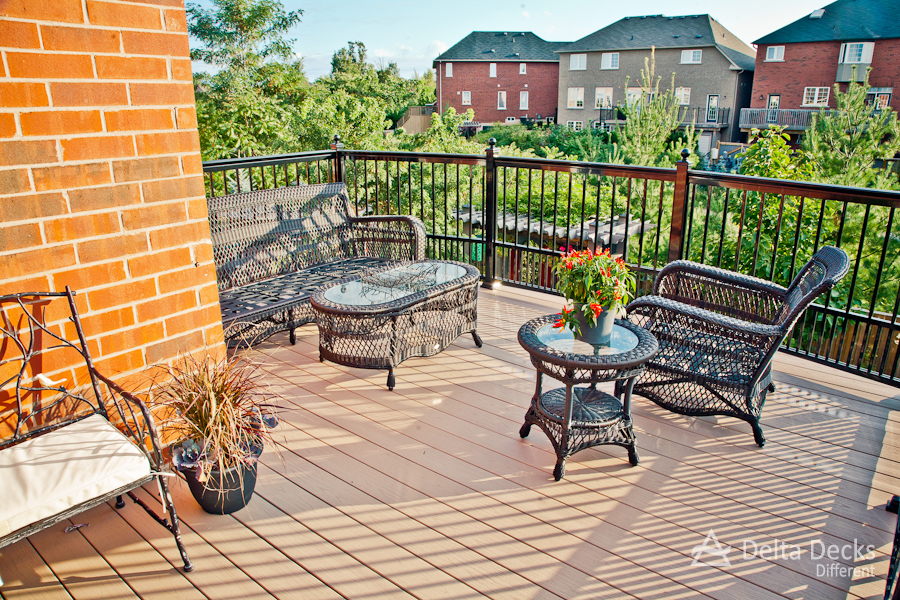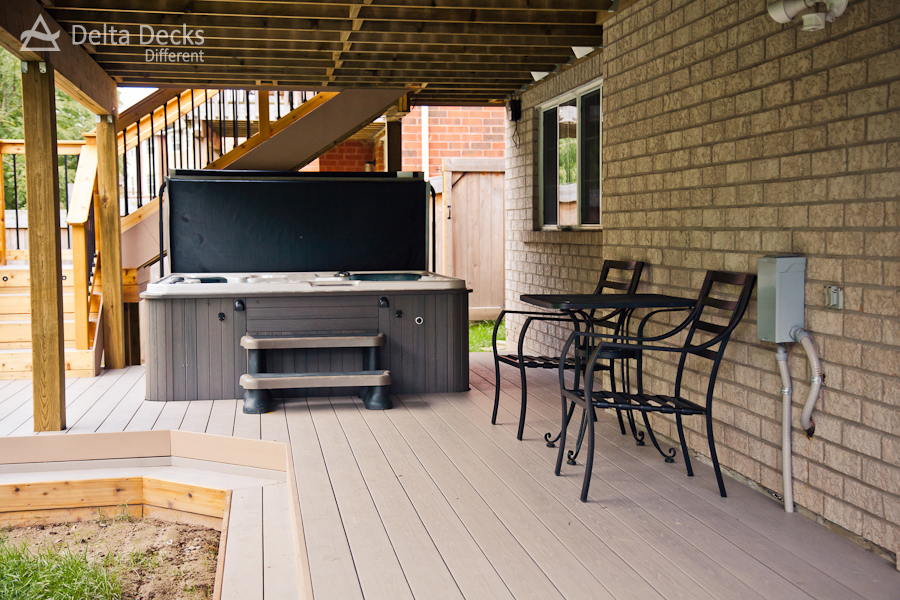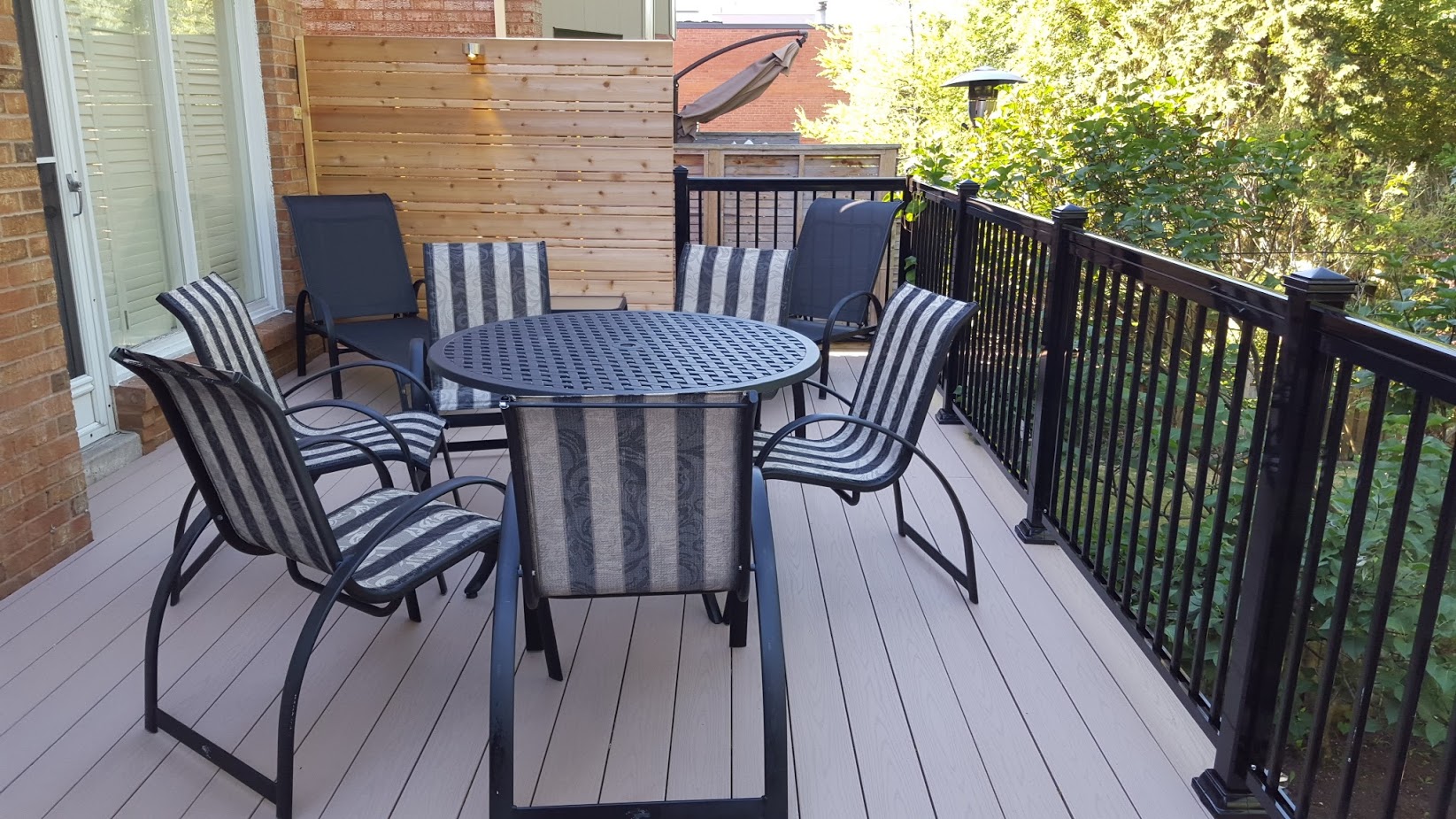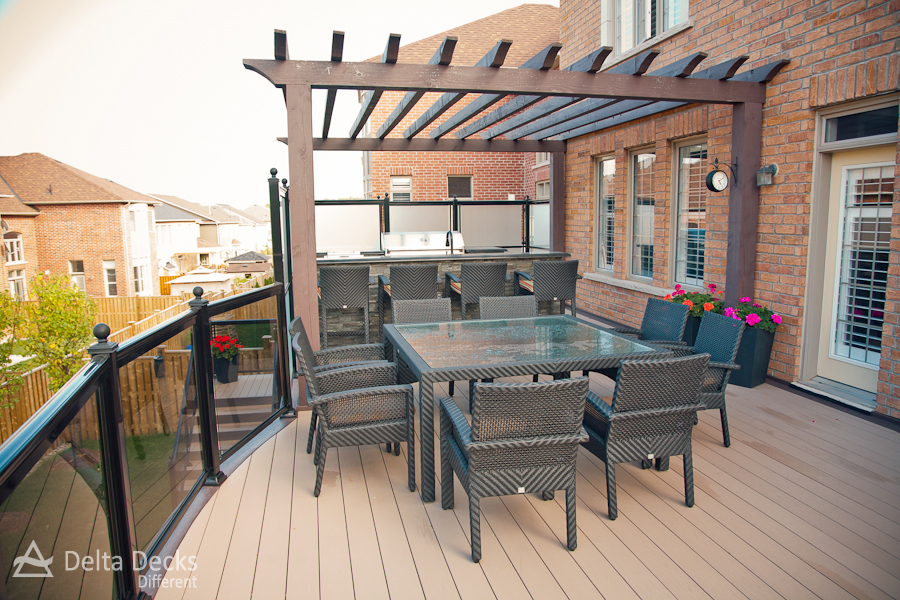 Azek Deck builder
Azek decking is one of the favourite decking choices among customers in Ontario. Known as 'Timbertech Azek', Azek's industry-leading decking is made from 100% premium capped polymer.
Your Expert Deck Contractors
Unmatched Experience in Toronto Deck Building Industry
Specializating in Low Maintenance Decking and Ipe Wood Decks
A great number of benefits for creating your outdoor oasis:
Azek Timbertech
Its intricate colour blending mimics the rich, natural grains of wood without the high-maintenance of real wood – the 100% polymer cap makes Azek decks resistant to stains, scratches, moisture and UV damage
Azek deck boards stay up to 30 degrees cooler than their composite decking competitors, are 40% more slip-resistant, and weigh up to 30% less (although finding professional Azek contractors is the best way of building an Azek deck, and saves you the heavy lifting)
Made of more than 50% recycled PVC, Azek decks are not only a beautiful and durable choice of deck, but an environmentally-friendly one too!
Azek was the first company to offer multi-width boards which come in different thicknesses, suiting any project you desire
Engineered to last longer than wood alternatives, Azek offers an industry-leading lifetime warranty and 50-year stain and fade warranty
If you want to transform your outdoor space and install your Azek decking, what are the options available to you?
01
AZEK DECKING HARVEST COLLECTION
For a decking masterpiece on a budget, Azek Harvest Collection is the way to go. It has a traditional cathedral wood grain pattern mimicking flat-cut boards of timber, and a monochromatic, solid colour palette which gives a painted wood appearance. Available colours are Slate Grey, Brownstone, and Kona.
02
AZEK DECKING VINTAGE COLLECTION
Known as the 'designer series', Azek TimberTech Vintage is the top-of-the-range collection. Its boards merge sophisticated capped polymer technology with multi-colour blending, subtle highlights and lowlights, and a wire-brushed, low-gloss finish for that authentic wood appearance. Five muted, natural colours make up the Vintage line-up: Coastline, Weathered Teak, Dark Hickory, English Walnut, and Mahogany.
03
AZEK DECKING ARBOR COLLECTION
Arbor is Azek's mid-range collection. Its boards combine cathedral wood grain and straight wood grain patterns, mirroring the varied textures found in nature. Arbor decking is available in several natural colours which are moderately blended to create a realistic wood-tone finish. These include Brazilian Walnut, Morado, Island Oak, Autumn Chestnut, Silver Oak, Hazelwood, and Mountain Redwood.
DOES AZEK DECKING WARP?

Azek decking does not wrap. It is a 100% plastic product and you can install wider boards and they will not wrap. It also does not absorb any moisture. Azek will expand and contract with temperature changes, but other than that you can expect this material to be very stable in the outdoor environment.

DOES AZEK DECKING EXPAND AND CONTRACT?

Yes, Azek contracts with temperature changes. When installing Azek decking in the winter – allow some gaps to allow the material to expand lengthwise. No need to worry about leaving gaps between the deck boards (width-wise) and not need to worry about leaving any gaps when installing on a hot summer day.

CAN YOU PRESSURE WASH AZEK DECKING?

Yes, you can power wash Azek, but make sure you are not setting the powerwasher on a high pressure setting or holding it too close to the boards. The plastic decking is pretty soft and you do not want to damage it with high pressure. If possible test your power washer on a small Azek decking offcut before washing the entire deck to determine the optimal pressure.

WHY DOES AZEK COST MORE THAN MANY OTHER COMPOSITE DECKS?

Azek costs more than composite decking because it is made with 100% PVC and does not contain wood fibers. The materials that go into manufacturing the Azek boards are more expensive to begin with. Azek is a publicly traded company so if you look at their financials you will see that they are investing heavily into their product. While composite decking is made with cheaper materials, for most clients and outdoor environments the performance of composite decking will be satisfactory and the extra cost of Azek decking not worth it. The main advantage of using the more expensive PVC materials in the composition of a deck board is that Azek does not heat up as much in the sun.

HOW DO YOU REMOVE SCRATCHES FROM AZEK DECKING?

Scratches can be removed from Azek decking by holding a heat gun and "melting" the deck board around the scratch. Start from a distance and move the heat gun closer to the deck board until the scratch is gone. Some big scratches cannot be removed with this method. Azek decking also should not be sanded to remove the scratches.
AZEK DECK PROJECTS
Read our Client Reviews
You probably heard a saying "a picture is worth a thousand words", we think that a satisfied client is worth a thousand pictures!
Delta Decks has a very high customer satisfaction rate and we are not afraid of giving an option to a potential client to contact any of our 20 very recent clients! Please read some testimonials below. Please note these testimonials were not gathered by Delta Decks, but by a third party.
Aug 17, 2022
Delta Decks did a beautiful job on our backyard deck and patio. Our old deck was in dire need of a rebuild and refresh. Elgi was great in getting the
...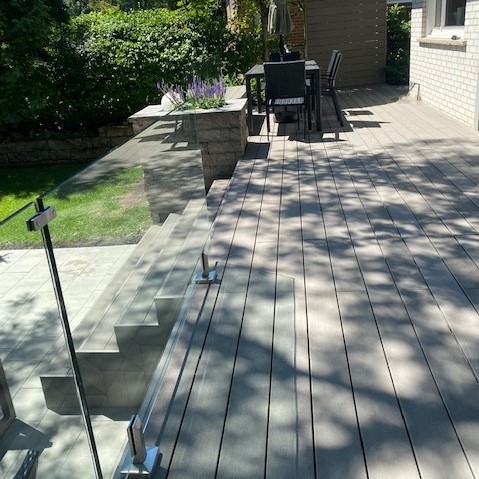 Jul 22, 2022
Delta Decks replaced my very worn old wood deck with a mineral based/pvc 'Deckorators' product, color 'Costa'. Finding a taupe color was a challenge b
...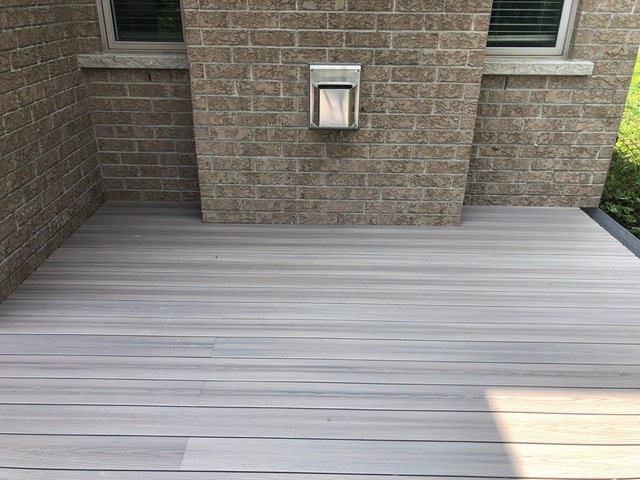 Dominic in Toronto
Toronto, ON
Jul 21, 2022
I am very satisfied with the improvements that Delta Decks made to my 12 year old deck. From my first contact with Elgi, the project manager ,to the f
...
Jul 11, 2022
This review has been a long time coming. We had Elgi and team come in on September 2021 and after some talks about designs and materials we ended up g
...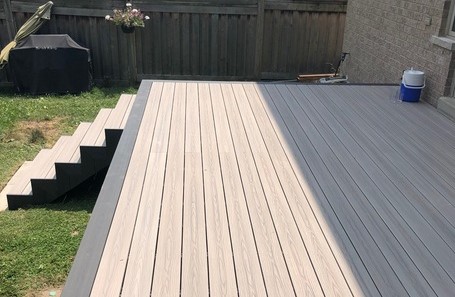 Jul 05, 2022
It was a pleasure choosing Delta Decks to work on our backyard project. They built an upper lever deck, and a lower deck, both with composite. Elgi ma
...