TORONTO DECKING SERVICES
Delta Decks is a composite deck specialist. We have been working in Toronto since 2005. Our staff includes qualified employees with extensive experience who can bring the most daring design project to life. We build decks, gazebos, patios and other structures that will increase functionality and emphasize the beauty of the site, as well as install stairs and railings. We work with private and commercial clients.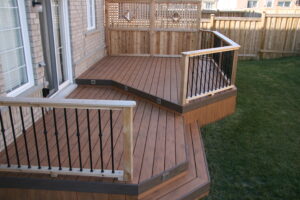 We are Decking Contractors in Canada
Deck installation in Canada is the main direction of our business. We build practical and functional structures where you can relax with your family or a large group of friends. All our objects fit into the general style of the site, as the designer necessarily participates in the development of the project.
We deal with various types of wood deck construction in Canada. Among them:
Decks in front of the house. As a rule, they are not very large in area and form a single composition with the facade. Here you can receive guests or just enjoy the fresh air.

Backyard decks. They are usually spacious (but it all depends on the site), designed for a large company. Here you can place garden and soft furniture, equip the territory with electrical appliances for cooking.

Roof decks. In most cases, we build for commercial objects. If you need to make the space of a condominium, business center or restaurant more functional, we offer to organize a roof terrace. This is an additional place for tenants or clients, where they can hold business meetings in the fresh air or just relax.
In addition to building a deck Canada, we also build pergolas, gazebos, and gazebos. These are separate structures that can be located right next to the house or in a remote part of the garden. A cabana usually has three walls and a roof, in it you can hide from the sun and rain, it protects from the wind. A gazebo is a round or octagonal structure open from all sides. The pergola is an even more open structure, it is created to fully enjoy the fresh air. Instead of a roof, it has beams, there are no walls, but if necessary, you can hang light curtains.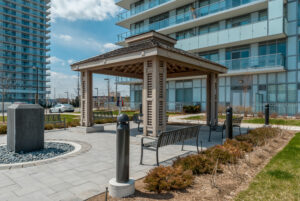 Deck Masters of Canada
Our deck building company uses quality materials in its work that last for many years. Let's talk briefly about the main ones.
Coniferous wood species, including cedar. This is relatively cheap decking, but it requires careful maintenance. The service life is 10-15 years, depending on the processing of the wood. It is recommended to choose this material for auxiliary elements, for example, railings, and to make the floor covering of the terrace from the second material.

Composite. It is resistant to scratches, pests, does not fade over time, although it is slightly more expensive than cedar. Many local deck builders in Canada choose composite as the main working material because of its strength and aesthetics.

PVC It is similar to composite flooring, but it heats up less under direct sunlight and does not absorb moisture. However, such a material is more expensive than a composite, and its stiffness is lower.

Solid wood. The most popular variety is Ipe. This tree grows in South and Central America. The flooring made of it is very durable, does not crack, it is hard. Since it is a natural material, it requires regular care – it needs to be oiled annually to preserve its color. But even if this is not done, the strength will not decrease. Hardwood flooring lasts more than 40 years.
When choosing a material, local deck contractors take into account the client's budget, the purpose of the object and planned loads, the harmonious combination of color with the general style of the landscape and the house. When designing, our managers will always advise what material is best to use for the construction of each structure.
Our Deck Building Company
Before starting the direct installation of the object, deck and patio contractors Delta Decks prepare detailed drawings and visualization. We also help with documents for obtaining a building permit. We submit an application to the local administration on your behalf – you will not have to deal with the bureaucracy.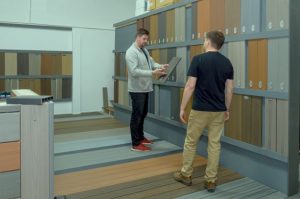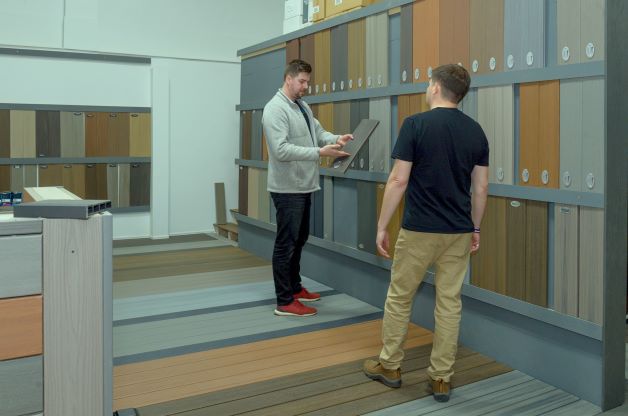 Advantages of Delta Decks deck installers:
A fully staffed staff of professionals. In addition to carpenters, we have an architect, engineers, and a designer.

We have our own warehouse of materials – you will not have to wait long for deliveries.

Strict compliance with the agreed terms.

Work according to the contract and within the framework of the prepared estimate.

Additional services – installation of lighting on the terraces.

Full service – from the development of drawings to approval by local authorities.
If you are looking for custom deck builders near me, call or write to our managers. We will discuss the project, and at a time convenient for you, our employee will come to the object for detailed consultations and cost calculation. For inspiration, take a look at our portfolio – perhaps one of the ideas will appeal to you, and you will want to implement it.
SEE SOME OF OUR PAST WORK
WHAT TYPE OF FOOTINGS WILL YOU USE FOR MY DECK?

We only use 'Helical Pile' footings – a steel shaft with corkscrew-shaped plates which are screwed 4 – 7 feet into the ground. These are the best footings available: where concrete footings deteriorate in the Ontario climate, Helical Piles penetrate below the frost line and withstand freezing and thawing soil; have superior load-bearing; can be built upon immediately after installation; and don't require soil excavation to be installed.

HOW MUCH DOES CUSTOM DECK CONSTRUCTION COST?

As each deck project is unique, we don't have a one-size-fits-all pricing scheme at Delta Decks. Our pricing reflects the individual approach and expert craftsmanship that we have honed during our 15 years in business.

WHAT MATERIALS DO YOU USE?

We offer several types of material to suit every budget and project: For deck frames:  Steel: a much stronger, more versatile and longer-lasting material which provides an even surface for mounting your decking boards.  Pressure-treated wood: the standard budget option. The cut ends are specially sealed to protect against moisture damage. For finish materials:  PVC: benefits include superior mould and moisture resistance, coolness to the touch in hot weather, low maintenance, and longevity (with a warranty of up to 50 years).  Composite: fabricated from a mix of wood fibres and recycled plastic, composite decking is low maintenance, very durable (covered by a 25-year average warranty) and available in three tiers of pricing. At Delta Decks we are certified installers of the leading composite decking brands – TimberTech/Azek, Deckorators, and Fiberon.  Cedar: an attractive alternative to traditional pressure-treated wood decks. Naturally moisture and rot resistant, but we recommend maintenance with a water repellent and UV-protective sealer.  Pressure-treated lumber: pine wood which has been treated with a copper pressed solution. Standard entry-level material and prone to splitting, warping and cracking. Should be maintained with water repellent and UV-protective sealer.

WHAT GUARANTEES CAN YOU OFFER THAT THE JOB WILL BE FINISHED ON TIME AND ON BUDGET?

Once we understand what you have envisioned for your deck design and consider all of the other factors, we will devise a construction time frame. Our staff strive to complete your deck on time, and work overtime when necessary to achieve this. We will always keep you in the loop about how your project is progressing.

HOW LONG DOES THE BUILDING PROCESS TAKE?

The building process of each designed project can take anywhere between a week and several weeks depending on various factors. Aside from weather and deck size, applying for and receiving a deck building permit is the main reason a project can take longer than usual. However, at Delta Decks we have been working with the city permit office for many years and have a good relationship with the staff there.
Read our Client Reviews
You probably heard a saying "a picture is worth a thousand words", we think that a satisfied client is worth a thousand pictures!
Delta Decks has a very high customer satisfaction rate and we are not afraid of giving an option to a potential client to contact any of our 20 very recent clients! Please read some testimonials below. Please note these testimonials were not gathered by Delta Decks, but by a third party.
Aug 17, 2022
Delta Decks did a beautiful job on our backyard deck and patio. Our old deck was in dire need of a rebuild and refresh. Elgi was great in getting the
...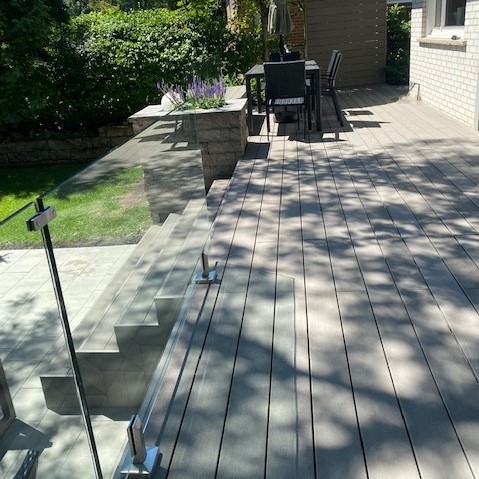 Jul 22, 2022
Delta Decks replaced my very worn old wood deck with a mineral based/pvc 'Deckorators' product, color 'Costa'. Finding a taupe color was a challenge b
...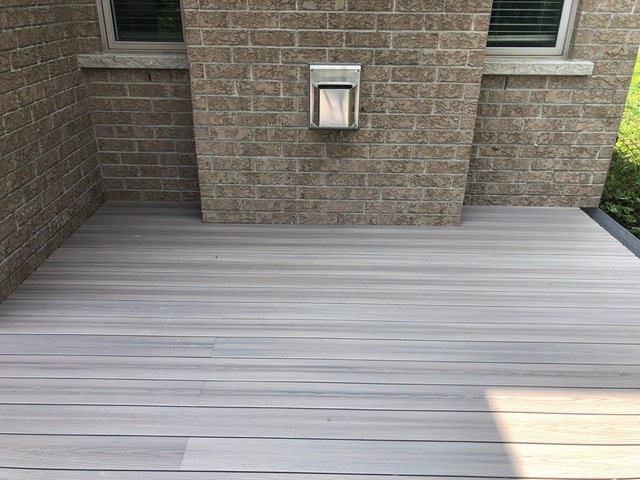 Dominic in Toronto
Toronto, ON
Jul 21, 2022
I am very satisfied with the improvements that Delta Decks made to my 12 year old deck. From my first contact with Elgi, the project manager ,to the f
...
Jul 11, 2022
This review has been a long time coming. We had Elgi and team come in on September 2021 and after some talks about designs and materials we ended up g
...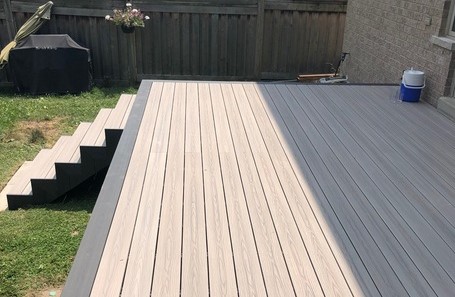 Jul 05, 2022
It was a pleasure choosing Delta Decks to work on our backyard project. They built an upper lever deck, and a lower deck, both with composite. Elgi ma
...