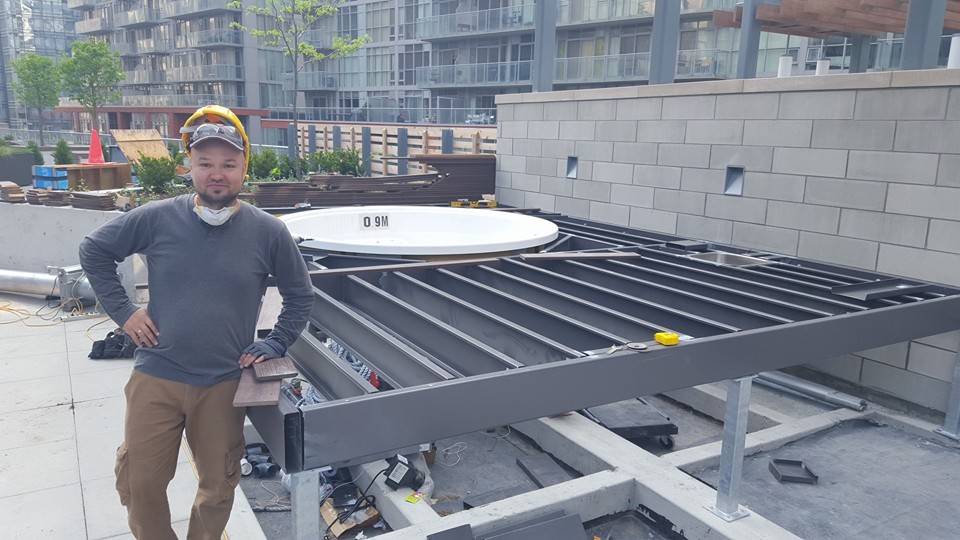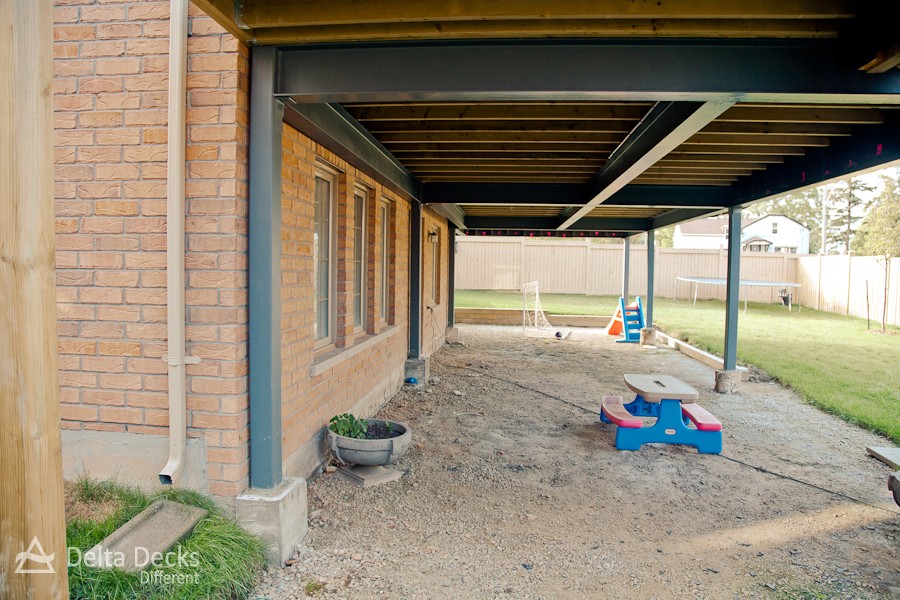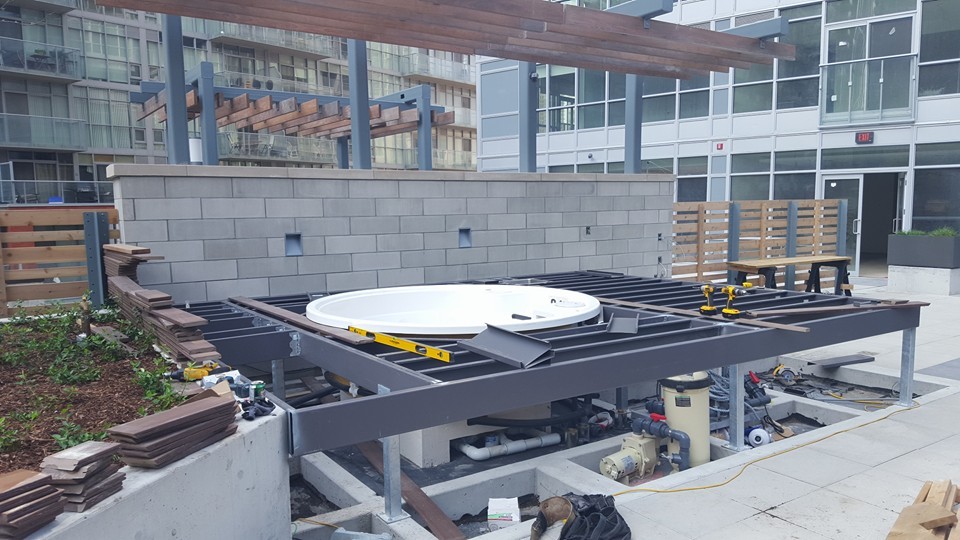 STEEL FRAME DECK
Your Expert Deck Contractors
Unmatched Experience in Toronto Deck Building Industry
Specializating in Low Maintenance Decking and Ipe Wood Decks
STEEL FRAMING - A SOLID CHOICE
So, you're designing your brand-new outdoor living space with stylish and low-maintenance decking. Yet even the most premium deck will only last as long as the frame below it. Decking is traditionally framed with pressure treated lumber, which is not the most durable material – over time the elements will compromise its structural integrity and beauty. A steel framing deck structure is a much better alternative for several reasons:
Greater longevity
Steel lasts longer than the standard pressure treated lumber frame. Even though the wood has been protected with chemicals, it is still susceptible to moisture and insect damage. This is genuinely dangerous, especially for elevated decks and in commercial premises with lots of footfall.
In comparison a steel frame will not rot, decay, warp or shrink, is resistant to insects, and performs well in poorly ventilated spaces. Wood framing typically lasts for just 10 years, whereas a deck on a steel framing system will be structurally sound for decades!
Fire safety
Steel is also the safer option as it is non-combustible. If you have an accident with a barbecue, candle or heat lamp, it won't be such a disaster.
Better design opportunities
This material gives you much greater flexibility in deck design. Steel is malleable and can be bent to suit any concept. As the beams are stronger and more lightweight than wood, they are engineered to span greater distances between vertical supports, maximising the space underneath the elevated decking.
More attractive shape
A neater shape is possible with a steel deck. Steel beams offer a clean, modern look which stands the test of time, and every beam is fabricated by a machine which ensures that there are no inconsistencies in shape.
Better for the environment
Structural steel decking is the more environmentally friendly option! Not only is pressure treated lumber made from valuable felled trees, but it is packed full of chemicals. On the other hand, steel is one of the world's most recycled materials and can easily be melted down and recycled.
Minimal maintenance required
Just as wood decking is much higher maintenance than composite or PVC, a lumber frame requires frequent sanding, staining, painting and sealing… Steel requires very little upkeep.
Suitable for any project
Steel framing is compatible with any type of decking! Whether you're looking for an Ipe wood, PVC or composite deck frame, steel is the way forward.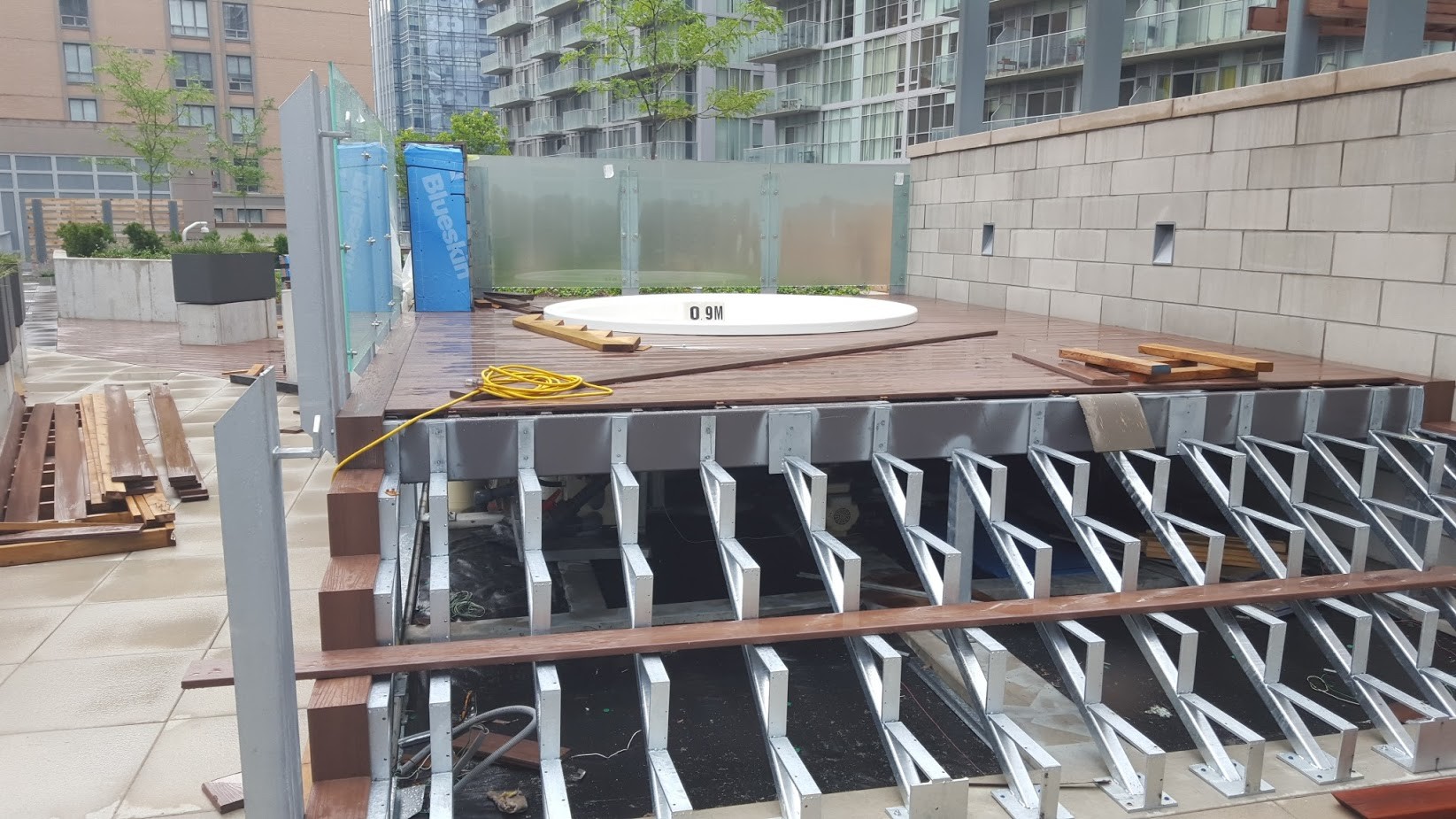 CUSTOM STEEL DECK FRAMING
As we've mentioned, framing a deck with steel is ideal for custom designs. There are many advantages to building a custom deck:
It will be a stylish outdoor space which is unique in comparison to your neighbours' and friends' decks.
Custom decks add value to your house, not only because of their aesthetic but because they extend your living space into the great outdoors!
You can tailor every aspect of the deck to your wishes – the boards, railings, shape, frame and more!
A custom deck can have many functions – an outdoor kitchen, workspace, or sports area.
One way to bring your custom deck to life is to add a curved shape, although this is difficult to make with a pressure treated wood frame and will add a lot of time and money to your deck project. Starting with steel deck framing is certainly your best bet for adding curves or other shapes to custom deck builds.
FRAMING CONTRACTOR IN TORONTO
If you want to find metal deck framing, then Delta Decks is the right choice of contractor for you. We have unmatched experience in the Toronto deck building industry and our team of engineers, designers, carpenters and architects specialises in low-maintenance decking.
Since our foundation in 2005, we have completed many steel frame deck projects and have all the necessary resources for designing and building your outdoor living space – whether a standard deck or a complex custom build. Visit our Delta Decks showroom to see the different products we offer, and get in touch with us today for a free quote!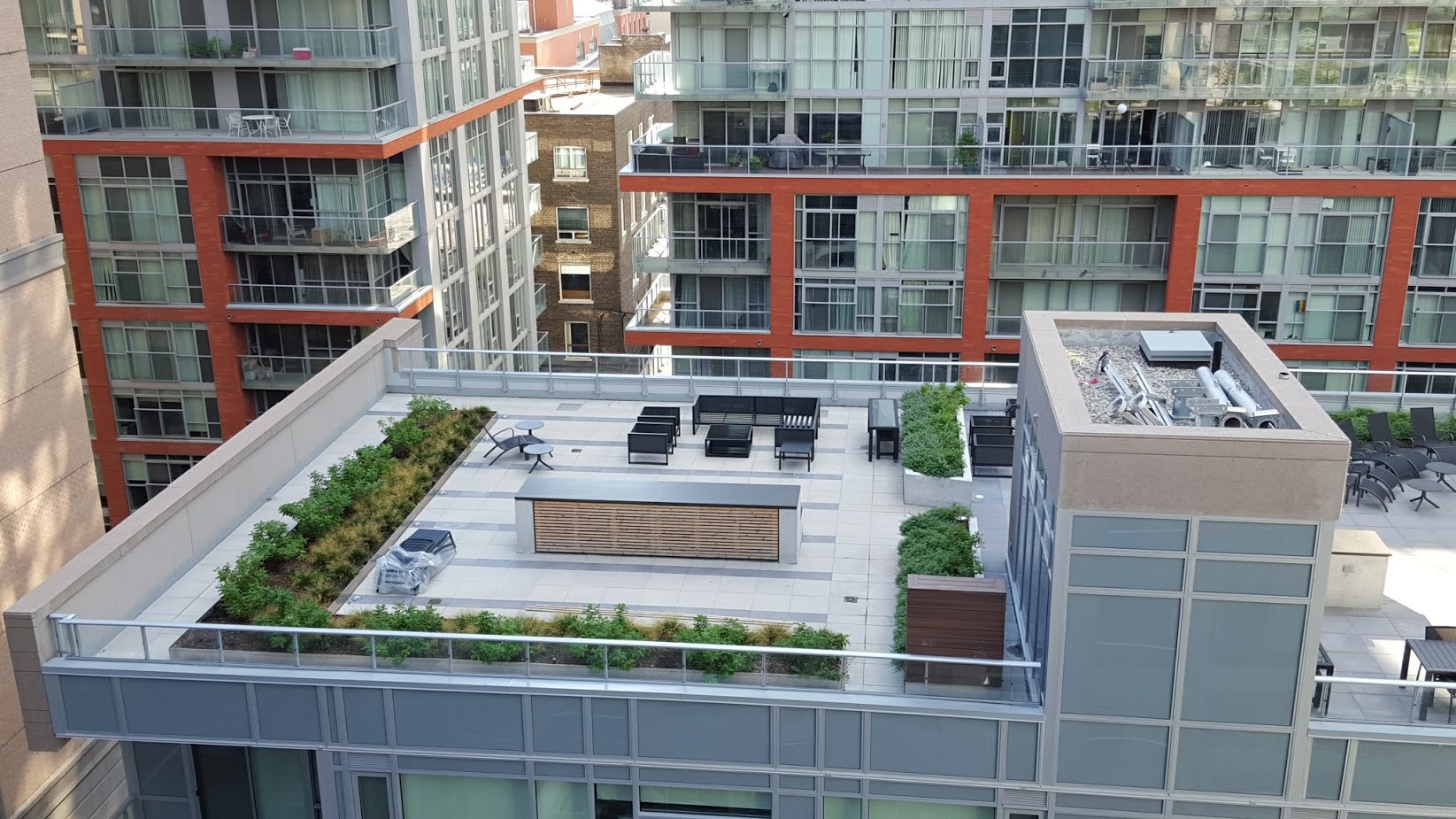 HOW LONG DOES A STEEL DECK LAST?

Fortress steel deck framing comes with a 25 year warranty. Steel decking can have a lifespan of 60+ years when correctly installed by a professional builder. Steel does need to be cared for with a basic maintenance cycle of routine desalting and touched up with a periodic protective coating.

IS STEEL DECK FRAMING WORTH IT?

For many homeowners steel framing for their deck is a great investment. Most decks today are built with long lasting materials such as composite, pvc or Ipe decking. Building the deck frame in wood limits the longevity of the entire project. Steel will last for 50 years or more. Steel deck is also more sturdy, has a nicer appearance and it is perfectly straight. All things considered – it's an excellent choice for many deck projects.

CAN YOU FRAME A DECK WITH STEEL?

Yes, you can frame the deck with steel. You can get steel posts, steel beams, steel rim boards and ledger boards. Additionally deck blocking, stair stringers and other deck frame components can be done in steel. The most innovative steel deck framing system is made by Fortress. They offer many steel profiles and options that allow the installers to install the entire project in steel even if it has curves and stairs.

WHAT IS THE COST OF STEEL DECK FRAMING?

Steel deck framing costs more than wood to buy and more to install. You can plan to spend about $15 more per. sq. ft. for material costs and another additional $15/sq. ft. for installation costs. These initial investments will pay off over time and the deck will feel more rigid during its lifespan.

WHAT TOOLS DO YOU NEED TO INSTALL STEEL DECK FRAMING?

You need a different set of tools to install a steel deck frame. You will need grinders, cut off saws with metal blades and sawzall saws with metal blades. The principles of construction are very similar to wood, but the tools will be different.

HOW LONG CAN YOU SPAN WITH STEEL BETWEEN POSTS?

One of the main advantages of steel decking is that you can have larger beam spans and joist spans. Steel beams can span 24 feet between posts and steel joists can span up to 16 feet. For some deck projects this is very important because it increases the usable space under the deck.
STEEL FRAME DECK PROJECTS
Read our Client Reviews
You probably heard a saying "a picture is worth a thousand words", we think that a satisfied client is worth a thousand pictures!
Delta Decks has a very high customer satisfaction rate and we are not afraid of giving an option to a potential client to contact any of our 20 very recent clients! Please read some testimonials below. Please note these testimonials were not gathered by Delta Decks, but by a third party.
Aug 17, 2022
Delta Decks did a beautiful job on our backyard deck and patio. Our old deck was in dire need of a rebuild and refresh. Elgi was great in getting the
...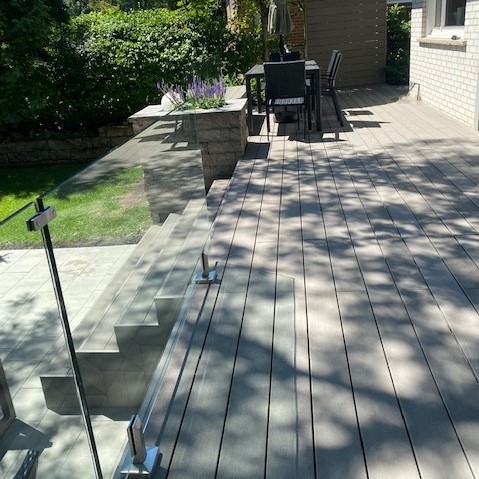 Jul 22, 2022
Delta Decks replaced my very worn old wood deck with a mineral based/pvc 'Deckorators' product, color 'Costa'. Finding a taupe color was a challenge b
...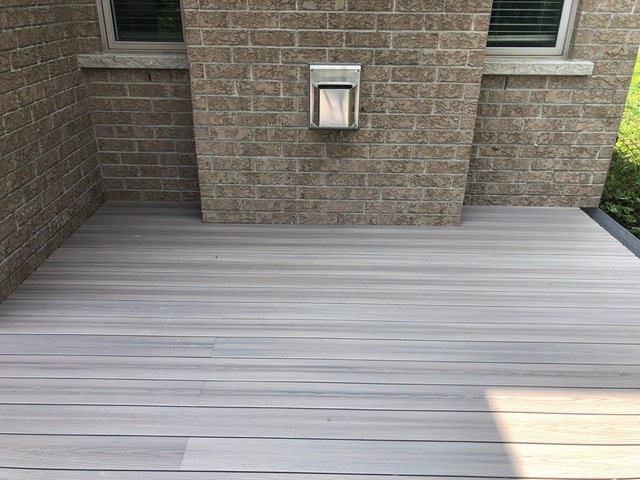 Dominic in Toronto
Toronto, ON
Jul 21, 2022
I am very satisfied with the improvements that Delta Decks made to my 12 year old deck. From my first contact with Elgi, the project manager ,to the f
...
Jul 11, 2022
This review has been a long time coming. We had Elgi and team come in on September 2021 and after some talks about designs and materials we ended up g
...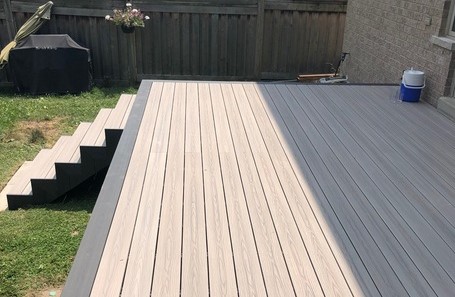 Jul 05, 2022
It was a pleasure choosing Delta Decks to work on our backyard project. They built an upper lever deck, and a lower deck, both with composite. Elgi ma
...