MAKE YOUR PATIO BEAUTIFUL WITH A TERRACE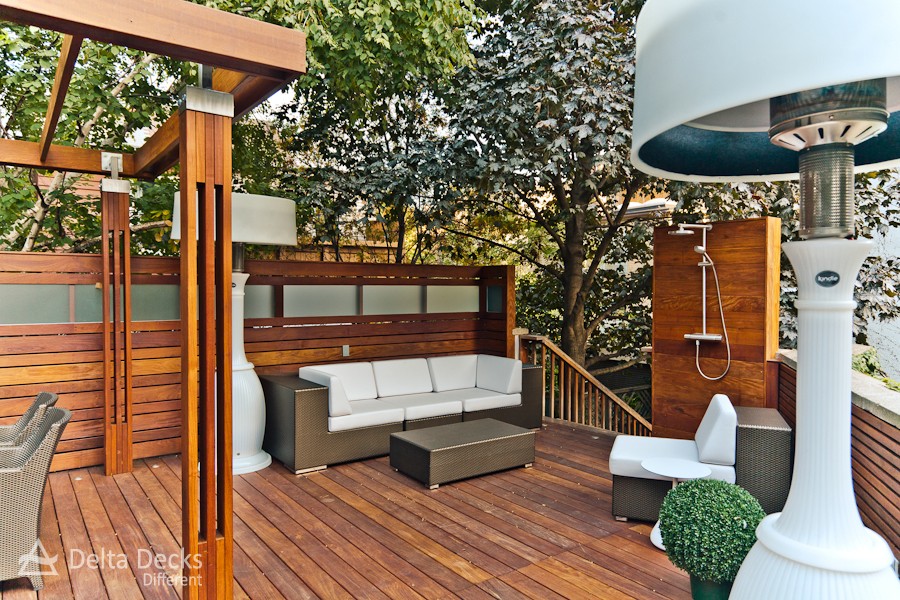 HOW CAN I MAKE MY PATIO LOOK NICE?
Your patio, even a small one, can be a great place for amusement, especially if you have children or pets! Everyone will appreciate a good outdoor recreation on the well-equipped terrace in the backyard. Delta Decks, as a patio deck builder, is convinced that the patio is the place for the implementation of the ideas multiplicity. Just imagine how functional it can be! Probably you want to equip your open place for sports or transform it into a secluded oasis?
Above all, you can fence your patio with a hedge of climbing plants or grow shrubs around the perimeter. This will hide your backyard from prying eyes and create an atmosphere of privacy.
Get a good-looking appearance of your patio by constructing a multi-level or floor terrace or altering the existing one. Proper materials for your terrace will make a unique style combined with an exceptional practicality. Wooden decking has a mesmerizing look and is suitable for lovers of natural materials. Likewise, you may give preference to the more versatile material, for instance, ceramic tiles or porcelain stoneware ones with a wood texture or any other design. Anyway, the patio decking is a great option, as it is resistant to moisture and frost, as well as opportune for different temperatures. In order to achieve the maximum compliance with the beauty and functionality, enlist the patio deck builder assistance, who will offer you the decking that meets your requirements.
In the meantime, backyard terraces are a great place to install both pergolas and cabanas. Thus you will not solely find a place where you can be covered from the sun, however complement your landscape with a stylish accent eke.
If the size of your backyard allows, you can divide the dining and seating area, as well as the site for active leisure. Set the outdoor furniture, add the decorative elements such as hanging lanterns, and be sure that your patio is magnificent!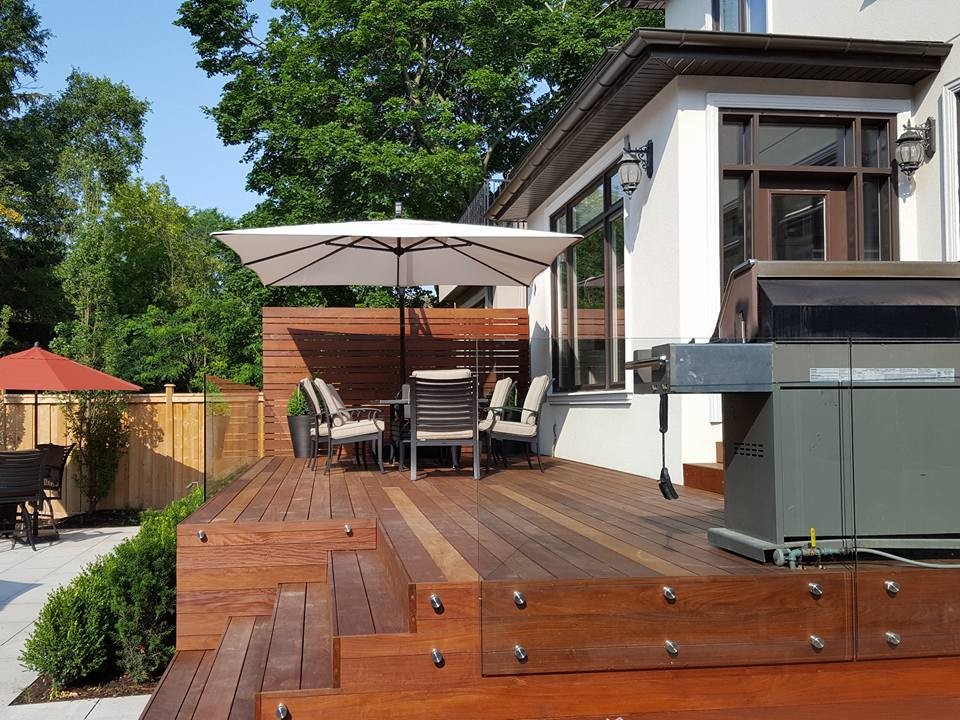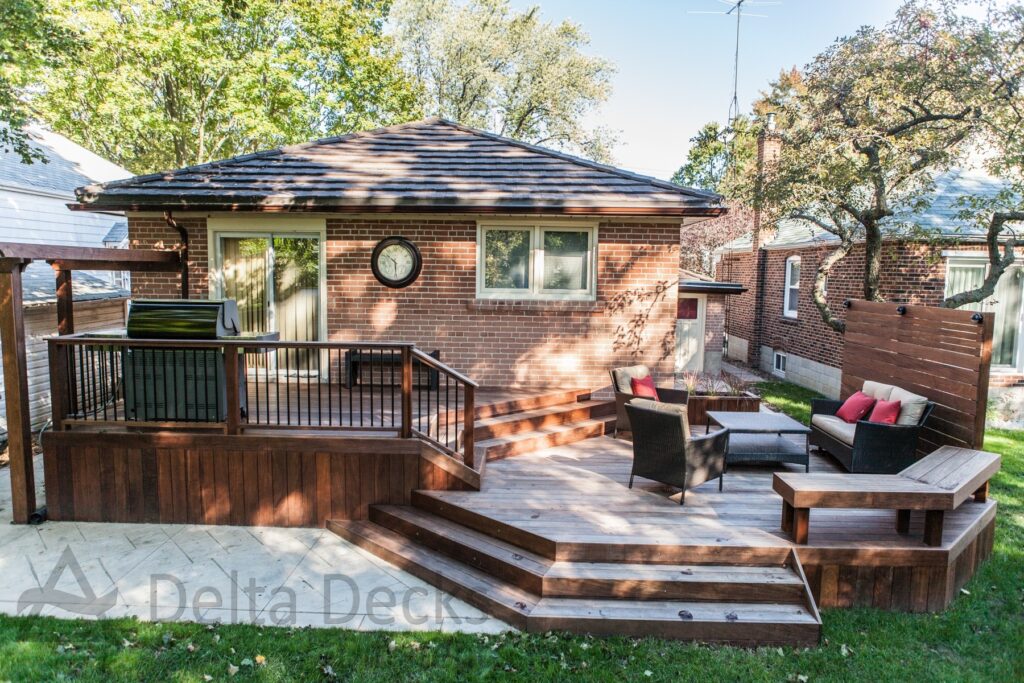 WHAT CAN YOU DO WITH A ROOFTOP TERRACE?
In case your roof looks empty or, on the contrary, full of junk, then it's high time to exploit it efficiently. There are loads of rooftop terrace ideas that will aid you to get the new living space. Moreover, a minimally landscaped roof terrace will look better than roof balconies and in fact add a significant value to your building. Here's what you can do with your rooftop terrace:
Arrange an open living room with a sofa or a dining area with a picturesque view of the surrounding territory.
Place planters and get closer to nature by transforming your roof into a splendid garden. The rooftop landscaping is especially popular among buildings in Toronto, as in the conditions of the high-density development, there is occasionally no stead for a ground-level garden.
Equip a sunbathing section with chaise longues, umbrellas and an artificial lawn.
Make a place for a barbecue or a fire pit. Nevertheless, it is significant to take into account the fire safety standards.
Install a pergola or canopy over the terrace that will shade your lounge area.
You can build one specific area or combine several ones to gain a multifunctional terrace. In contrast to common private balconies, roofs afford plenty of outdoor space for a terrace. Nonetheless, not every roof is adapted to the additional structures, in such a way there is a certain particularity of the rooftop terrace designing. The best solution is to entrust all construction processes to the terrace building company.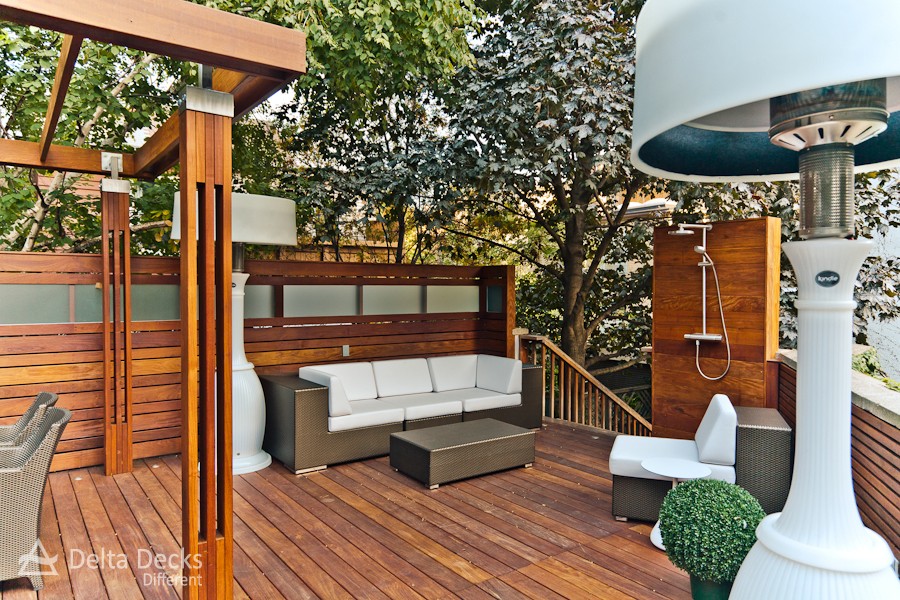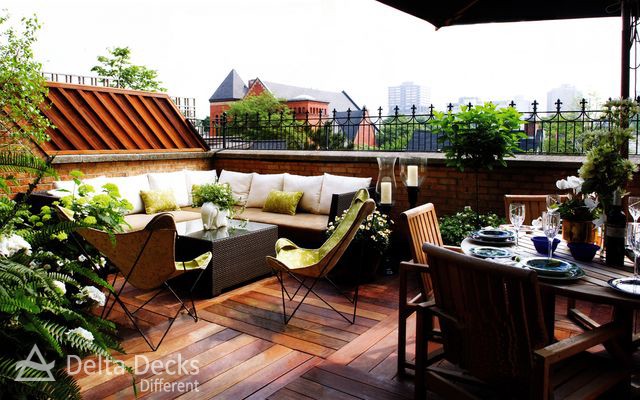 HOW TO FURNISH YOUR TERRACE OR BACKYARD
Working on the projects, Delta Decks constantly ascertains that every detail in the arrangement of your land plot should be considered beforehand. Starting with the terrace landscaping, choose a site where you wish to hide from the curiosity of your neighbours or shelter from the wind and place tall plants there. On the other hand, if you desire to receive a gorgeous view along with more light, then limit yourself to low plants in this place. Outline the recreation area together with the place of shade, by installing a pergola there and decorate it with curtains or creepers.
Having identified the main areas, you can proceed to the selection of the appropriate terrace furniture. Choosing tables, sofas, benches or swings, you are not restricted in design solutions. The resistance to outdoor conditions is the essential requirement for such furniture. Nowadays, powder-coated aluminum and wicker-like pieces woven from synthetic fiber are considered as the most popular, weather-resistant as well as long-lasting ones. Wooden furniture made of cedar or ipe is also widely used, notwithstanding it can change color over time. Furthermore, pick special outdoor fabrics for furniture that are both strong enough and impervious to the discoloration.
If you wish to preserve the space of your backyard, we advise you to draw attention to the smart furniture that can perform several functions at once. For instance, the ipe bench with removable cushions and storage underneath may suit you.
TERRACE CONTRACTOR
Despite the fact that the terrace is a seemingly simple structure, its construction requires consideration for many nuances, starting from its location and ending up with the terrace material. The terrace contractor will assist you to derive top results in the shortest possible time.
Designing a terrace with a contractor has awesome advantages.
The contractor will explore your desires carefully and elaborate the perfect design.
You will save time as all the work at each stage of the construction will be carried out independently by the contractor.
The contractor complies with all building codes and obtains the necessary permits. This applies to the cases when you desire to build a roof terrace, yet a condominium permit is demanded.
While choosing a building company that will become your contractor, pay attention to such characteristics as the following ones:
experience;
professionalism;
positive feedback;
location;
flexibility.
WHY OUR TERRACES ARE CONSIDERED THE BEST!
A truly good terrace combines both the external attractiveness and the reliability of the structure. Being the company that has been constructing terraces for 15+ years, Delta Decks has explored all the aspects of building an ideal terrace. Our professionalism is proven by the multiyear trust of our customers. Various condos and private houses in Toronto, Mississauga and Oakville have already been equipped with terraces, decks and pergolas built by Delta Decks. We've been frequently chosen as the contractor for high-budget projects that require the installation of several thousand square feet of decking.
The satisfaction of the customers' wishes is the main goal of our highly qualified architects, engineers and designers. We work merely with high-quality materials, consequently our premium decking products, steel decking, glass railings and other elements have an enduring service life.
TERRACE BUILDER IN TORONTO
For those who reside in the Toronto area and are desperate for the terrace building, a terrace builder in Toronto will be exactly what they need. The leading companies that have been engaged in the construction of terraces in Toronto for many years, including Delta Decks, are keenly aware of all the local architectural requirements and have well-established business relations.
If you want to find out more information about services provided by terrace builders in Toronto, contact us in any convenient way and we will be pleased to answer all your questions.