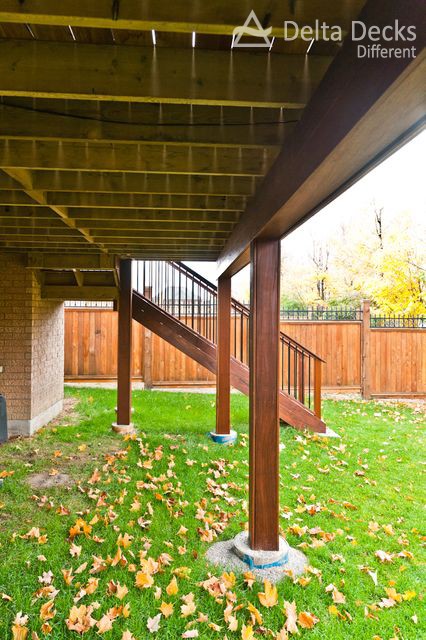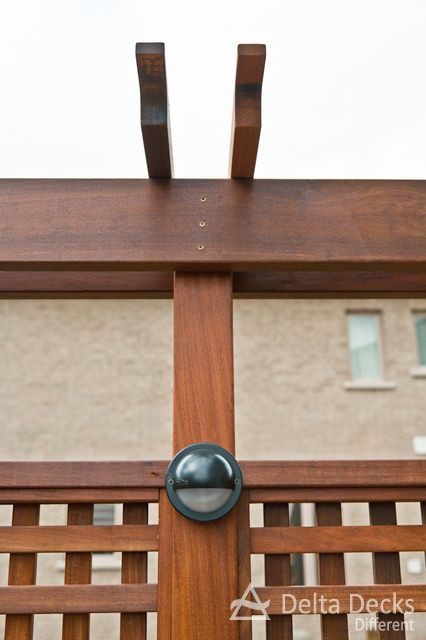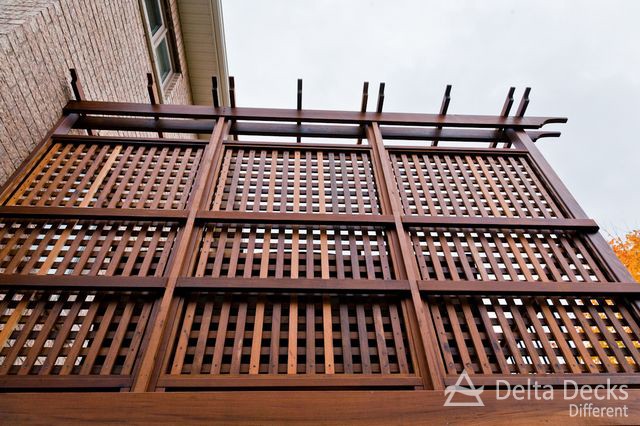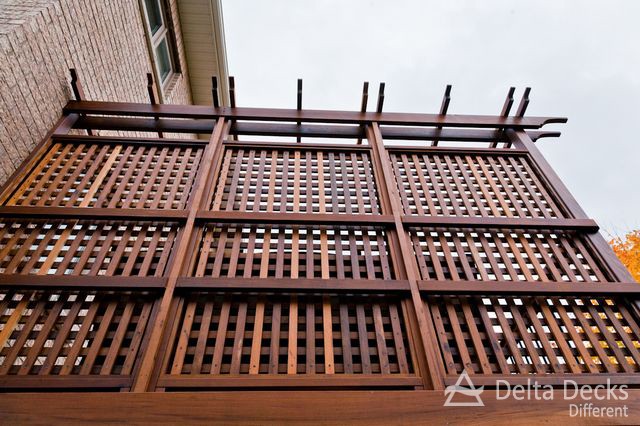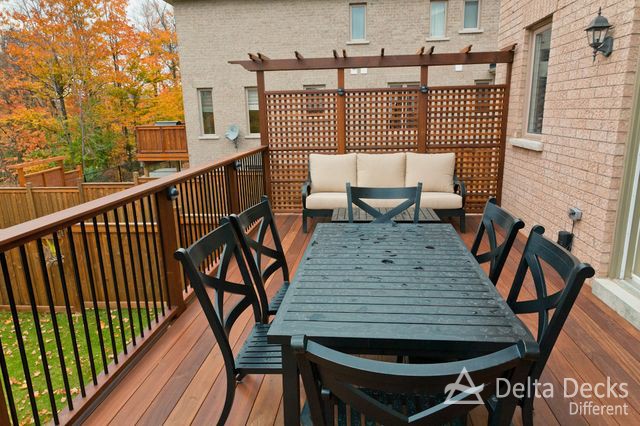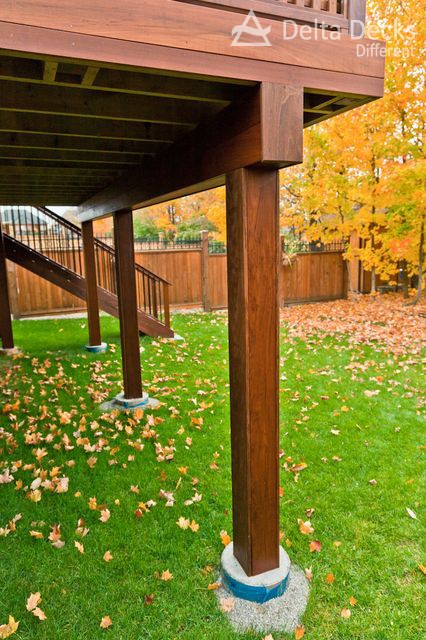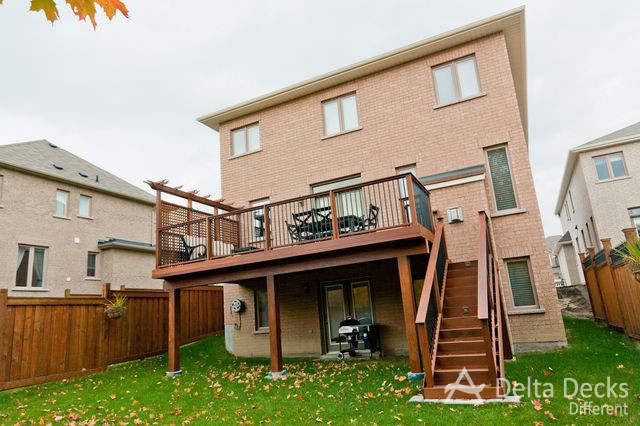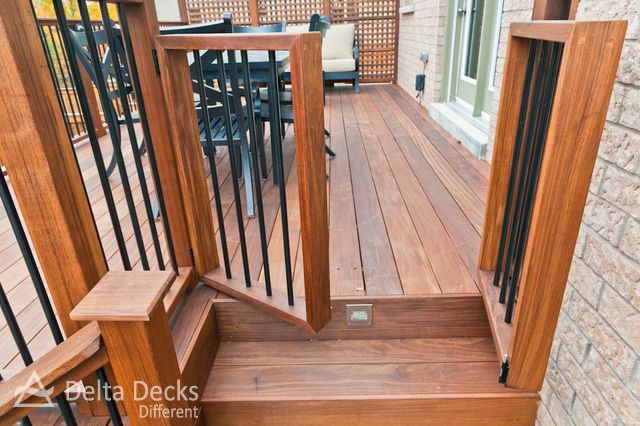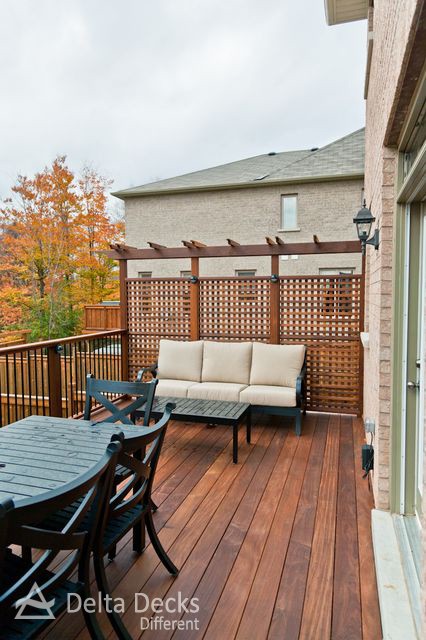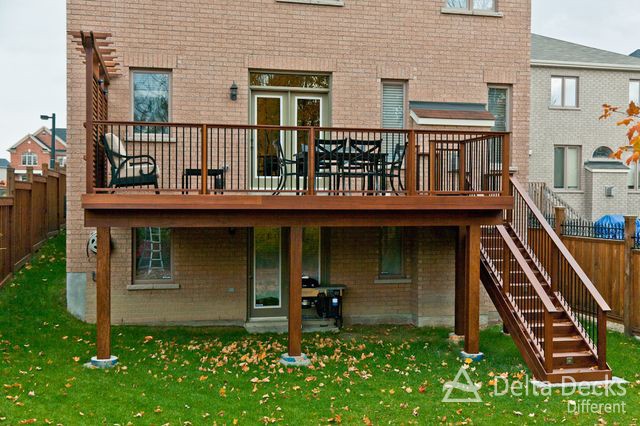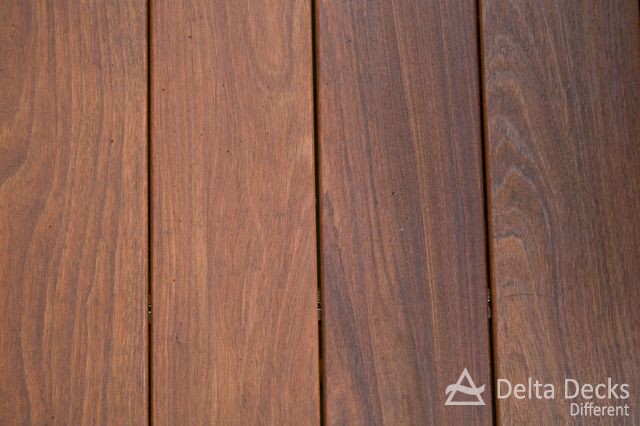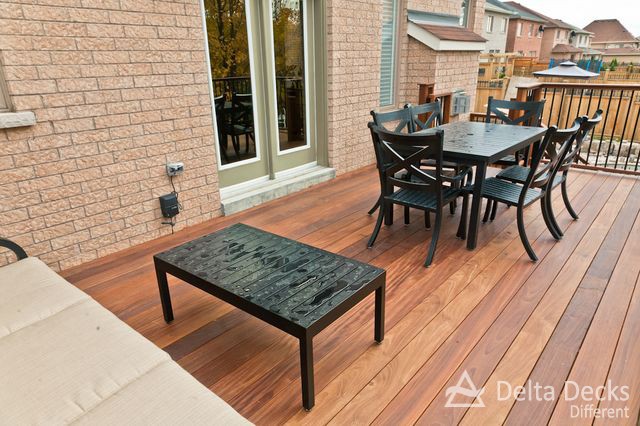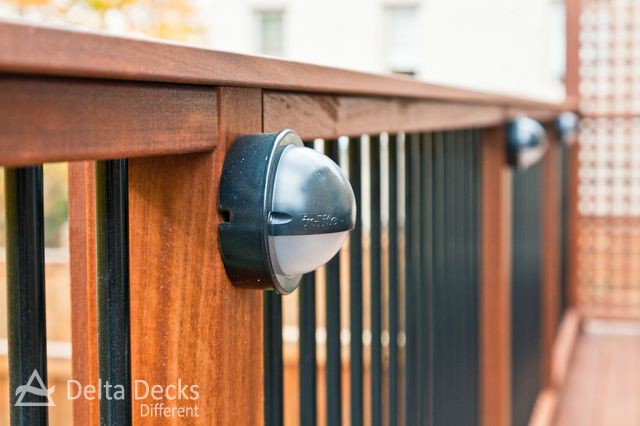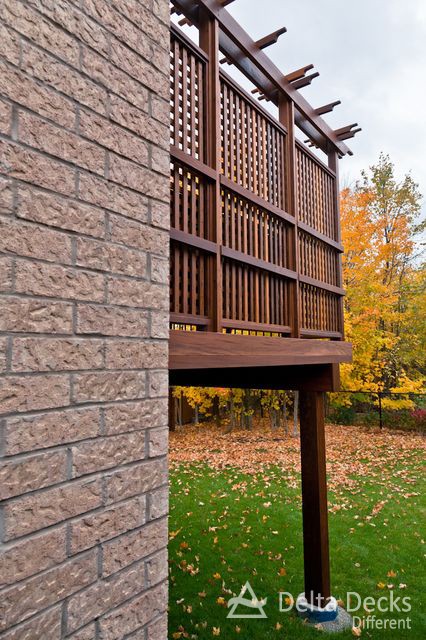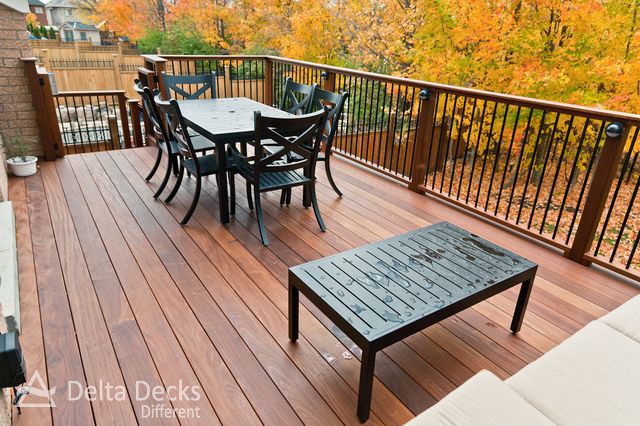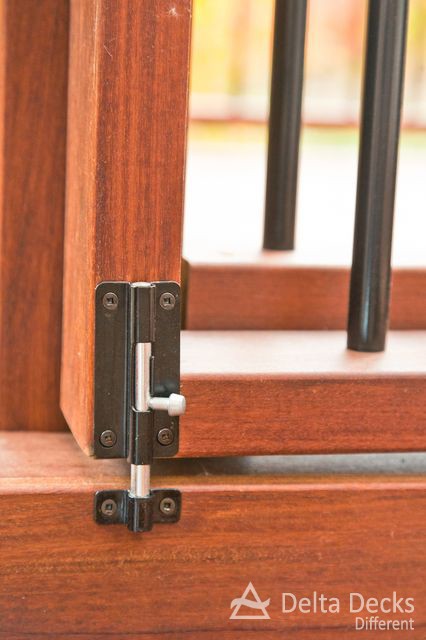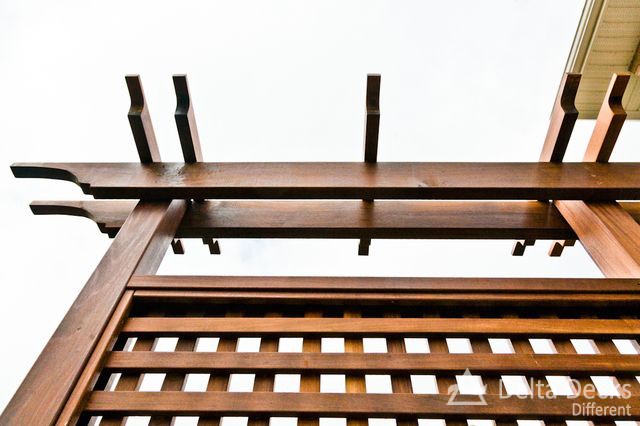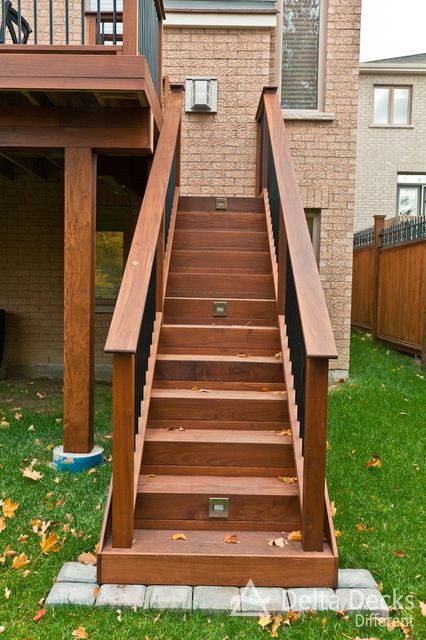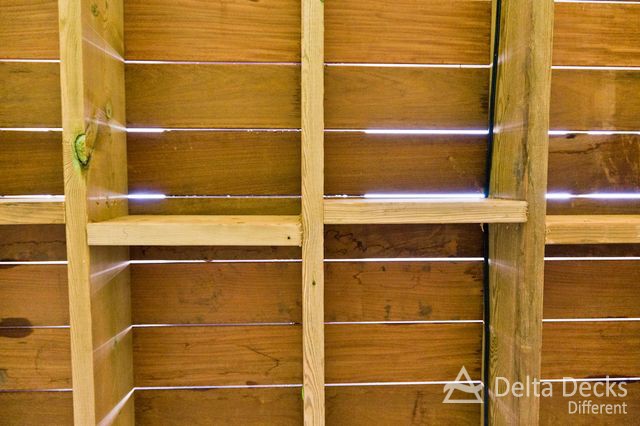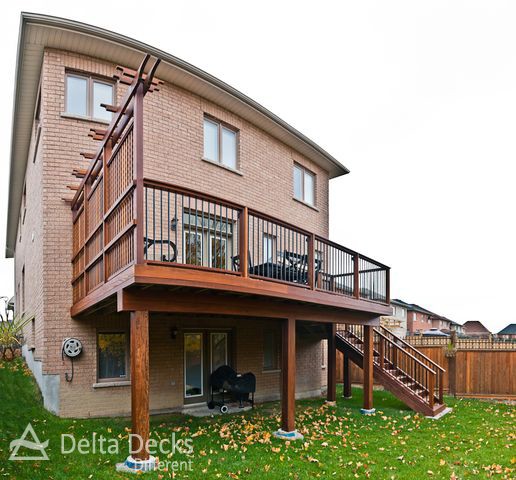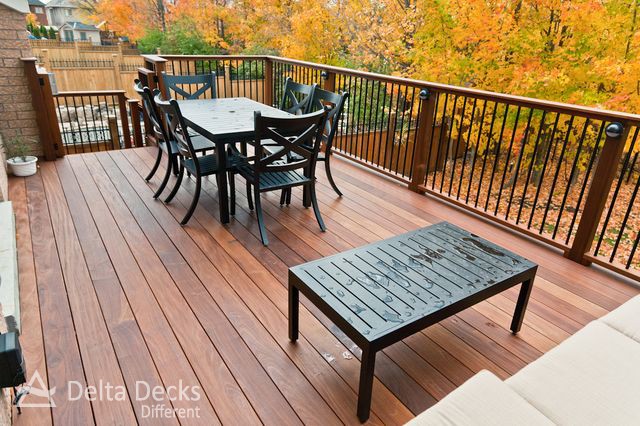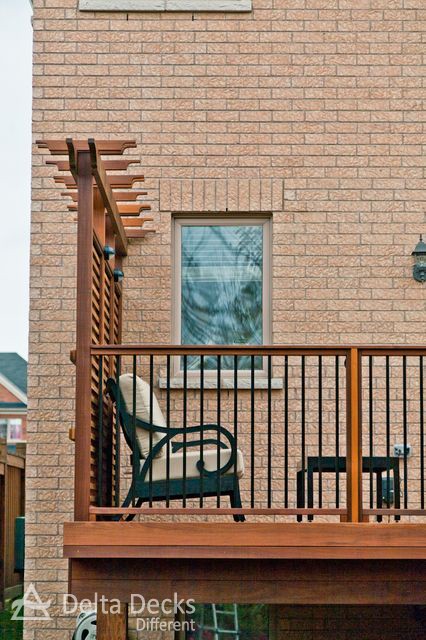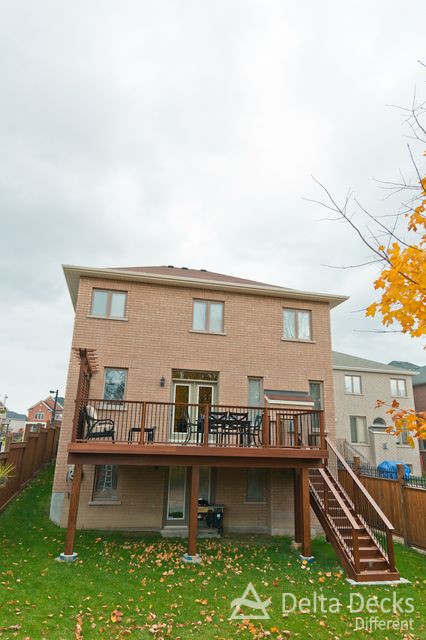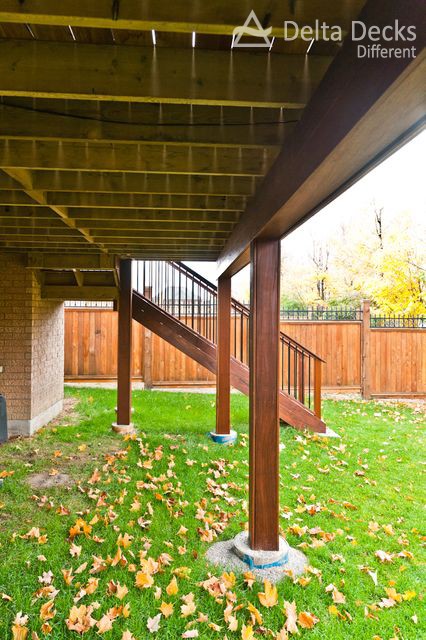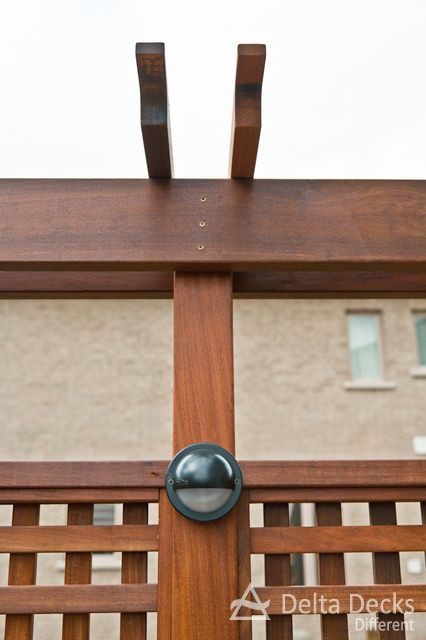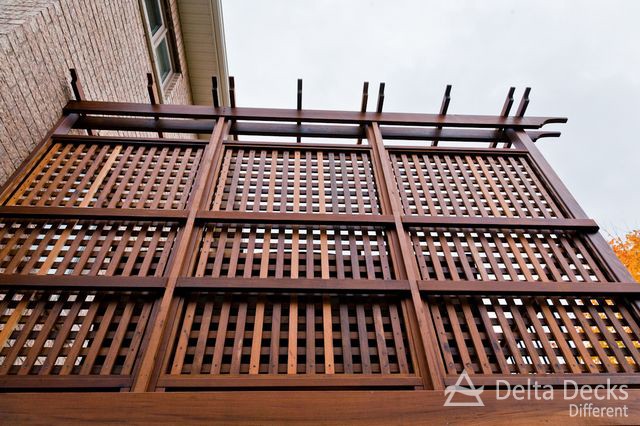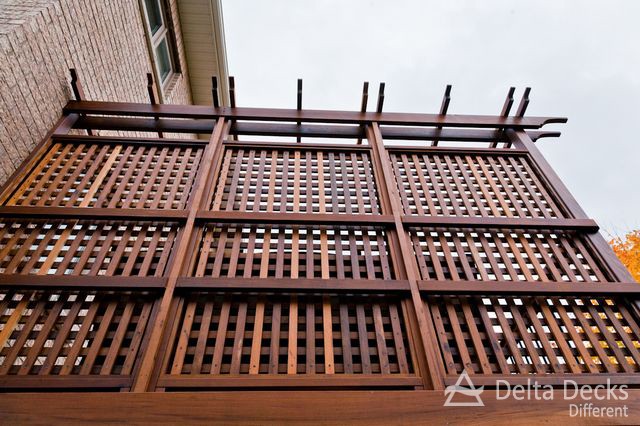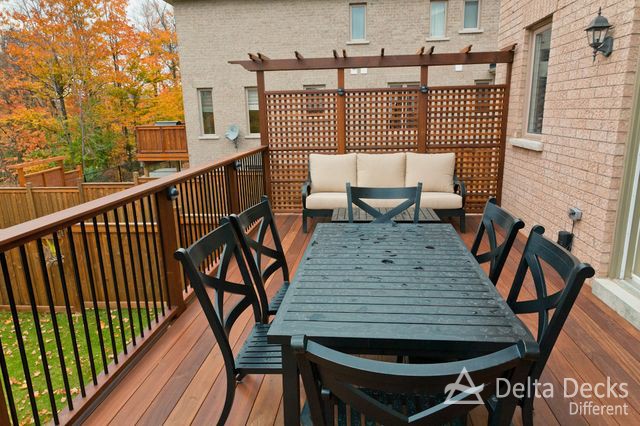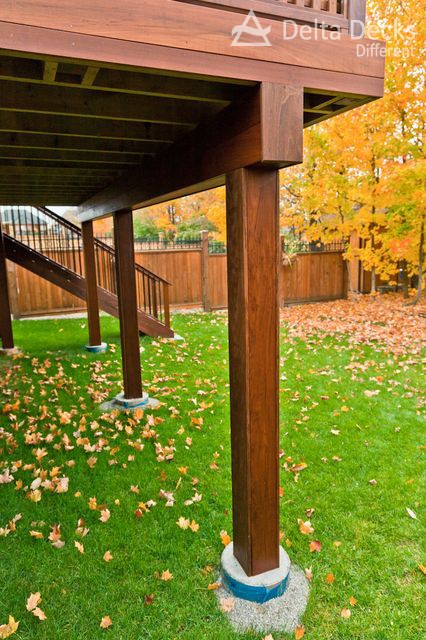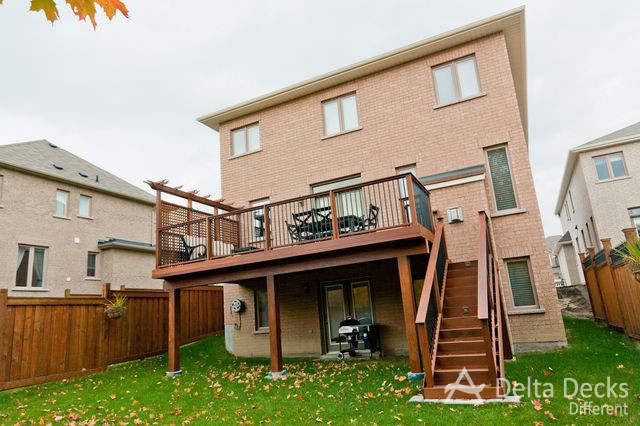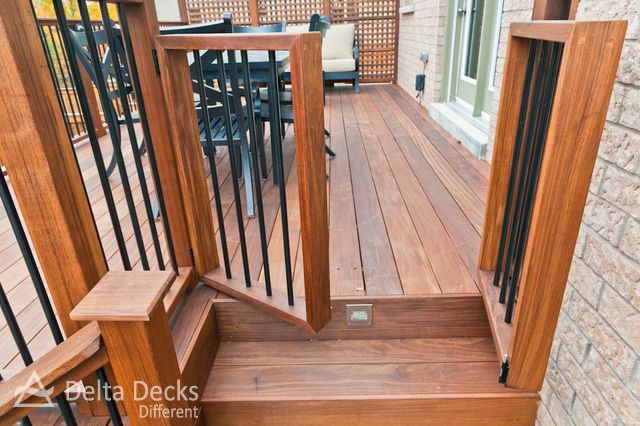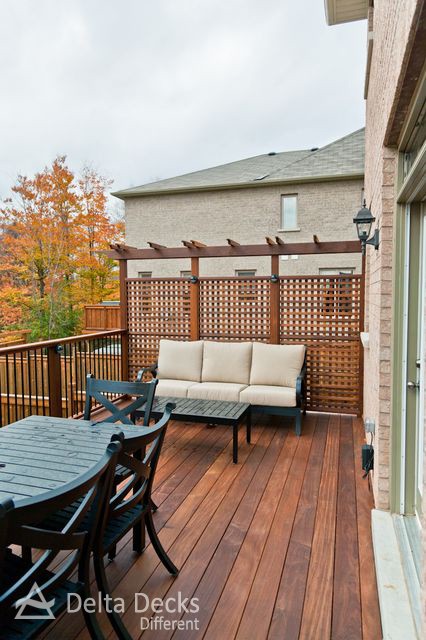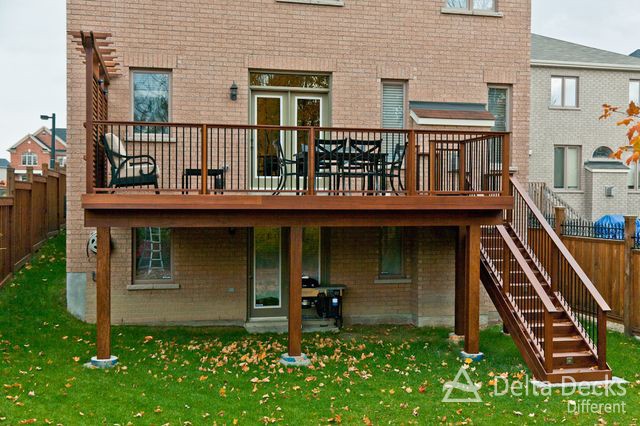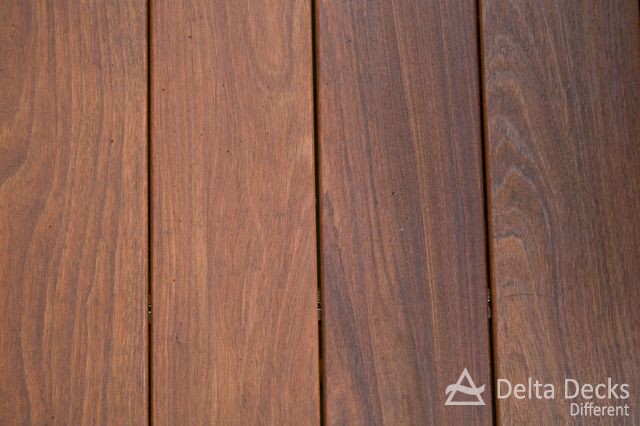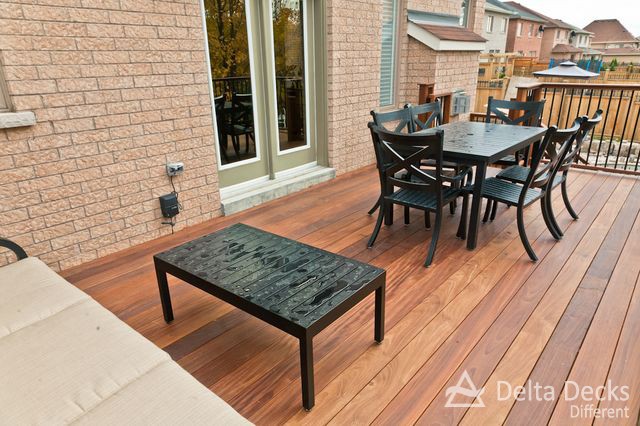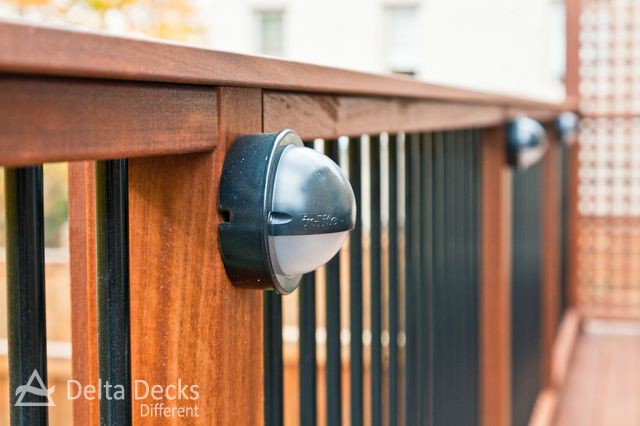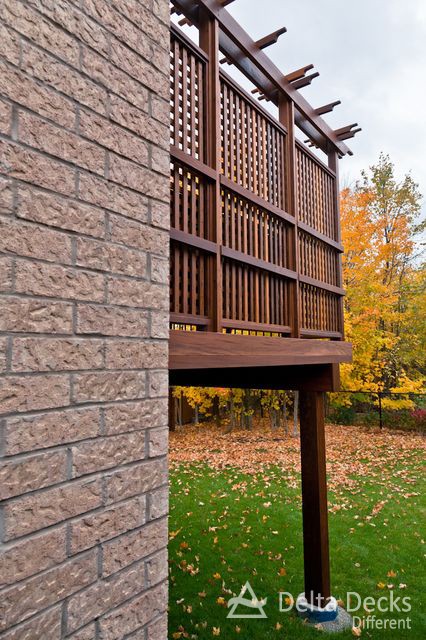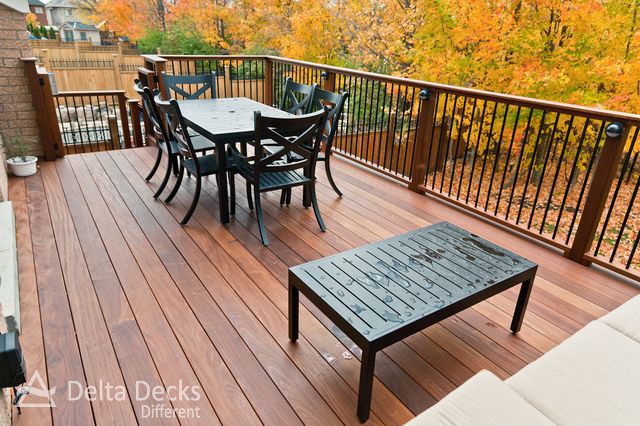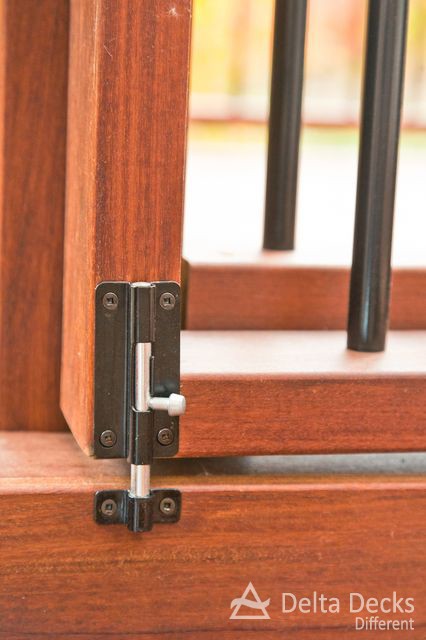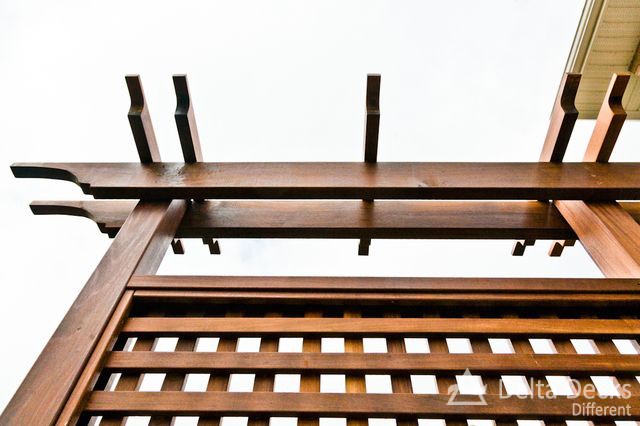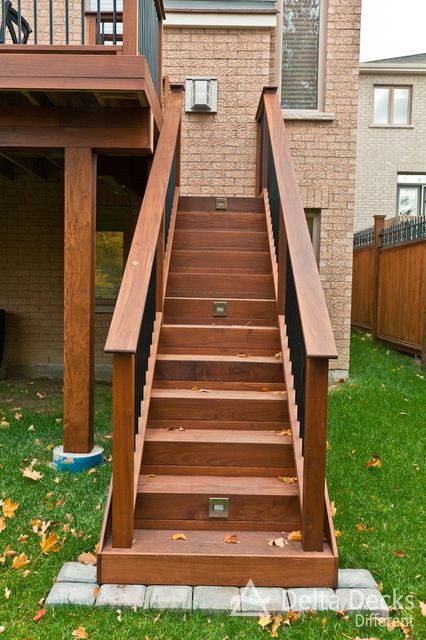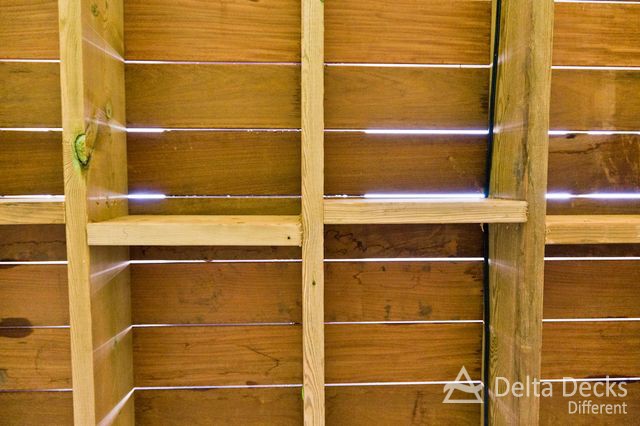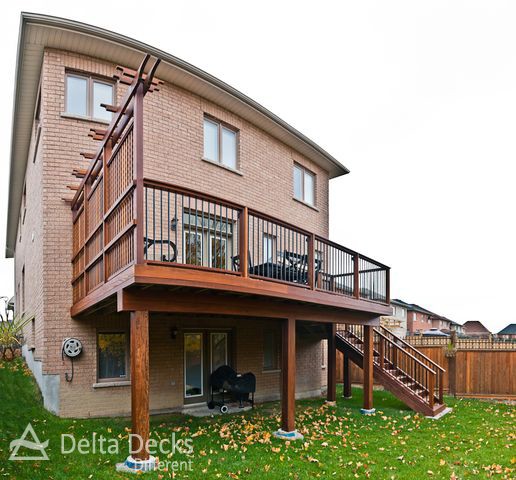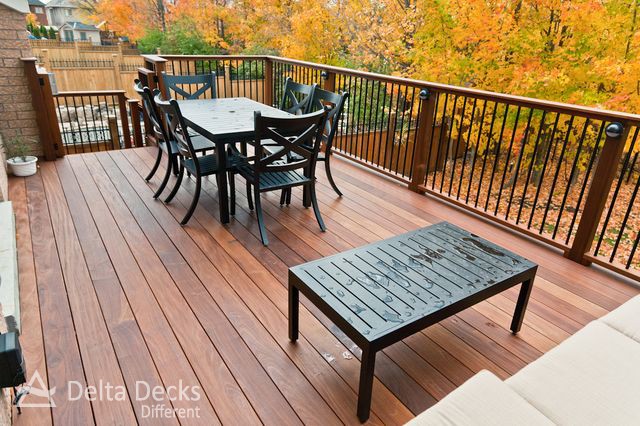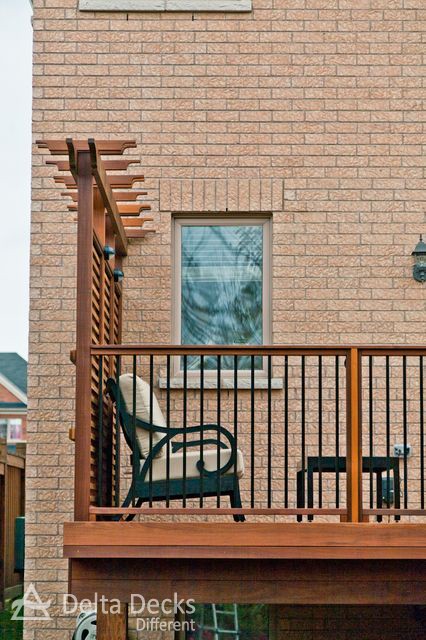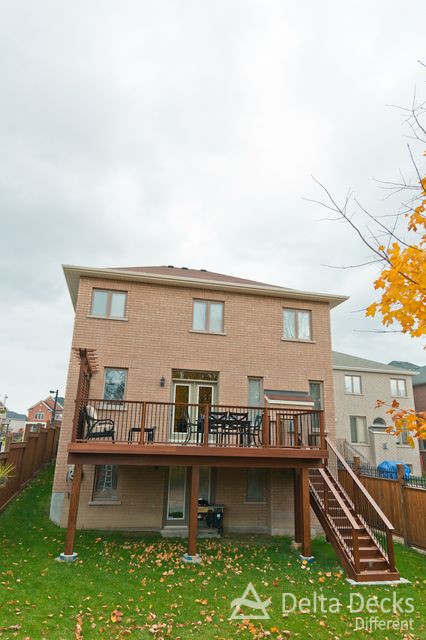 TOM'S DECK
CUSTOM IPE DECK
A beautiful second storey Ipe deck built in Vaughan Ontario
Project Characteristics
Deck over walkout basement.  Ipe decking with many custom features.  Deck built in Vaughan.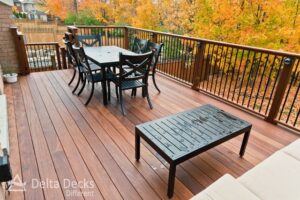 Scope Of Work
– Ipe Decking
– Custom Ipe wood Screen
– Screen Post Lighting and Step Lights
– Posts and Beams Clad with Ipe decking to match
– Boxed Steps
– Ipe wood and aluminum baluster deck railing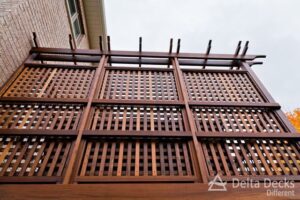 Finding durable and reliable deck covering is the most important stage in preparing for deck construction. One of the best choices is IPE decking, known as Brazil Nut, which is highly dense and durable in all weather and climate conditions. Here are a few key benefits of IPE decking:
Highest Strength: this wood is considered one of the densest species (this material does not float in water and has a fire resistance equal to steel or concrete). With minimal care, the Brazil nut is able to retain its properties for at least 25 years, and with regular and thorough care, its service life increases to 50 years! The material perfectly withstands moisture, cold and heat, and also does not rot and is not susceptible to fungus or mold.

Insect Gnawing Resistance: due to the high amount of odorous oils, the wood not only remains water resistant but also effectively repels insects. That is why, choosing this decking, the owner will not have to spend money on the constant treatment of the material with special solutions to repel bugs or the restoration of beams after termite damage.

Aesthetic appeal: IPE decking is often cited as one of the most beautiful materials by both clients and experts alike – its deep dark tone and pleasant feel make Brazil walnut the #1 decking wood. It shines even with minimal care!
However, IPE decking also has several disadvantages that you need to be aware of before buying this material:
Modifying Difficulties: due to the abundance of oils in its composition, the coloring elements simply do not penetrate even into the shallow layer of wood, the paint remains on the decking surface and peels off at the first opportunity. However, this is hardly a problem, because few people paint IPE decking at all — its color is a masterpiece in itself.

Quite A High Cost: on average, Brazil walnut is 30% more expensive than other woods popular for decking, because this material is considered rare and characterized by its durability. However, spending a lot at the initial stage will save money in the future on the treatment of wood from insects and the purchase of new decking, because IPE will last more than 25 years.
Generally speaking, IPE decking can be considered an ideal material for terrace decoration due to its advantages. And its shortcomings do not spoil the experience of using this wood at all. But to get the most out of Brazil Nut, it's worth hiring a professional contractor like Delta Decks — a team of experts can help you build a strong, durable and beautiful IPE deck that will delight your eyes for years to come.